Southampton Passenger Lists 1893 - 1960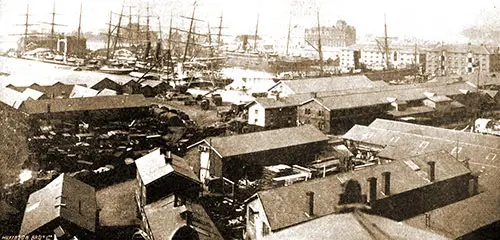 View of Inner Dock at Southampton in 1904. GGA Image ID # 1756758d47
Due to page size constraints, we have arbitrarily paginated our Digitized Southampton Passenger Lists Listings into 7 Pages
The Passenger Lists, Port of Southampton, England are Organized by Date, Steamship Line, Steamship or Ocean Liner, Class of Passengers (Saloon, First, Second, Cabin, Single Class, Tourist, Third or Steerage) and the route of the voyage. The listing may also contain other voyages that Terminated or stopped at the Port of Southampton. Some ships Lists also contain Notes.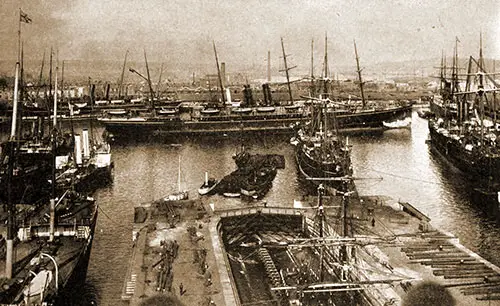 View of Outer Dock at Southampton in 1904. GGA Image ID # 1756842782
Empress Dock at Southampton in 1907. GGA Image ID # 1756baa623
Southampton is the largest city in the ceremonial county of Hampshire on the south coast of England, and is situated 75 miles (121 km) southwest of London and 19 miles (31 km) northwest of Portsmouth. Southampton is a major port and the closest city to the New Forest. It lies at the northernmost point of Southampton Water at the confluence of the River Test and River Itchen, with the River Hamble joining to the south of the urban area.
In 1912, the RMS Titanic sailed from Southampton. Four in five of the crew on board the vessel were Sotonians, with about a third of those who perished in the tragedy hailing from the city. Southampton was subsequently the home port for the transatlantic passenger services operated by Cunard with their Blue Riband liner RMS Queen Mary and her running mate RMS Queen Elizabeth.
Southampton to New York Service 1908 - American Line - Tariff of First Class Fares. GGA Image ID # 1757495e87