RMS Oceanic Passenger List - 8 December 1909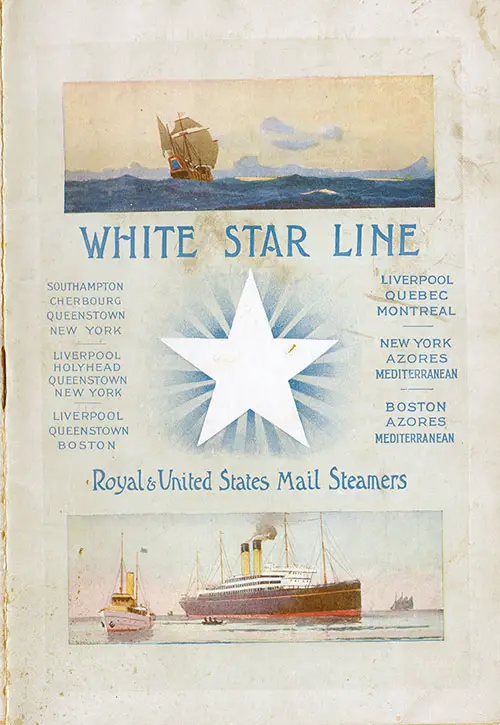 Front Cover, White Star Line RMS Oceanic First Class Passenger List - 8 December 1909. GGA Image ID # 13cafc01af
First Class Passenger List for the RMS Oceanic of the White Star Line, Departing 8 December 1909 from Southampton to New York via Cherbourg and Queenstown (Cobh), Commanded by Captain H. J. Haddock C.B., R.D.
Notable Passengers included: Miss Marie Doro, Sir Alexander Lacoste, Rodolphe Lemieux, K.C., M.P., John P. Morgan, Jr., Henry Sturgis Morgan, and other Morgan Family Members.
This passenger list has be annotated and additional informaton supplied by the Ship's Ships List for the.
Senior Officers and Staff
Commander: H. J. Haddock C.B., R.D. (Commr. R.N.R.)
Surgeon: J. C. H. Beaumont
Purser: C. B. Lancaster
Assistant Purser: J. H. M Smith
Chief Steward: W. Jones
First Class Passengers
Mr. John Axten - Secretary to J. P. Morgan
Mrs. John Axten
Mr. R. W. Bates
Mrs. R. W. Bates
Miss J. Berthault
Mr. I. .J. Bissell
Mrs. I. J. Bissell
Miss E. E. Blackwell
Mrs. Wm. Boultbee
Mr. Philip A. Bonn
Mr. Thomas B. Bowen
Mr. David Brown
Mrs. Adeline E. Browning - UK
Mr. P. D. Burton
Mr. Harry M. Cake - Lawyer, Portland, OR
Mrs. H. M. Cake
Dr James H. Carr
Capt. Godfrey Lynet Carden - United States Revenue Marine Service
Mrs. Godfrey Lynet Carden (Elizabeth Heloise Weber)
Master Blythe Carden
Master Dyas Carden
Mrs. la Comtesse Edith Van Buren de Castelmenardo (1860-1914) and Maid
Mr. Robert W. Chapin
Mr. Louis Chapin
Mr. Chas. W. Cook
Miss Ruth Cranston
Miss Rose Nicholls Cullen 28 - FR
Mr. William W. Dashiéll
Mr. Murray W. Dodge - Executive for Lockport Gas & Electric Light Co. of New York
Mrs. Murray W. Dodge (Elsie Fortiyci Barker)
Miss Marie Doro (May 25, 1882 - October 9, 1956) was an American stage actress and film actress of the early silent film era of the 1910 through the early 1920s
Mr. Harold Durrell
Mrs. M. W. Everson
Lady Augusta Fane
Mr. Howard A. Flanders
Mr. Harry A. Freiberg
Mr. Gerard Glenn
Mrs. Jacob Goldberg
Miss Renee Goldberg
Mr. Selwyn Goldstein - UK
Mrs. S. Goldstein (Minnie), Two Children, Infant, and Maid (Emma Wright 27 - UK)
Mr. John Gomersall
Mrs. George Gouinlock
Miss Ray Granis
Miss M. T. Gray
Mr. Henri Guillemard
Mr. J. W. Henson
Mrs. J. W, Henson
Mrs. W. C. Humbert (Lucy Blis)
Mr. George I. Hovey
Mrs. George I. Hovey (Clara)
Miss Eunice H. Hovey (12) and Maid (Lilly Turner 26 - UK)
Mrs. F. Hellmann (Ruth)
Miss M. Hills
Mr. J. Hussey
Mr. Emil Jacobs
Mr. James Jerome
Mr. William B. Kennedy (53)
Miss Florence Kennedy (17)
Comte de Kerstrat
Mr. Gustave Kraus
Mr. Samuel James Kubel
Mr. Emanuel H. Kuttner
Hon. Sir Alexander Lacoste - The Honorable Doctor of Civil Law, Privy Councillor, Chief Justice of Quebec since 1891
Mr. Paul Lacoste
Mrs. Paul Lacoste (Anita)
Miss Ruth Lake
Mr. Frank E. Learned
Hon. Rodolphe Lemieux, K.C., M.P. Rodolphe Lemieux, PC , FRSC (November 1, 1866 – September 28, 1937) was a Canadian parliamentarian and long time Speaker of the Canadian House of Commons (1922-1930)
Mrs. Rodolphe Lemieux (Bertha)
Mr. I. Leubrie
Mr. Charles Levy
Mr. Thomas Dixon Lockwood (1849-1927) - Inventor of the automatic telephone call, executive of the American Telephone & Telegraph Co
Mr. S. T. Markowitz (Herman) - Herman Markowitz, Charles Stern, and Israel Cohen, members of the firm of H. Markowitz, cloak and suitmakers at 28 West Twentieth Street, were arrested late yesterday afternoon (November 25, 1910) by United States Marshal Henkel on the charge of having unlawfully aided in effecting the entry on Dec. 16, 1909 - (This Voyage) , of a case of woolen wearing apparel imported from Paris on a false classification as to the value of the merchandise
Mr. Morris Mayer
Mr. John P. Morgan, Jr.(43), and Manservant - John Pierpont Morgan, Jr. (September 7, 1867 — September 7, 1943) was an American financier. He was born in New York City and graduated from Harvard in 1886, where he was a member of Delta Phi and Delta Kappa Epsilon
Mrs. J. P. Morgan, Jr. (Jane Norton Grew - 42 (ca. 1870-1925)), and Maid
Miss Jane Norton Morgan, and Maid
Miss Frances T. Morgan (Frances Tracy Pennoyer)
Master Henry Sturgis Morgan, and Nurse - Henry Sturgis Morgan is most famous for co-founding Morgan Stanley in 1935, together with Harold Stanley and other former members of JP Morgan & Co., which was forced to split its Commercial and Investment Banking divisions following the Glass-Steagal Act of the same year
Mr. John Northway
Mr. Hugo Oppenheim
Mr. Charles Roome Parmele
Mrs. Juana de Rizo Patron
Miss Maria Teresa Patron
Mrs. W. H. Patton (Jessie H. Patton)
Miss Ethel D. Patton
Mr. William Rasquin, Jr.- Attorney and Judge
Mr. Henri S. Reuh
Mr. T. R. Robertson
Mrs. T. R. Robertson
Miss Jean M. Roulet (35) - CH
Mr. Thomas Rountree
Capt Frederick Russell
Mr. J. A. Sage
Mr. Percy Sandford
Mrs. Percy Sandford
Mr. A. T. Shirley
Mr. D. W. Smart
Mrs. D. W. Smart
Mr. Lancelot H. Smith
Mr. H. G. Solsbury
Mr. Emile Stern
Miss Dona Isabel Stock - UK
Mr. Siegfried Strauss - UK
Mrs. Siegfried Strauss (Elisabeth) - UK
Mr. Sidney T. Strickland - SB Massachusetts Institute of Technology. Ecole des Beaux Arts, Paris. DA GREGG Teacher In Pen and Ink Rendering
Dr Henry Sundheimer (German Chemist)
Miss Ellis Lucy Swope (23)
Mr. Frederick Alfred M. Tabor
Miss Maud Taff
Mrs. E. B. (Lucy) Thompson
Miss Margaret Thompson
Mr. James Tints - UK
Major G. Trottér, and Manservant
Mr. Edward H. Van Ingen (70)
Capt. Hector Bacon Verret
Mr. C. W. Webber
Mrs. C. W. Webber
Mr. William Willis (35)
Mr. William P. Willis (67)
Mr. Harold H. Weeks
Mrs. H. H. Weeks, and Maid
Notice.
Landing Arrangements at New York.
Should the Steamer arrive at the New York Wharf after 8:00 pm, Passengers may land if they wish to do so and have their baggage passed by the Customs authorities immediately on arrival, but those who prefer to remain on board may do so, and have the whole of their baggage passed the following morning not earlier than 7 o'clock. Breakfast will be served to those who remain on board: overnight.