SS Arabic - History, Accommodations, & Ephemera Collection
Arabic (1903) White Star Line.
Built by Harland & Wolff, Ltd., Belfast, Ireland. Tonnage: 15,801. Dimensions: 600' x 65'. Twin-screw, 16 knots. Four masts and one funnel. Ex-Minnewaska. Note: Laid down as the Minnewaska, but before completion was transferred to the White Star Line and renamed Arabic. Torpedoed and sunk off the south coast of Ireland on August 19, 1915 with the loss of 44 lives.
Arabic (1908) White Star Line.
Built by Weser Shipbuilding Works, Bremen, Germany. Tonnage: 16,821. Dimensions: 590' x 69'. Twin-screw, 17 knots. Two masts and two funnels. Ex-Berlin. Note: She was turned over to the British after the first World War as a war prize. Scrapped in 1932.
All Digitized Ephemera for the SS Arabic available at the GG Archives. Common items of ephemera in our maritime collection include passenger lists, brochures, event and entertainment programs, and other memorabilia produced for a voyage or ship.
Ephemera contained in the GG Archives collection represent the souvenirs provided to the passengers of each voyage. Many of these souvenir ephemeral items have disappeared over the years.
Our selection varies considerably by ship, and likely contains only a sampling of what was originally produced and printed by the steamship lines.
Bookmark pages you're researching and check back periodically for additions as we continue to digitize our extensive ephemera materials.
Images of the RMS Arabic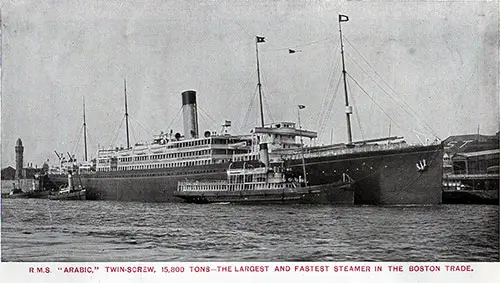 RMS Arabic Twin-Screw 15,000 Tons - The Largest and Fastest Steamship in the Boston Trade. GGA Image ID # 1448b9e273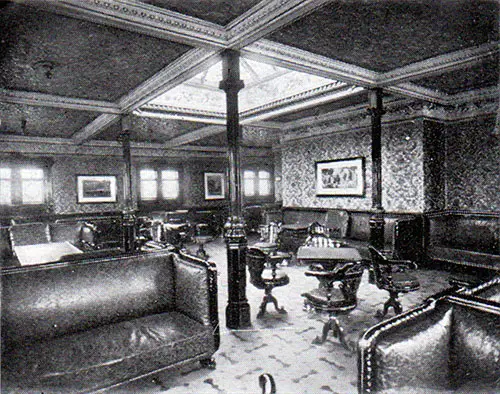 First Class Smoking Room on the RMS Arabic. GGA Image ID # 1448de98bb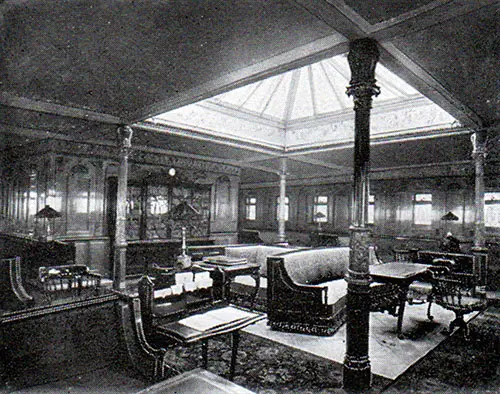 First Class Library on the RMS Arabic. GGA Image ID # 1448e7f3b6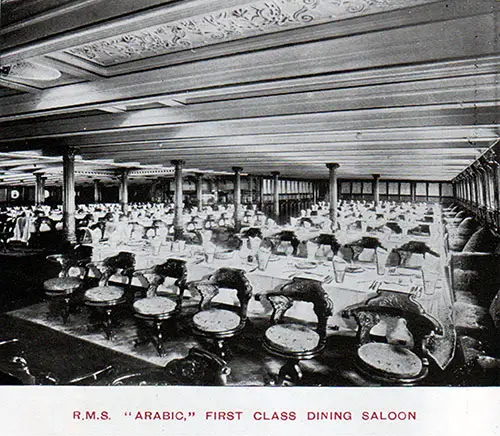 First Class Dining Saloon on the RMS Arabic. GGA Image ID # 1449aa3e86