SS American Farmer Archival Collection
American Farmer (1920) American Merchant Lines.
Built by American International Shipbuilding Corp., Hog Island, Penn. Tonnage: 7,430. Dimensions: 436' x 58'. Single-screw, 15 knots. Two masts and one funnel. Ex-Ourcq. Renamed: Ville de Liege. Sister Ships: American Banker, American Importer, American Merchant, American Shipper, American Trader and American Traveler.
Ephemera for the SS American Farmer available may include Passenger Lists, Menus, Brochures, Sailing Schedules, Route Maps, Photographs, and more.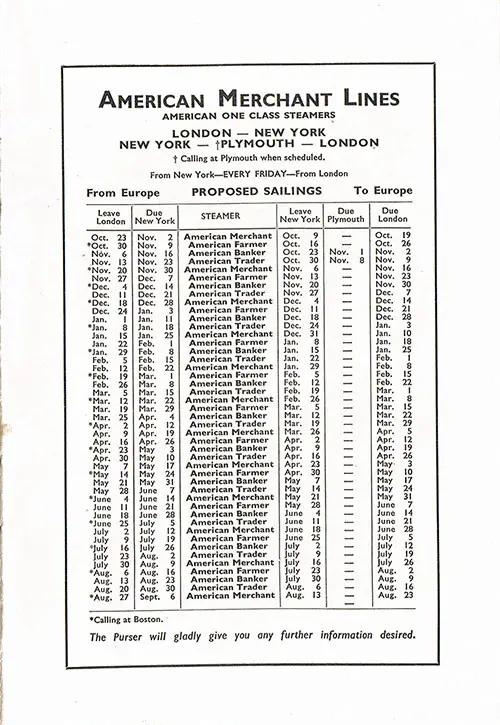 Sailing Schedule, London-New York and New York-Plymouth-London, from 9 October 1936 to 27 August 1937. Ships Included the American Banker, American Farmer, American Merchant, and American Trader. SS Manhattan Passenger List, 21 October 1921. GGA Image ID # 1ea7ddd84f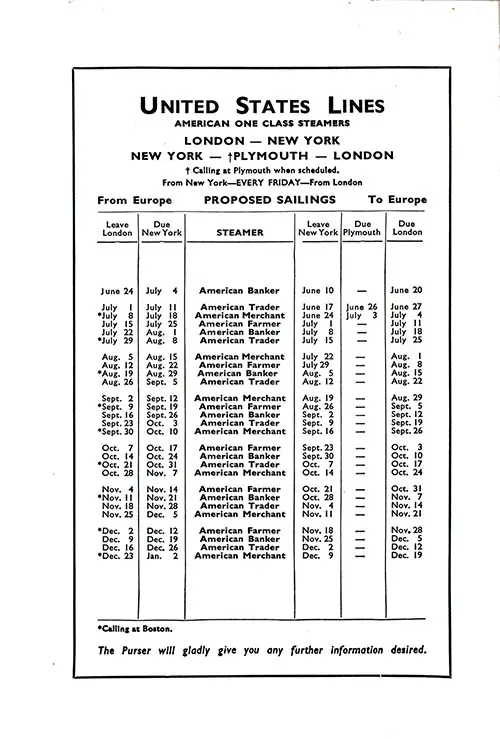 Sailing Schedule, London-New York and New York-Plymouth-London, from 10 June 1938 to 2 January 1929. Ships Included the American Banker, American Farmer, American Merchant, and American Trader. SS Manhattan Passenger List, 29 June 1938. GGA Image ID # 1eaa38ac54