World War 1: The Great War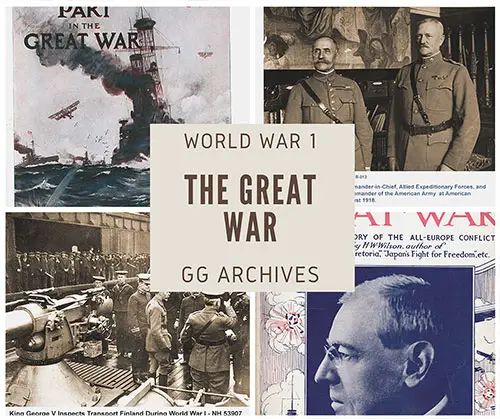 Extensive collection of WWI materials, including information and photographs of Camp Pike, Camp Grant, Camp Dix, Camp Dodge, and others. Unique coverage of the WW1 Draft, including Draft Registrations, Unit Histories, French Money, and Correspondence from King George V.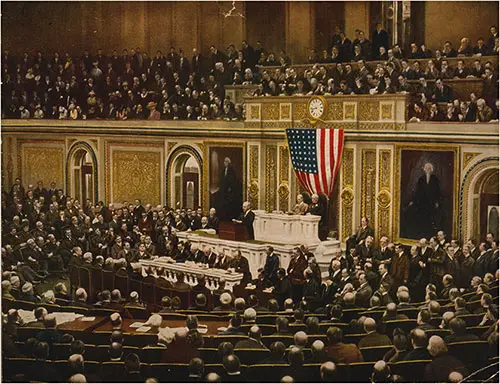 Great Britain and France had been fighting since the beginning of the war in 1914, while Italy joined in May 1915 and the United States in April 1917. On the other hand, all the European Powers had reached, if not passed, their meridian of strength, whereas the United States could, with a corresponding effort, raise her forces to over ten million.
Prelude to War: The Zimmermann Telegram
Origin of the Great War
Britain Joins the War
The United States Intervenes
President Wilson's War Address
President Wilson's Address as the US Joins The Great War
America Joins the War
Why We Went to War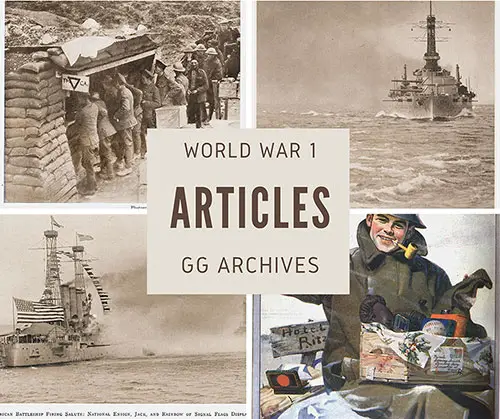 As the 1914–1918 conflict came to be known, the Great War became a world war indeed as it drew in Japan, British colonies in the Pacific, and European colonial holdings throughout Africa, Asia, and North America.
WW1 Timeline 1914-1918
The Campaigns Against Russia 1914-1917
The Christmas Truce of 1914
Chemical Warfare - "Gas" In This War
Arrival of American Expeditionary Force Divisions
Feeding the Men on the Front Lines During World War I
Americans Arrive in Paris - Homeward Bound Americans
Chronology of WW1 American Operations
Food Supplies Forwarded to German Prison Camp For Captured American Soldiers
The Gem of the Ocean - Our American Navy
The Immigrant Army: Immigrant Service Members in World War I
In The Battles of the Great War
A National War Service Newspaper
Personnel of the AEF in France
Review of Camp Dodger and The Bayonet Camp Newspapers
RMS Laconia Torpedoed by German U-Boat
Sinking of the Cunard "Laconia" - First-Hand Account by Floyd Gibbons
The Sinking of the American Destroyer Jacob Jones
The American People and The Great War
War News Not Publishable
What Does It Mean to Be an American?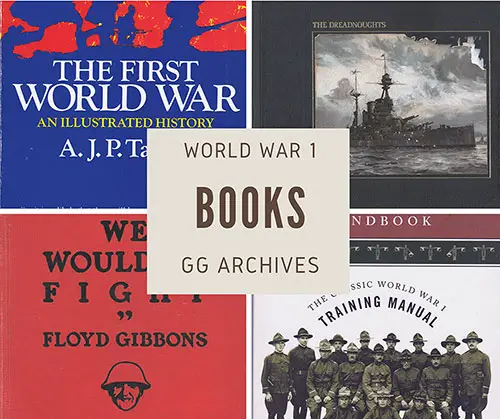 Explore the captivating history of World War 1. The First World War was one of the most devastating conflicts in our history. Our collection features rare and insightful books, primarily from an American perspective.
346th Infantry Historical Notes 1917-1919
351st Infantry Historical Notes 1917-1919
The 88th Division in the World War of 1914-1918
American Armies and Battlefields in Europe
America's Part in the World War
And They Thought We Wouldn't Fight
Army Service Records of the First World War
B.E.F. The Whole Story of the Bonus Army
Bluejackets Manual of the United States Navy, 1918 Edition
Camp Devens: Described and Photographed
Camp Zachary Taylor Pictorial Souvenir
Cartographic Records of the American Expeditionary Forces, 1917-21
Churchill 1914-1918 War Leader Book No. 23
Collier's Photographic History of the European War
Concise History of World War 1
The Dreadnaughts
Exploring the Lusitania
Field Service Regulations United States Army - 1914 (Updated 1917)
The First World War: An Illustrated History
Forging the Sword: The Story of Camp Devens
Handbook of Federal World War Agencies and Their Records 1917-1921
History of the Great War, Volumes 1-3
History and Rhymes of the Lost Battalion
Infantry Drill Regulations 1911 - United States Army
The Infantry Soldier's Handbook: The Classic World War I Training Manual
Lusitania: An Illustrated Biography of the Ship of Splendor
The Lusitania Case
The Lusitania's Last Voyage
The Lusitania Story
Manual for NCOs and Privates of Infantry US Army - 1917 Edition
Manual for Soldiers in France: In Town and Field Service
Minnesota in the War with Germany, Volume 1
The Navy's First Enlisted Women: Patriotic Pioneers
Order of Battle, Volume 1: American Expeditionary Forces
Order of Battle, Volume 2: American Expeditionary Forces: Divisions
Order of Battle, Volume 3, Part 1: Organization and Activities of the War Department
Order of Battle, Volume 3, Part 2: Territorial Departments, Tactical Divisions, Posts, Camps, and Stations
Order of Battle, Volume 3, Part 3: Directory of Troops
The First World War: An Illustrated History
The Pick: 3rd Officers Training Camp at Camp Devens
Pictorial History of the World's Greatest War
The United States Naval Railroad Batteries in France
Verdun: Vision and Comprehension - The Battlefield and Its Surroundings
The World's Greatest War: The Triumph of America's Army and Navy - Peace Treaty Edition
World War One: 1917 Soldiers
World War One: 1918 Soldiers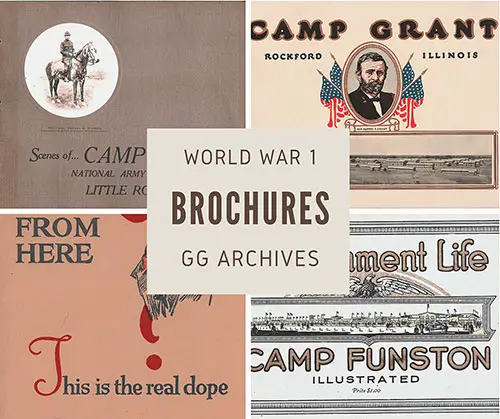 World War 1 Brochure Collection
Our Brochures cover a wide range of subjects about World War 1. The Topics include important addresses by VIPs, recruitment, and valuable information for discharged soldiers.
Address to Soldiers at Camp Dix
America Entangled - The Story of the Lusitania
Army/Navy Recruitment Guide - 1917 Edition
Camp Funston Illustrated - Cantonment Life
Camp Grant Pictorial History
Our Sons at Camp Dodge
Scenes of Camp Pike, National Army Cantonment
To The Homeward Bound Americans
Valuable Information for Discharged Soldiers
Where Do We Go From Here? This Is The Real Dope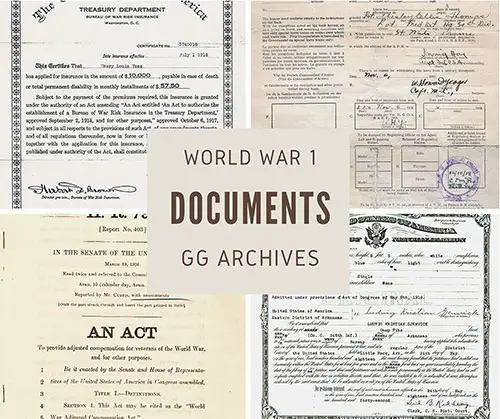 Our collection includes many papers genealogists and family historians will come upon during their research. Our extensive document collection is helpful for students studying the great war and teachers seeking primary source documents to enhance their lessons.
Floyd Gibbons Correspondent Pass
Leaves of Absence, Passes, and Furloughs: General Orders No. 6 HQ AEF, France - 1918
Leave Permit for American Soldier in France
Joint Resolution Declaring A State of War Exists Between Germany and the US - 2 April 1917
Letter from General Foch to Floyd Gibbons - 1918
Letter from General John J. Pershing to Floyd Gibbons - 1918
Letter from General Pétain to Floyd Gibbons, 1918
World War I French Currency
WW1 Soldier's Diary Extracts - 1917-1918
Soldiers Pay Record Book - 1918
Third Army Corps Cablegrams - 1918
American Legion Membership Card
US Army Promotions and Appointment Certificates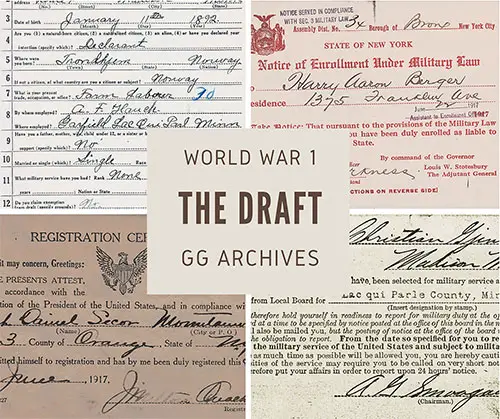 World War 1 Draft / Conscription
Our collection includes draft and selective service documents and photographs, including Notice of Certification to District Board, Notice of Enrollment Under Military Law, Draft Registration Cards, Registration Certificates, Questions & Answers, and more.
Bulletin of Information for Persons Registered for the Draft - 1917
World War 1 Draft Registration Cards
Important Notice to All Men Selected for Military Service - 1918
Notice of Call and to Appear for Physical Examination - 1917
Notice of Certification For Military Duty to District Board - 1917
The Proclamation for the First Draft Registration, 1917
Joint Resolution for Second Draft Registration, 5 June and 24 August 1918
Proclamation for the Third Draft Registration, 12 September 1918
The World War One Draft - Reporting of the First Draft Lottery - 20 July 1917
The Selective Draft - 69 Questions and Answers - World War 1
The Selective Service System - Its Aims and Accomplishments - Its Future - 1917
Three Draft Registrations Required During World War 1
State of New York Military Census and Inventory of 1917
State of New York Notice of Enrollment Under Military Law - 1917-06-22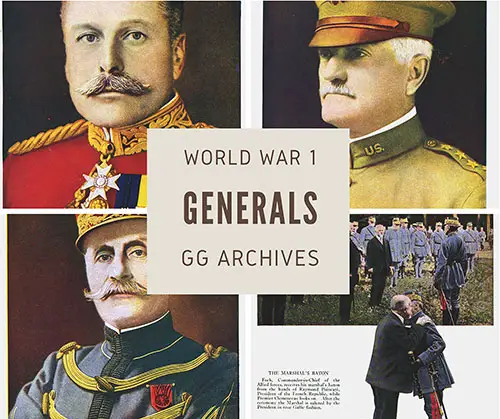 Famous Generals of World War 1
Biographies of famous generals on the Great War including Joffre, French, Foch, Haig, Pershing, Pétain and Curieres de Castelnau. These allied commanders were instrumental in achieving a victorious outcome culminating with the Armistice on 11 November 1918.
General "Papa" Joffre: Hero of the Battle of the Marne
Sir John French: The Man Who Led the First British Army
Ferdinand Foch: Commander-In-Chief of the Allied Forces
Sir Douglas Haig: Commander of the British Forces in France
John J. Pershing: Commander of the Army of the United States
Henri P. Pétain: Defender of Verdun
Edouard de Curieres de Castelnau: The Defender of Nancy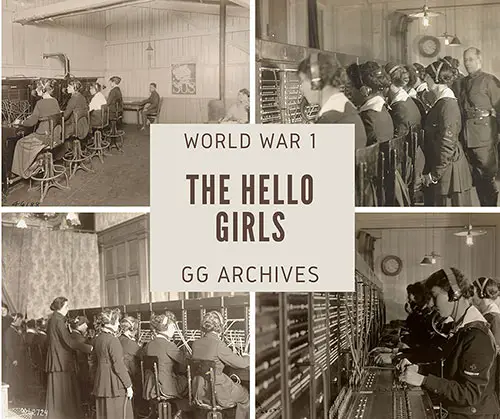 The Hello Girls Telephone Operators of World War I
Our comprehensive collection of articles, photographs, books, documents, congressional bills, and more provides an extensive volume of research materials for genealogists and students.
WW1 Photos: The "Hello Girls" Signal Corps Telephone Operators
First Unit of Telephone Operators Ready for France - 1918
Second Unit of Telephone Operators Ready for France - 1918
Third Unit of Telephone Operators Arrive in France - 1918
Fourth Unit of Telephone Operators Arrive In France - 1918
Fifth Unit of Telephone Operators Arrive in France - 1918
Sixth Unit of American Telephone Operators Has Arrived in France - 1918
Seventh Unit of Telephone Operators Demobilizes - 1919
223 Women of the Signal Corps Telephone Operators that Served Overseas
Adele Hoppock and En Route to France - 1918
The Adventures of Miss Elizabeth Horsman and Miss Helen Carey - 1918
American "Hello Girls" in France Enjoy High Life
American Telephone Girls Well Cared for in France
American Telephone Operators Aid Victory
Application for Membership in Telephone Unit in France
Secretary of War Baker Congratulates Telephone Operators
Bay Area Girls at Front During Great Drives
Berlin Girl to Go as Phone Operator
Birth of the AEF Signal Corps Girls
Black Jack's Girls
Blue Triangle Follows the Switchboard
Brave Girl Soldiers of the Switchboard
Brief History of the Signal Corps Female Telephone Operators
Chicago Telephone Girls Heroines "Over There"
The Christmas Party at Camp Upton
Congressman Cleaver Introduces Bill to Award Congressional Gold Medal to the 'Hello Girls' of WWI
Company of Switchboard Soldiers See Service in France
Facts Surrounding the Enlistment and Service of the Signal Corps Telephone Operators
First American Telephone Girls in France
First Washington Girl Arrives in French Territory
For the Wire Men and Girls in France
Four of The Michigan Telephone Company's "Returned Soldiers"
General Squier in Charge of Aviation and Signal Corps
Miss Helen Carey, Telephone Operator Off for France
"Hello-Girls" Are Going "Over There" To Help Link Up the Army's Nerve-Fibers
Hello Girls of World War I
"Hello" Heroines - Telephone Operators of the Great War Era - 1920
Hello—Over There! - Our Telephone Girls Take On Paris
How the Signal Corps Girls Stayed on the Job
How the Signal Corps Organized 100 Girls
How the Telephone Girls Performed in France
HR 1953-Hello Girls Congressional Gold Medal Act of 2019
I Was a "Hello Girl"
Impressions of the A. E. F. by Signal Corps Operator O'Rourke
Information Relative to Telephone Operators for Duty in France
A Letter from a Fifth Unit Telephone Operator
Letter from Adele Hoppock Mills to Senator Vandenburg - 1935
Letter from "Hello Girl" Miss Adele Hoppock - 1918
Letter from Major Coles to Washington State Bonus Board - 1921
Letter Home from Signal Corps Telephone Operator in France - 1918
Life of Our Telephone Operators in France
Long Distance Operators Off for France
Military Funeral of Telephone Operator Cora Bartlett - 1919
Miss Banker Wins the D. S. M. For Bravery - 1919
More Operators for France
Number Please, AEF - Telephone Operators in France
Phone Girls Living High
Photo Plates - Signal Corps Telephone Operating Unit
Recognition of the "Hello Girls" for VA Benefits - 1977
Section 401(a) of Title IV of the G.I. Bill Improvement Act of 1977
Signal Corps Girls Brave Dangers
Signal Corps Girls Have Jolly Times
The Signal Corps Girls "Made Good"
The Signal Corps in Germany's Oldest City - 1919
Signal Corps Telephone Operator Girls Did It
Six American Telephone Operators Near the Front
Switchboard Soldiers of the Great War
Telephone Girls "At Home" in France
Telephone Girls in the Heart of a Military Camp
The Telephone Girls of Meuse-Argonne
The Telephone Girls of St. Mihiel
The Telephone Girls of the Peace Conference - 1921
Telephone Girls to "Hold the Lines" in France
A Telephone Operator's Experiences with the Signal Corps
Telephone Operators Insured
Telephone Operators Join Our Army
Telephone Operators of the AEF -- Roll of Honor
Telephone Operators Welcomed to Paris
The Christmas Party at Camp Upton
The Experience of Isabelle Villiers, Yeoman (f) Turned Hello Girl Supervisor
Three More Michigan Girls For "Over There"
Tribute to American Telephone Operators in France
Tribute to US Army Signal Corps Chief Telephone Operator
U. S. Signal Corps Unit at Headquarters
War Hello Girls Talking - We Win!
What New England Hello Girls Are Doing "Over There"
With an American Telephone Girl in France
Women's Telephone Unit in France
Woman Telephone Operators in France
Young Women of America, Attention!
Young Women Train for Telephone Service in France
YWCA Dances Relieve Stress For Signal Corps Girls
Affidavit of Edward Mervin Stannard - 1953
1977 Affidavits of Alma H. Hawkins, Enid M. Pooley, Gertrude Hoppock, Helen Bixby Moore, Louise Le Breton Maxwell, Marjorie L. McKillop, Merle Egan Anderson, M. Olive Shaw, and Oleda Joure Christides.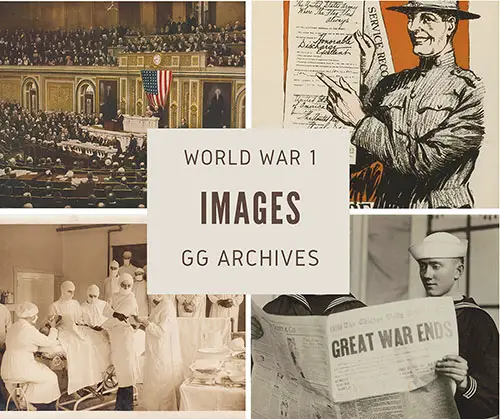 Photographs and Other Images of the Great War
The GG Archives has curated many photographs relating to World War 1, with most of the material created during the war (1914-1918). Some of these images deal with post-war topics such as transports home and the soldier's bonus.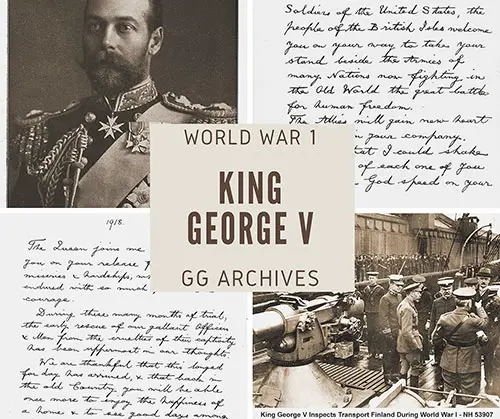 King George V in the Great War Including Correspondence and Photographs
Our unique collection includes photographs, letters, and biography of the English ruler, King George V.
George V of England Biography
King George V and the Great War
King George V Letter to British POW's On Their Release in 1918
King George V Letter to Soldiers of The United States - April 1918 (Including Valuation)
King George V Photo Gallery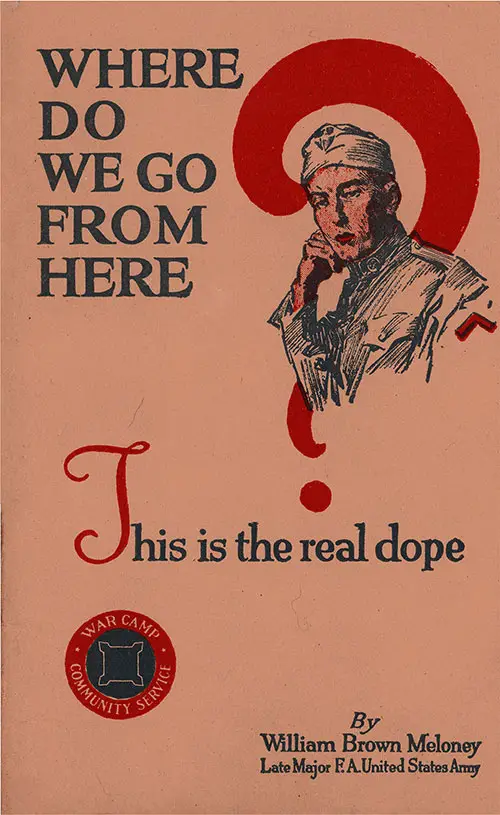 Life After Discharge - The Real Dope
William Brown Meloney, who wrote this handbook for soldiers: Where Do We Go From Here? The War Department published five million copies for Soldiers, Sailors, and Marines By War Camp Community Service.
Educational and Professional Opportunities for Discharged Servicemen
Getting a Job After Serving in the Great War
Government Programs & Training After Discharge
Living Off the Land - Options for Dicharged Soldiers and Sailors
Options for Discharged Service Members
Re-Enlistment Options for Servicemen in the Great War
Soldier & Sailor Money Matters After Discharge
Military Uniform After Discharge or Reserve Status
Victory Medals, Decorations, and Liberty Belts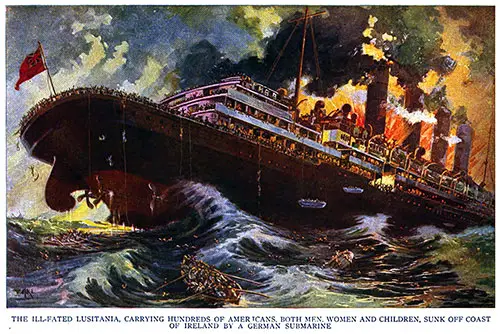 Our collection about the SS Lusitania of the Cunard Line includes articles and books about the sinking of the great and luxurious ocean liner by the German U-Boat and the aftermath that caused the US to enter World War I.
America Entangled: The Story of the Lusitania
Loss of the Steamship Lusitania
The Loss of The Lusitania
The Sinking of the Cunard Line RMS Lusitania
The Sinking of the Lusitania
Sinking of the Cunard Liner Lusitania Timeline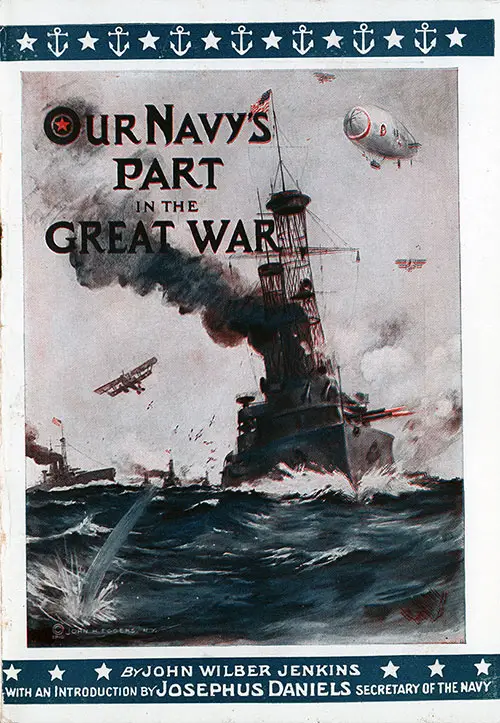 Based on the Booklet "Our Navy's Part in the Great War" by John Wilber Jenkins, this section organizes the content and supplements the text with additional photographs to help tell the US Navy's story in World War 1.
2,000 Vessels in Service When War Ended
Alcedo Sunk by Torpedo - 1917
American Naval Fleet Sent Over There
"Cassin," Hit by Torpedo, Saved by Quick Action
German U-Boats on American Coast
Our Navy in the Great War
US Naval Fleet in the Great War
US Navy - Our First Line of Defense
US Navy's Growth and Expansion During the Great War
US Navy Ship Construction Program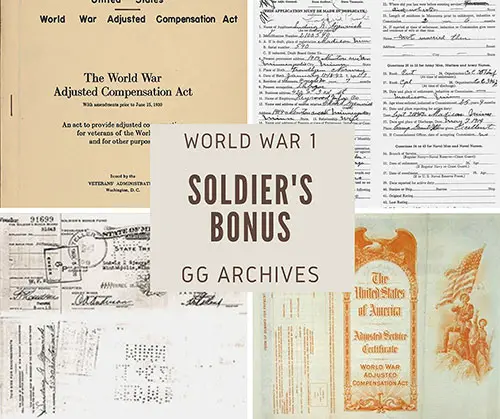 Soldier's Bonus / The Bonus Army of World War 1
Our collection of documents in this section are from the Gjenvick-Gjønvik Family Archives and other sources. The papers include certificates, vouchers, and payments of the Adjusted Compensation Act and the Minnesota Soldier's Bonus.
The States and The Soldier Bonus
Calculations of Adjusted Compensation for WW1 Soldiers - 1924
Estimated Cost of Soldiers' Bonus HR 7959 - 1924
Cost of Adjusted Compensation Provision HR 7959 - 1924
Bill HR 15779 World War Veterans' Act As Amended - 1931
World War 1 Adjusted Compensation Act As Amended - 1926/1932
History of Adjusted Compensation - Veterans' Administration - 1936
Discharged Soldier's Bonus - 1919
Application For Adjusted Compensation For Service in the Army - 1924
Adjusted Service Certificates Transmission Letter and Certificate - 1925
Receipt for Application for Settlement - Adjusted Service Certificate - 1936
Interim Receipt for Adjusted Service Bonds Surrendered for Payment - 1936
Transmittal for Payment of Adjusted Service Bonds - 1936
History of Minnesota Bonus for Veterans of World War I
Minnesota Soldiers' Bonus Program Statutory History 1919-1924
Minnesota Application for Soldiers' Bonus - 1919
Minnesota Soldiers' Bonus Board Notification of Receipt for Bonus Application
The Soldiers Bonus Board Voucher - State of Minnesota Soldier's Bonus Fund - 1920
Bonus Expeditionary Force - BEF
Walter W. Waters, Commander of the Bonus Expeditionary Force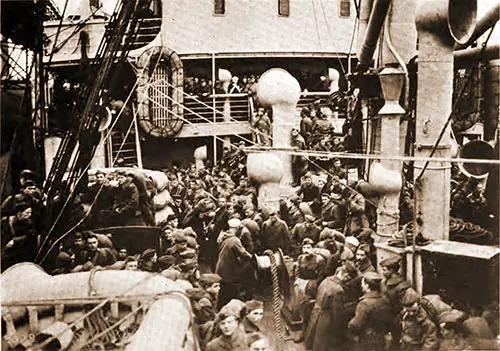 Transport Ships and Voyages of World War 1
The arrival of the first convoy carrying the soldiers and Marines of the American Expeditionary Force at Saint-Nazaire, France, on 26 June 1917 surprised the world and provided much-needed encouragement to the allies.
Army Charted Transport Finland Struck by Torpedo
Loss of the USS President Lincoln
Moving Our Troops Overseas
Saving the Transport Ship Covington
Summary of Transport Operations During World War 1
Transport "Antilles" Sunk by Submarine
Voyage on the Transport Ship "Princess Matoika" during July 1918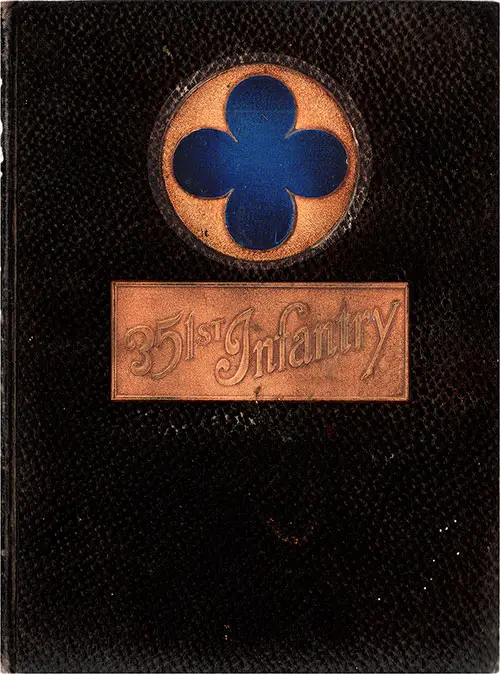 World War 1 Infantry Unit Histories
One of the several purposes of this work is the promotion of esprit de corps within the Army units. Another is the furthering of interest in and the reading of military history by the American people.
Unit Histories of the 351st Infantry, 88th Division
Unit Histories of the 346th Infantry, 87th Division
88th Division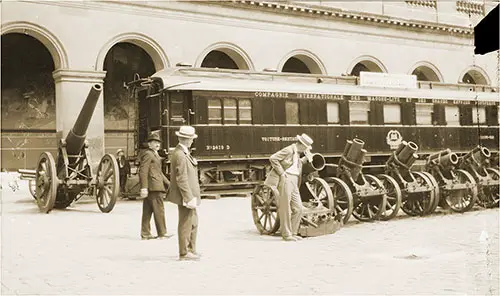 The United States sent more than a million troops to Europe, where they encountered a war unlike any other—one waged at sea, in trenches, and the air.
Announcing the Armistice in America
"Armistice Day" Traffic The Freak Demands that Marked Service on 11 November 1918
Casualties of the Great War
President Wilson's Address Announcing An Armistice
The Armistice, November 11, 1918
The Armistice - A Story for Homeward Bound Americans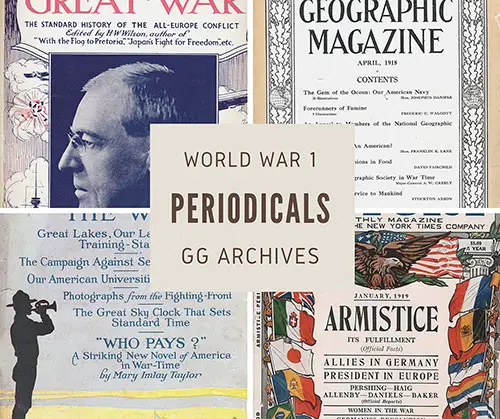 World War 1 Periodcal Collection
From Camp Newspapers, Great Lakes Recruit, The Great War Magazine, Current History Magazine, and others, the GG Archives has curated a historically valuable collection of periodicals covering the Great War.
Camp Dix Pictorial Review - Issues from September 1917, 20 February 1918, 20 March 1918, 20 April 1918, 20 May 1918, 20 June 1918, 20 July 1918, and 20 October 1918.
Character Building by Uncle Sam - 1918
Great Lakes Recruit Magazine - September 1918
The Great War, Part 143, 12 May 1917
St. Nicholas Magazine for Boys and Girls - May 1919
St. Nicholas Magazine for Boys and Girls - July 1919
The National Geographic Magazine - November 1917
The National Geographic Magazine - March 1918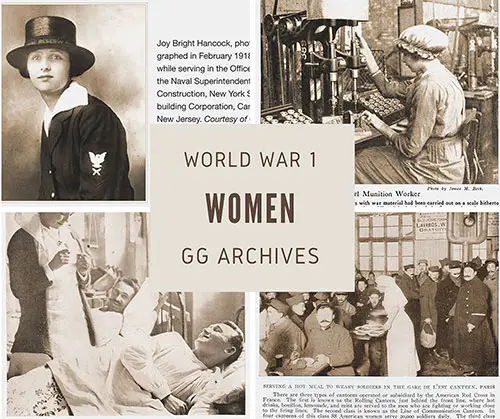 Women in the Great War - World War I
World War I was the first war in which American women were recruited to serve in the military. Women were already present in France as members of the American Red Cross and as canteen workers.
Girl Patriots At Great Lakes
Homes Wanted For American Women in France
Navy Women of World War One
The Symbol of Service to Mankind – The American Red Cross
The Red Cross Nurse
The Red Cross Organization During The War
USN First Enlisted Women: Introduction
USN First Enlisted Women: Setting the Stage
USN First Enlisted Women: "Women Join the Navy"
USN First Enlisted Women: "Reporting to Work"
USN First Enlisted Women: "Changing the World, Their Lives, and the Navy"
USN First Enlisted Women: Conclusion
USN First Enlisted Women: Epilogue
US Signal Corps Unit At Headquarters
War Work of the Hostess House Committee
War Work of Young Women's Christian Association
What Peace Means To The YWCA
Women Marines in World War I
A Yeomenette Story From the Great War