Steamship Lines - History and Ephemera
View the ephemera and history produced by the various steamship lines that offered passenger service to immigrants, tourists, socialites, and others who crossed the vast oceans, dating from the 1800s through the 1950s.
Our Largest Collections: American Line, Anchor Line, Atlantic Transort Line, Canadian Pacific Line (CPR/CPOS), CGT French Line, Cunard Line, Cunard White Star, Hamburg America Line, Holland-America Line (NASM), North German Lloyd, Red Star Line, United States Lines, White Star Line.
Our Smaller Collections: Everything Else.
Steamship Line: Definition and Organization
GG Archives Ocean Liner Collections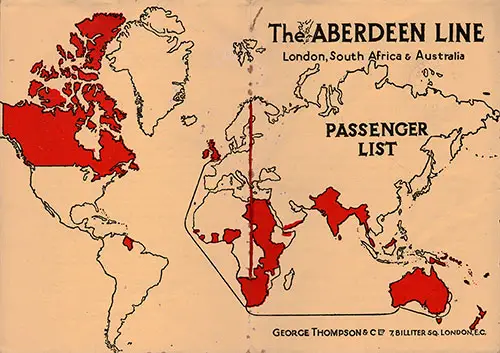 Aberdeen Line History & Ephemera
Historical Documents, Passenger Lists, etc. of the Aberdeen Line that operated steamships covering the route between London, South Africa, and Australia.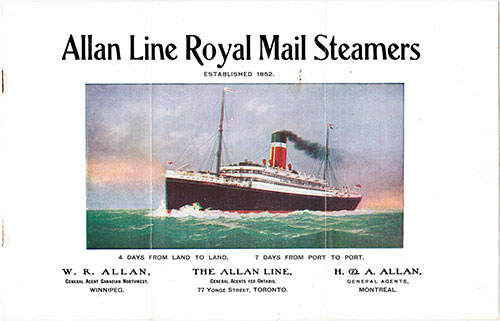 Allan Line History and Ephemera
The Allan Line operated steamships that covered Transatlantic routes between ports in the United Kingdom (Glasgow, Londonderry, Belfast, Liverpool, and London) to North American Ports of Call. Canadian Ports served included Quebec, Montreal, St. Johns, and Halifax. US Ports included: Portland, Boston, New York, Philadelphia, and Baltimore.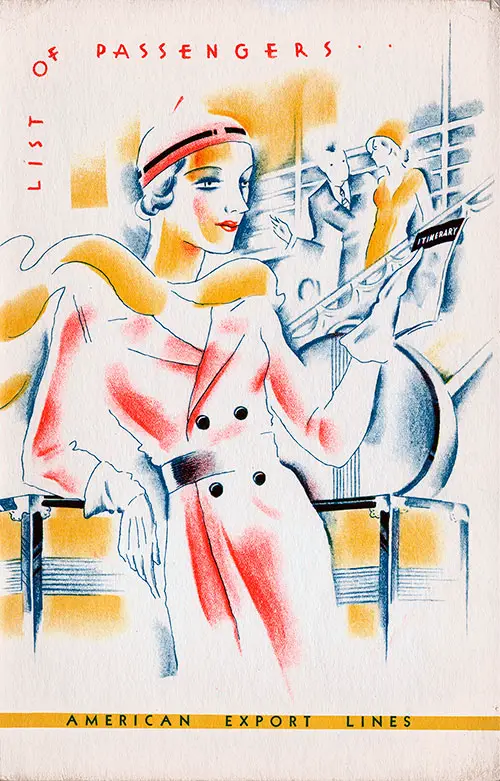 American Export Lines Ephemera
The American Export Lines operated in various corporate formations from 1919 to 1977. They offered both Cargo and Passenger services between New York and the Mediterranean, principally Gibraltar, Cannes, Genoa and Naples.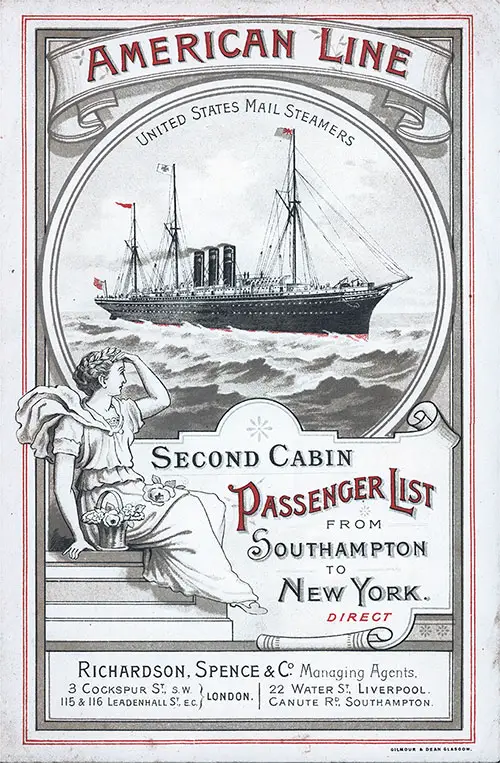 American Line History and Ephemera
The American Line operated transatlantic steamships that offered weekly express service between Southampton and New York with additional services between the ports of Antwerp, Philadelphia, Queenstown and Liverpool and Philadelphia and Antwerp.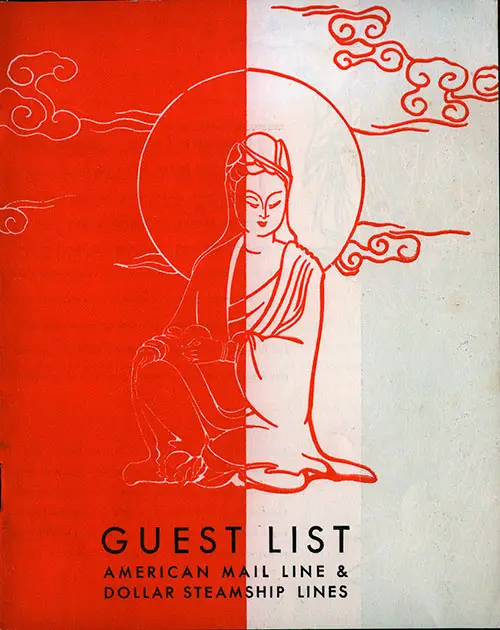 American Mail Line History and Ephemera
The American Mail Line was a steamship line that ran between Seattle, Washington, and the Far East. Created in 1920, the American Mail Line continued to operate with a temporary subsidy until June 1938 and then discontinued regular services.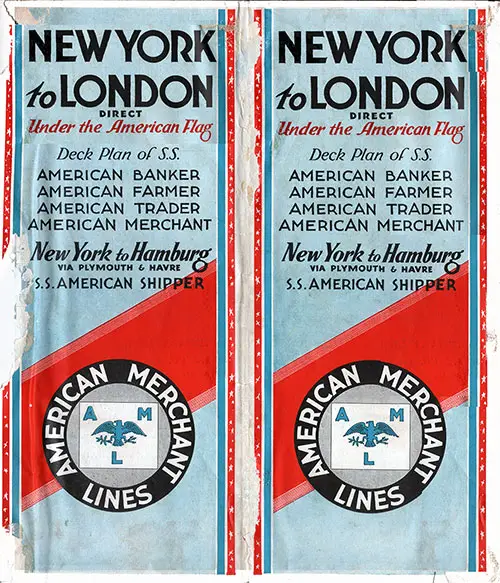 American Merchant Lines History and Ephemera
American Merchant Lines operated transatlantic services between the ports of New York, Plymouth, and London They uniquely named their vessels -- all starting with the word "American" followed by other common merchant terms including Banker, Farmer, Merchant, Shipper, Trader.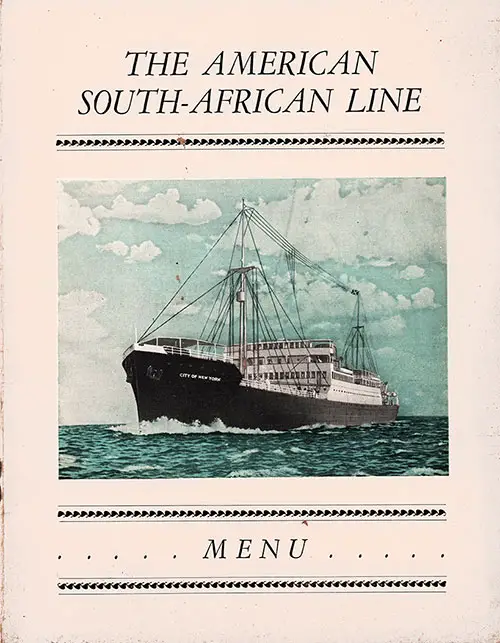 The American South African Line , like other world-wide trade routes established by the United States Shipping Board , provided a service that was needed by American exporters and importers and gave the United States a position in world Trade.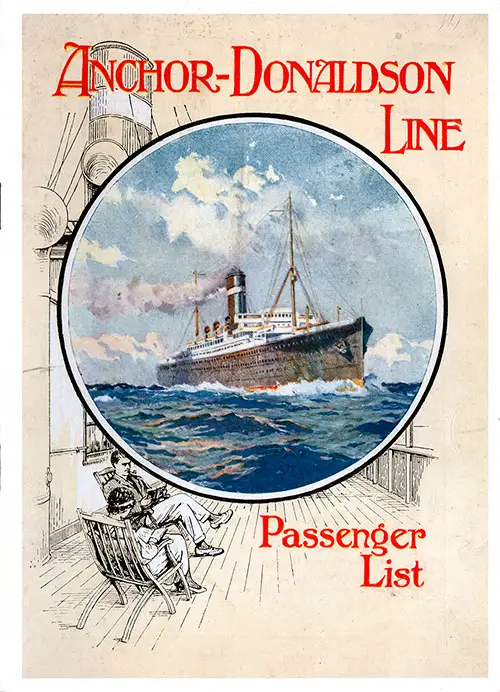 Anchor-Donaldson Line History and Ephemera
Anchor-Donaldson Line offered transatlantic steamship passenger services between the ports of Glasgow, Moville, and Liverpool in the UK and the Canadian ports of Quebec and Montreal, Toronto, Halifax, St. John and the US Port of Portland, Maine.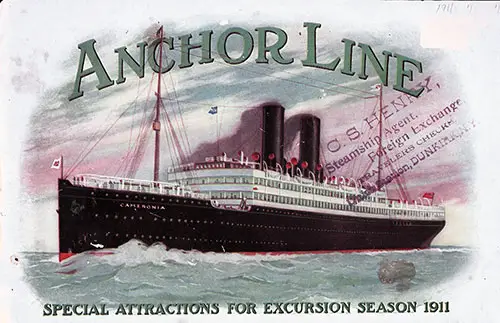 Anchor Line History and Ephemera
The Anchor Line operated transatlantic steamship passenger service between the ports in the United States including: New York, Boston, Philadelphia, and Baltimore; Canadian Ports of Montreal, Quebec, Halifax; to UK Ports of call including: Southampton, Plymouth, Liverpool, London, Londonderry, Glasgow, Queenstown, Bristol; and, the European Ports of Cherbourg and Hamburg.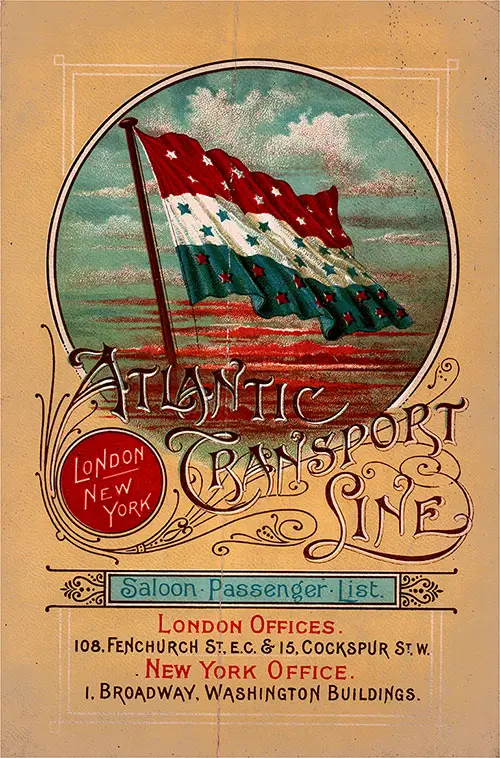 Atlantic Transport Line History and Ephemera
The Atlantic Transport Line operated transatlantic passenger service primarily between New York and London from 1881 to 1936. It was an American owned company that was operated by the British and sailed under the British flag.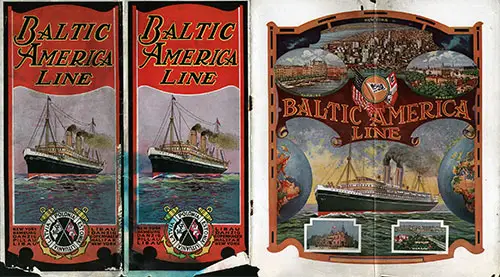 Baltic America Line History and Ephemera
The Baltic America Line offered passenger steamship service between the ports of New York, Hamburg, Danzig, Libau and Halifax with a fleet of four ocean liners. The fleet consisted of the steamers Latvia, Polonia, Lituania, and Estonia.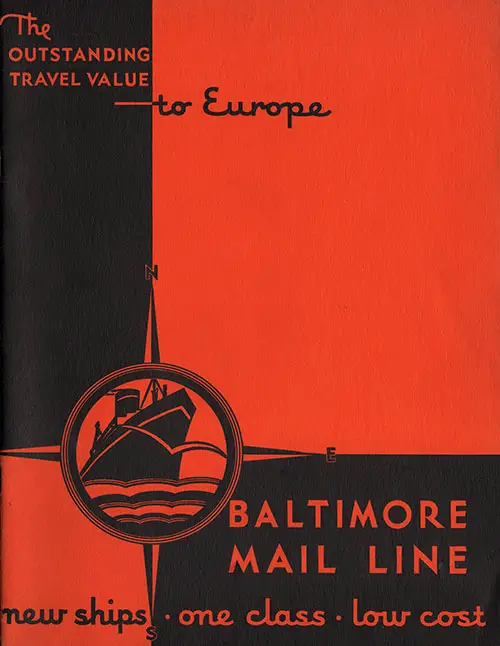 Baltimore Mail Line History and Ephemera
The Baltimore Mail Line (Baltimore Mail Steamship Company) was primarily a mail service that also carried a limited number of passengers (passenger capacity was about 80 Tourist Class). They operated regular weekly service between the US Ports of Baltimore and Norfolk to the European Ports of Le Havre, France, and Hamburg, Germany.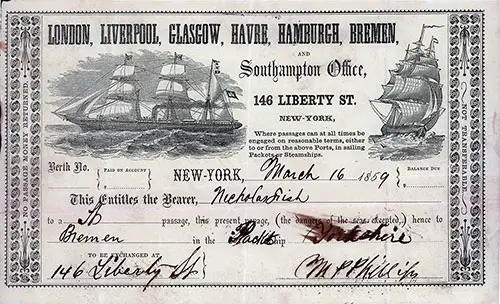 Black Ball Line History and Ephemera
The Black Ball Line operated one of the first Sail / Steam powered packet ships that offered regular passenger service between the ports of Liverpool, England and New York beginning in 1818.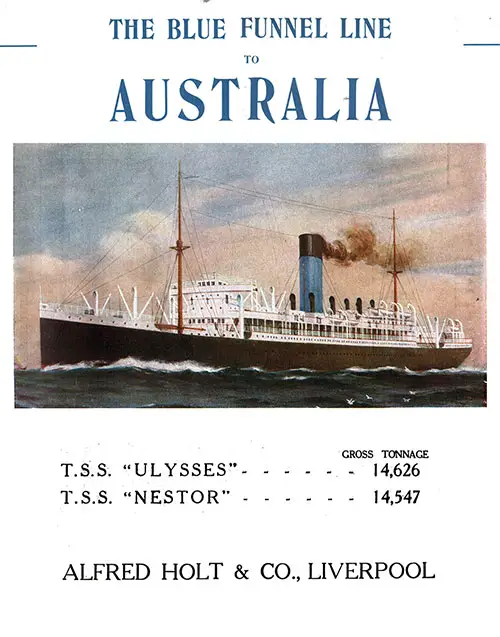 Blue Funnel Line (Alfred Holt & Company) History and Ephemera
The Blue Funnel Line offered regular First-Class Passenger and Cargo Services From the UK to South Africa, Malaya, China, Japan, Australia, Java, and America.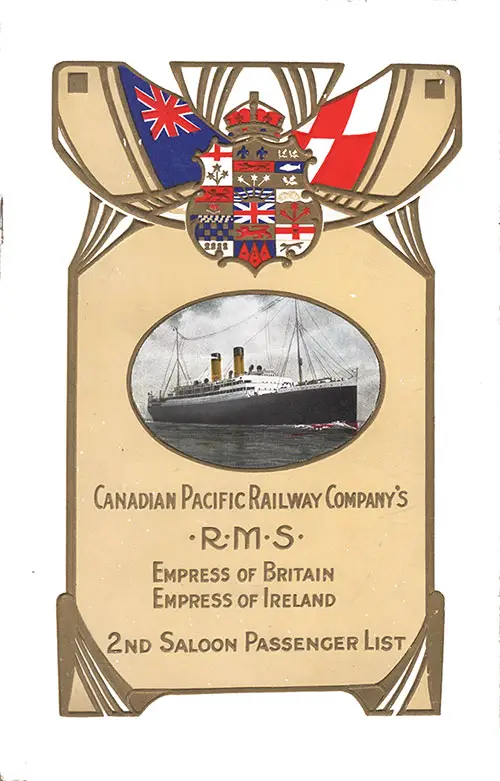 Canadian Pacific Line (CPR/CPOS) History and Ephemera
The Canadian Pacific (CPR) began operating transatlantic steamships in 1903 between Halifax and the United Kingdom until 1915 when it spun off the steamship portion of its business (which included the Allan Line) into the Canadian Pacific Steamships Ocean Services Ltd. (CPOS).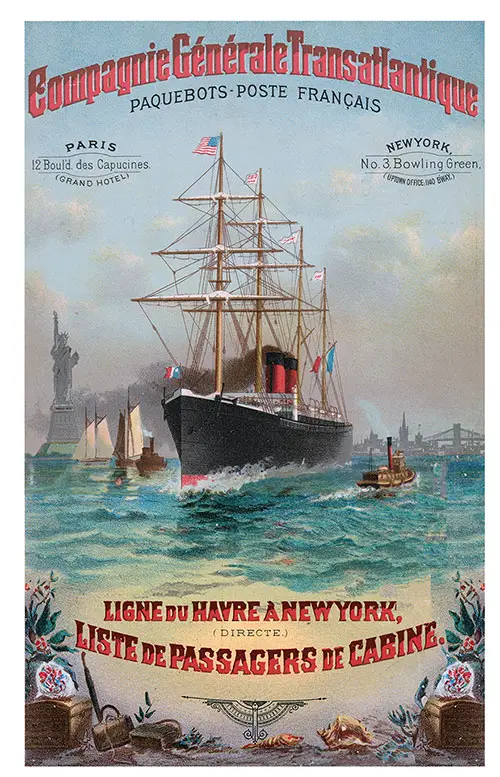 CGT French Line History and Ephemera
The French Line (Compagnie Générale Transatlantique) had regular sailings between New York, Plymouth (England), and Le Havre. Their steamships included the SS Paris, SS France, SS Normandie, SS Lafayette, SS Rochambeau, SS Chicago, and others.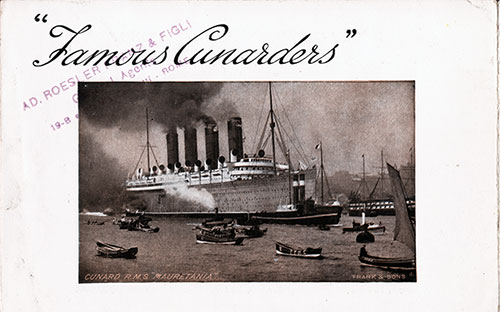 Cunard Line History and Ephemera
The GG Archives has extensive holdings in Cunard Line Ephemera from the 1880s through 1954. The Collections includes Passenger Lists, Steamship Tickets, Brochures, Menus, Periodicals, Books, Photographs and Miscellaneous Other Ephemera.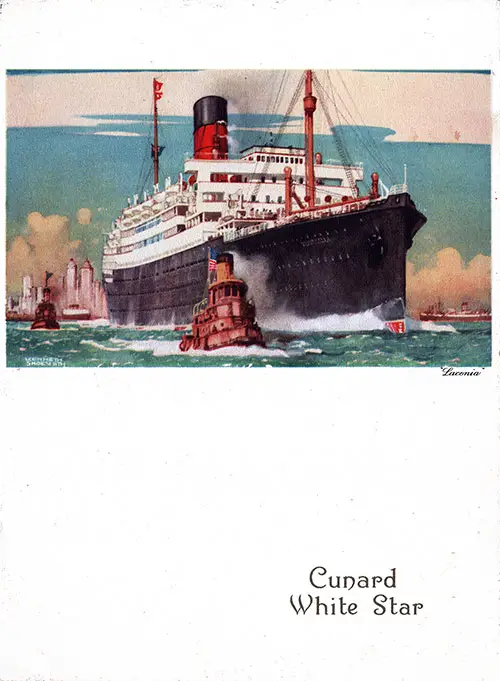 Cunard White Star History and Ephemera
The Cunard White Star Line (1934-1949) was formed as a merger of the two once giant steamship lines - The Cunard Steam Ship Company and the White Star Line. The depression years had taken their toll on a number of transatlantic steamship lines. After World War II, traffic, especially tourist traffic had recovered and the Cunard line purchased the remaining assets of White Star Line in 1949.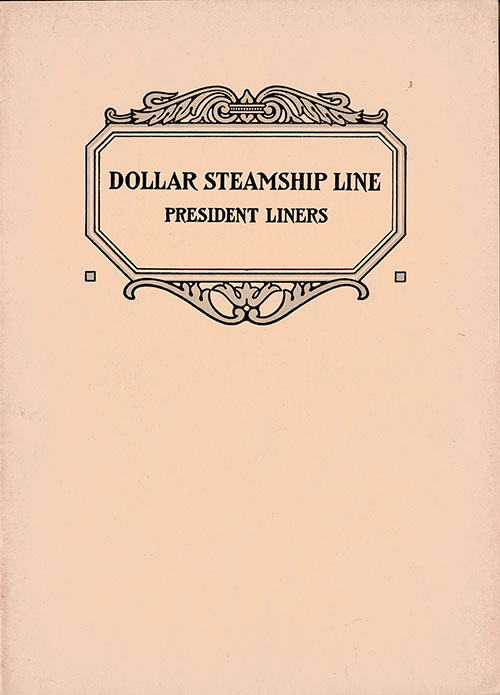 Dollar Steamship Line History and Ephemera
The Dollar Steamship Company (commonly known as "Dollar Line") was established on August 12, 1900. In 1925, the Dollar Line acquired the assets of Pacific Mail Line, and in 1922 the Dollar Line also acquired the Admiral Oriental Line and renamed it the American Mail Line, making Dollar one of the most profitable shipping companies in the world.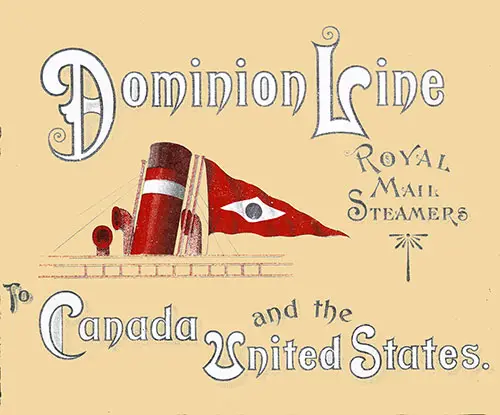 Dominion Line History and Ephemera
The Dominion Line Royal Mail Steamers was involved in the transatlantic immigrant passenger service between Liverpool, Queenstown (Cobh) and Boston; Liverpool to Quebec and Montreal and Naples to Boston. They were in operation under Dominion Line from the late 1800s to 1908, and White Star Dominion Line until 1926.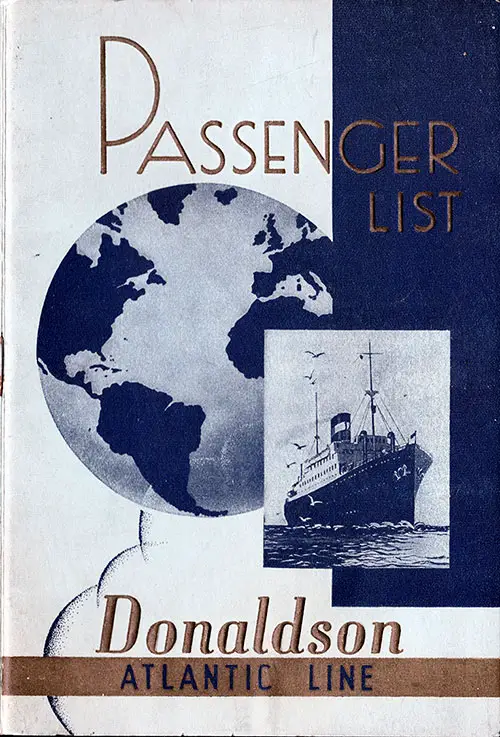 Donaldson Atlantic Line History and Ephemera
Created in the mid-1930s, Donaldson Atlantic Line from the combination of Anchor Line and Donaldson Line. This line was only in service during the 1930s. After World War II, the steamship line resumed operations under the name Donaldson Line.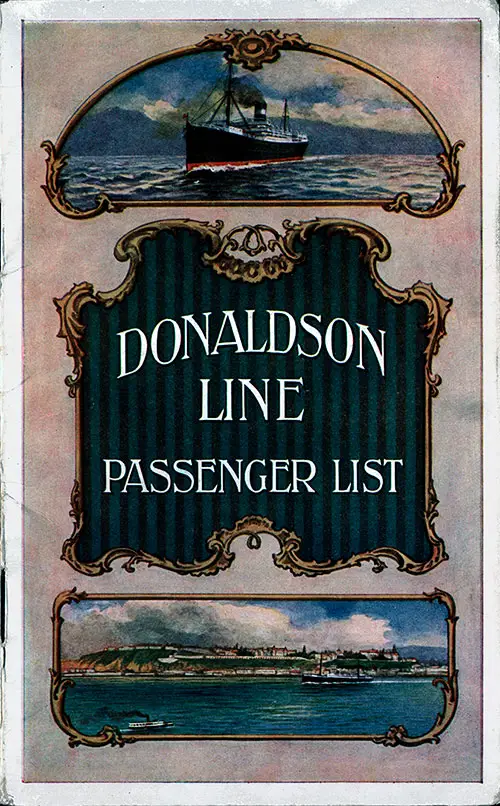 Donaldson Line History and Ephemera
Established in Glasgow in 1854 by Donaldson Brothers, they now have a large fleet, which regularly trades between Glasgow and St. John, N.B., Quebec, Montreal, Baltimore, Norfolk, and Newport News, and make a specialty of livestock and frozen cargoes. Their passenger fleet included the SS Cassandra, SS Athenia, and SS Saturnia.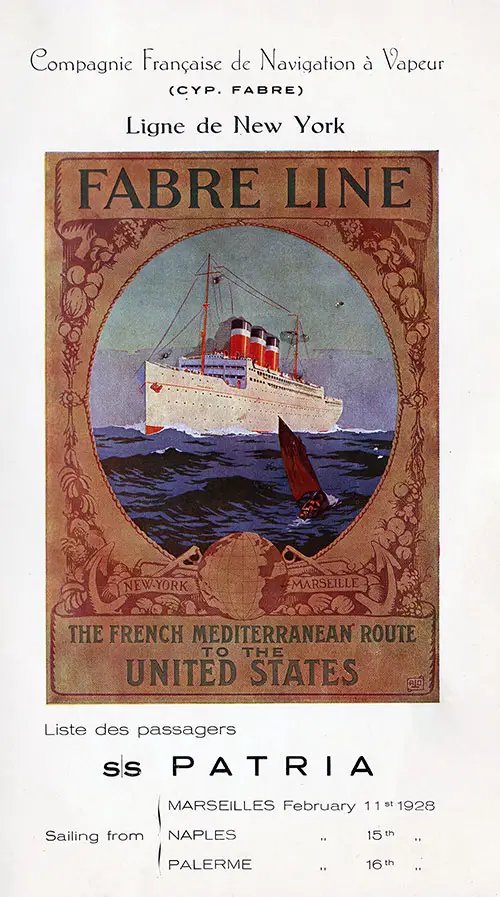 Fabre Line History and Ephemera
The First Cabin Service maintained by the Fabre Line between New York and Providence and the Azores and Lisbon, and the Mediterranean ports, Algiers, Naples, Villefranche (port of Nice, Riviera) and Marseilles is, without doubt, the most unique and attractive afforded by any regular Mediterranean Line.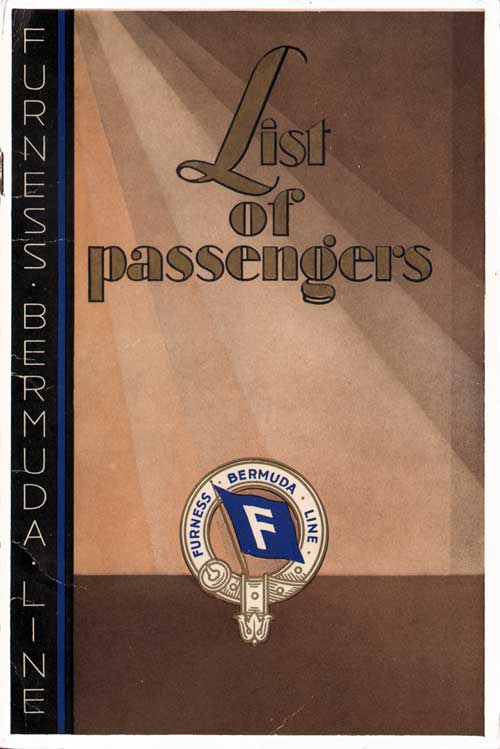 Furness Bermuda Line History and Ephemera
The Furness Bermuda Line was a British shipping line that operated during the 20th century. Affiliated with the Furness Withy conglomerate, it ran cruises from New York City primarily to the British territory of Bermuda. Furness Bermuda began operations in 1919 with a single ship, Fort Hamilton.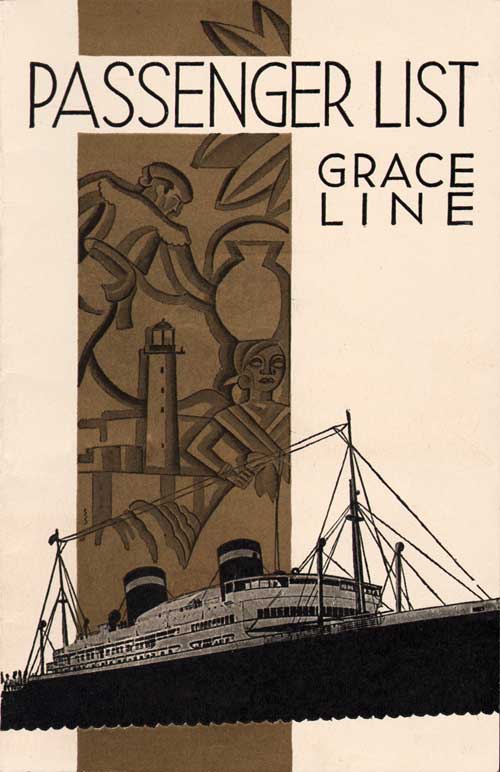 Grace Line History and Ephemera
The Grace Line (Started by W. R. Grace & Company) operated as a steamship line from 1882 until 1969. Beginning in the 1930s, Grace Line established passenger service between New York and Seattle via the Panama Canal.  By the late 1930s, they concentrated on the route between New York and Haiti.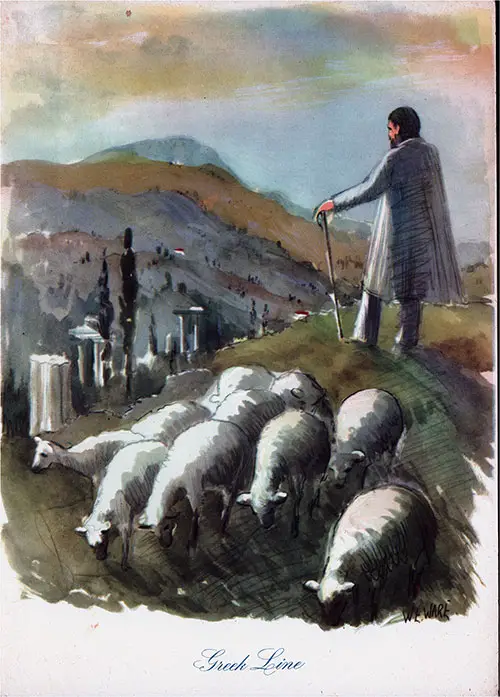 Greek Line History and Ephemera
The Greek Line, formally known as the General Steam Navigation Company of Greece, was a passenger ship line that operated from 1939 to 1975. The Greek Line was owned by the Ormos Shipping Company.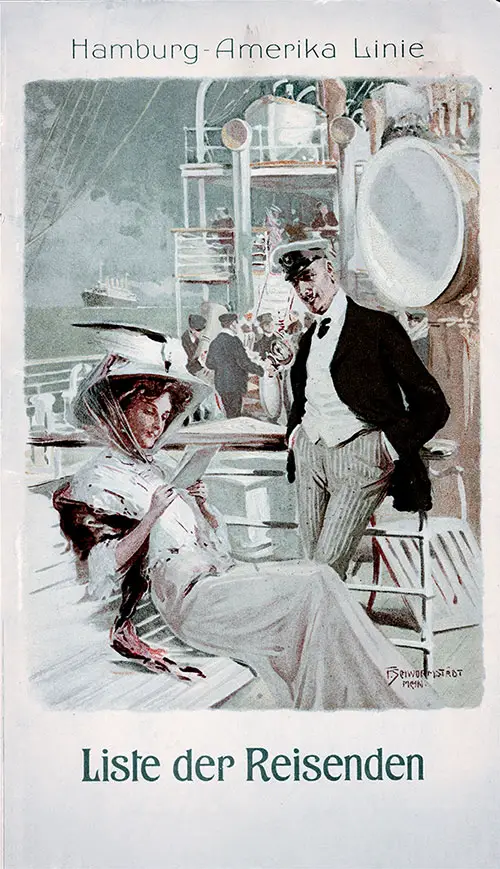 Hamburg America Line History and Ephemera
Hamburg America Line was one of the major steamship companies to handle the immigrant trade. Their primary routes of Hamburg, Germany to New York via Southampton were supplemented by other vessels that called on the ports of Portland ME, Baltimore, Boston, Philadelphia, Galveston, and New Orleans, in addition to Canadian ports.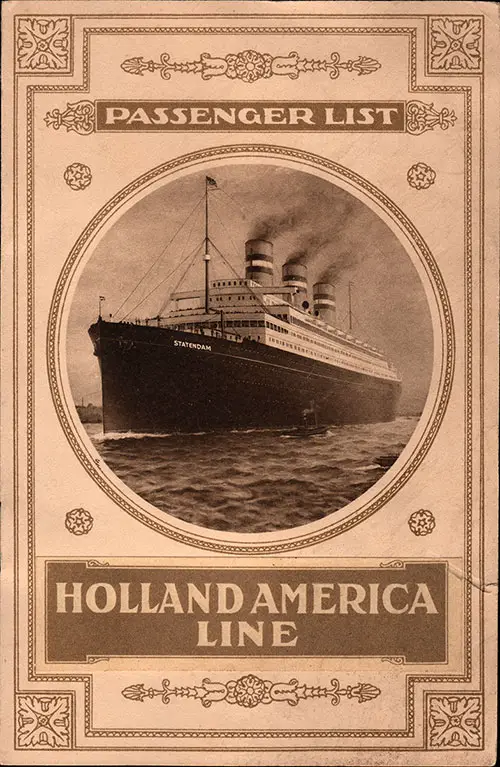 Holland-America Line History and Ephemera
The Historical Documents from the Holland America Line at the Archives is one of the most popular collections. The passenger lists and menus often have some of the most intricate, beautiful artwork - very elaborate and ornate covers that are treasured the world over. Our collection of passenger lists of the Holland America Line covers the first half of the twentieth century.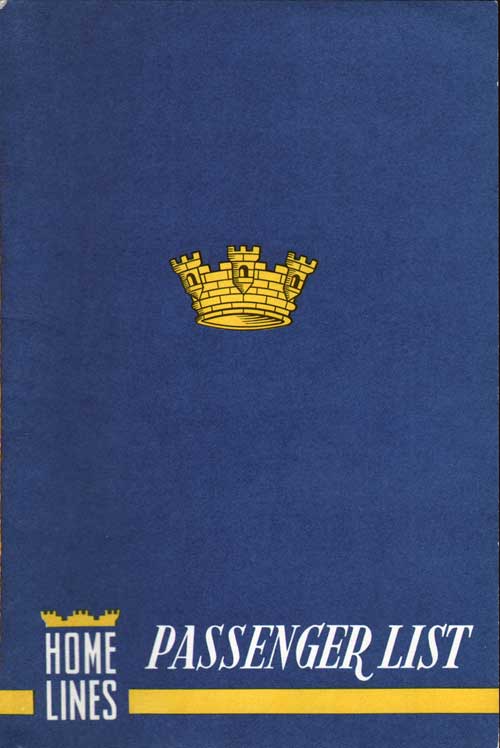 Home Lines History and Ephemera
Founded in 1946, Home Lines was an Italian passenger shipping company operating both ocean liners and cruise ships. Based out of Genoa, their vessels were registered in Panama. In 1988, Holland America acquired Home Lines, one of the most highly regarded cruise lines in the world at that time.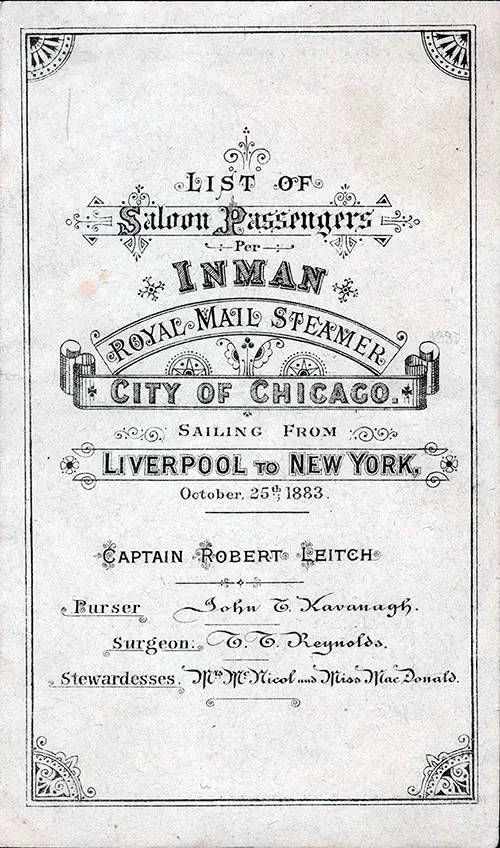 Inman Line History and Ephemera
The Inman Line Steamship Company was established in 1850 and operated until 1885 when the assets were purchased by the American Line and Red Star Line.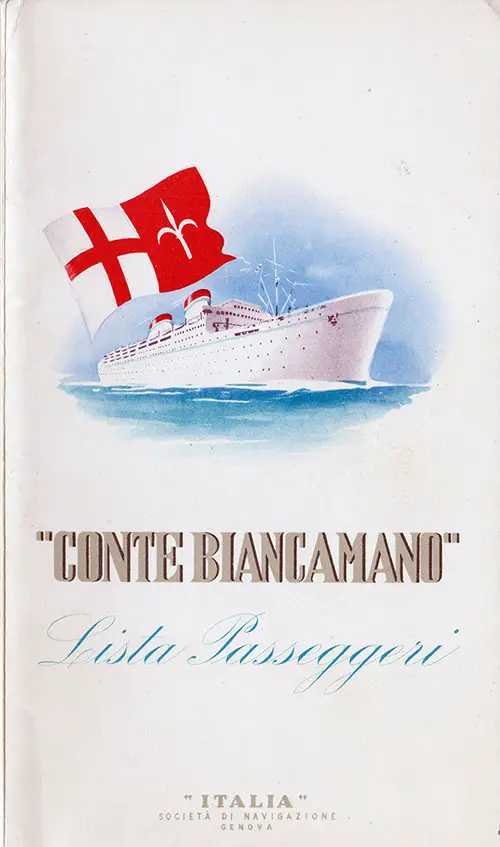 Italian Steamship Lines History and Ephemera
Italian Steamship Lines includes Cosulich Line, Italia-Sabaudo, Lloyd Sabaudo, NGI-Italian Line, Societa di Navigazione Italia, Italia Flotte Riunite Cosulich - Lloyd Sabaudo - Navigazione Generale and Soc. per Azioni di Navigazione Genova and Sabaudo.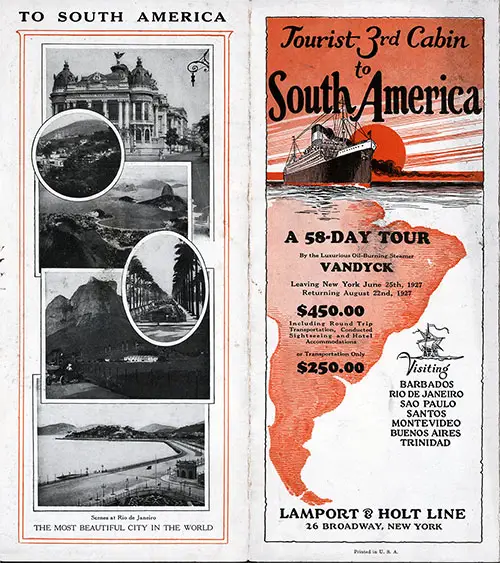 Lamport & Holt Line History and Ephemera
This line operates a direct service from New York to the principal ports of South America by the splendid I2,000-ton twin-screw steamers Vestris and Vauban, and the popular Vasari also 12,000 tons, Voltaire, 11,000 tons, Verdi, Byron, and Tennyson.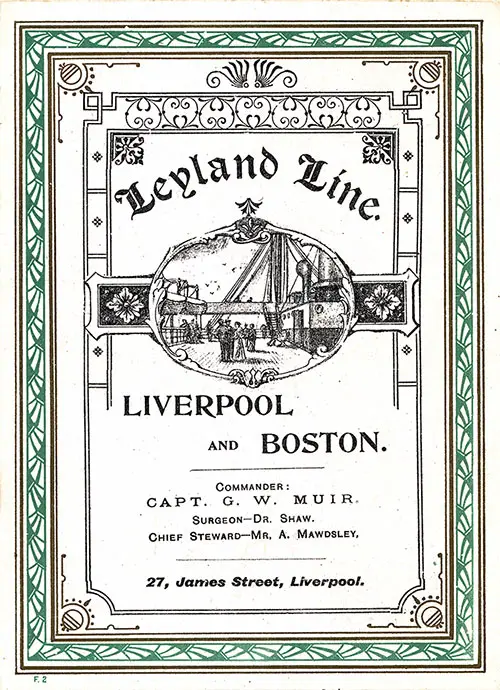 Leyland Line History and Ephemera
The Leyland Line formed during the early 1880s sailed between Boston and Liverpool and was one of the pioneers in presenting accommodations for first-class passengers exclusively, on steamers of large tonnage and steady sea-going qualities; and the present success of the Leyland fleet amply confirms the wisdom of this innovation.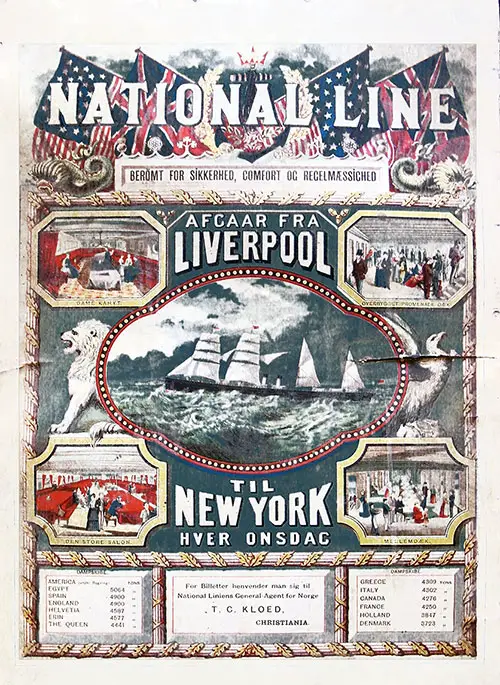 The National Steam Navigation Company (National Line) History and Ephemera
The original intention of the National Line was to run the boats between Liverpool and the Southern States after the close of the Civil War; but as this was delayed, and the ships were ready, they sent them to New York to compete with the Cunard and Inman companies.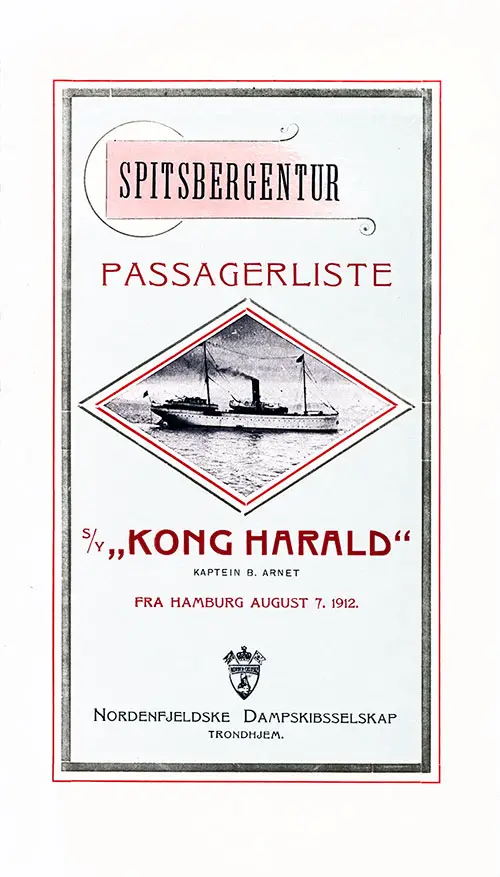 Nordenfjeldske Dampskibsselskab History and Ephemera
The Nordenfjeldske Company is one of the oldest shipping concerns of Norway, controlling a fleet of 28 steamers, all of which are employed on regular lines. They maintain an extensive passenger and freight service along the Norwegian coast, as well as freight services to foreign European ports and to South America.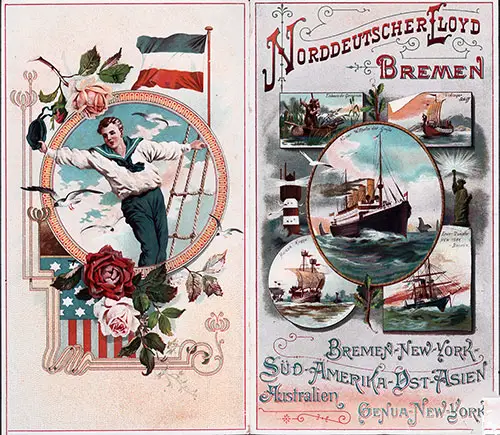 North German Lloyd History and Ephemera
North German Lloyd runs many routes from its headquarters at Bremen. Among them are those to New York that includes many express steamers and many ordinary mail steamers, all calling at Southampton or Cherbourg; to Baltimore direct; to Galveston direct. There are no first-class passengers by this line; to Brazil; to the River Plate, calling at principal ports on the way.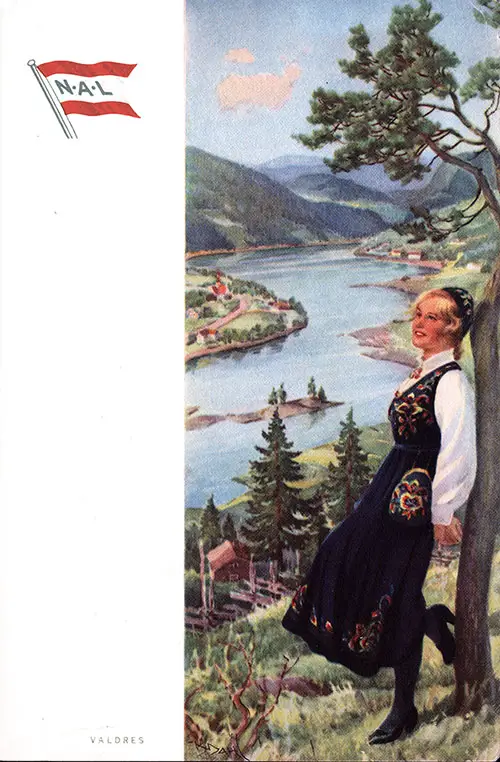 Norwegian America Line (NAL) History and Ephemera
The Norwegian America Line (NAL) Den Norske Amerikalinje was started in 1910 to take advantage of the Immigrant trade between Norway and the United States. The transatlantic voyages between Oslo and New York were made with the following Ocean Liners: Kristianiafjord, Bergensfjord, Oslofjord, and Stavangerfjord during the period covered by the Gjenvick-Gjønvik Archives.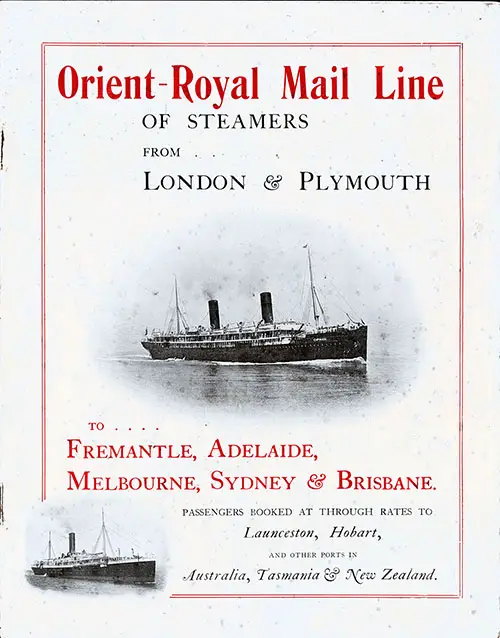 Orient Line History and Ephemera
Established in 1878, and are the contractors with the Commonwealth Government for the carriage of mails between England and Australia. A fortnightly service is maintained from London, calling at Plymouth, Gibraltar, Marseilles, Naples, Port Said, Suez, Colombo, Fremantle, Adelaide, Melbourne, Sydney, and Brisbane.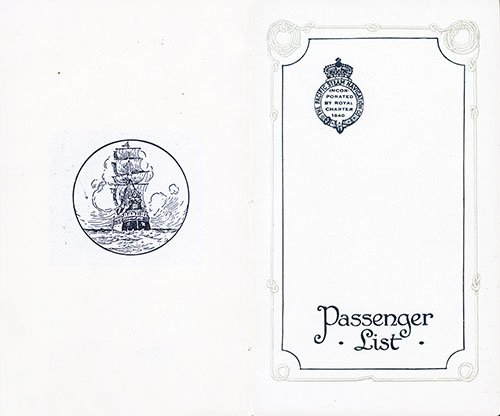 Pacific Line (PSNC) History and Ephemera
This was the pioneer of the steam-trade along the western coast of South America; subsequently its operations were extended to Europe, and finally, in conjunction with the Orient Steam Navigation Company, it established the Orient Line to Australia, from which it withdrew in 1906.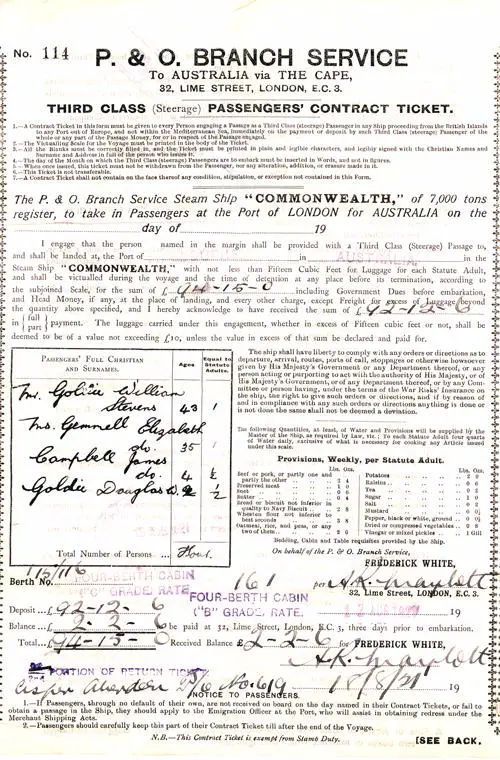 Peninsular & Oriental Line History and Ephemera
The story of the P. & O. Company may be divided into two eras—the first reaching from its foundation to the opening of the Suez Canal; the second from that date to the present day.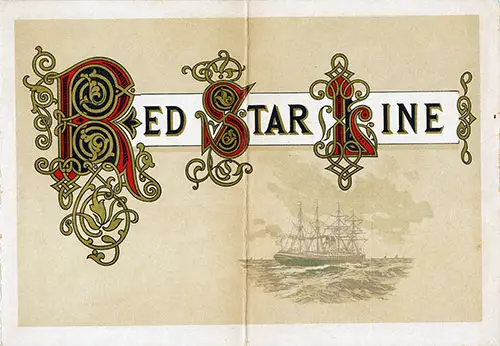 Red Star Line History and Ephemera
The Red Star Line began transatlantic passenger service in 1873 and 1935 between European ports and New York. The Belgenland was their most famous ship, and most of the names of their steamships ended with the suffix "land."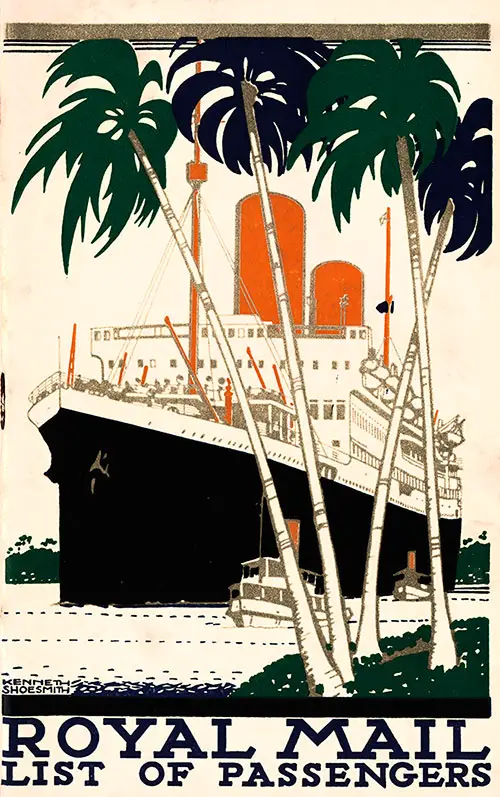 Royal Mail Lines History and Ephemera
Royal Mail Lines' operations were concentrated on the west coast of South America, the West Indies, and the Caribbean, and the Pacific coast of North America; the Southampton – Lisbon – Brazil – Uruguay – Argentina route was operated from 1850 to 1980. RML was also a leading cruise ship operator.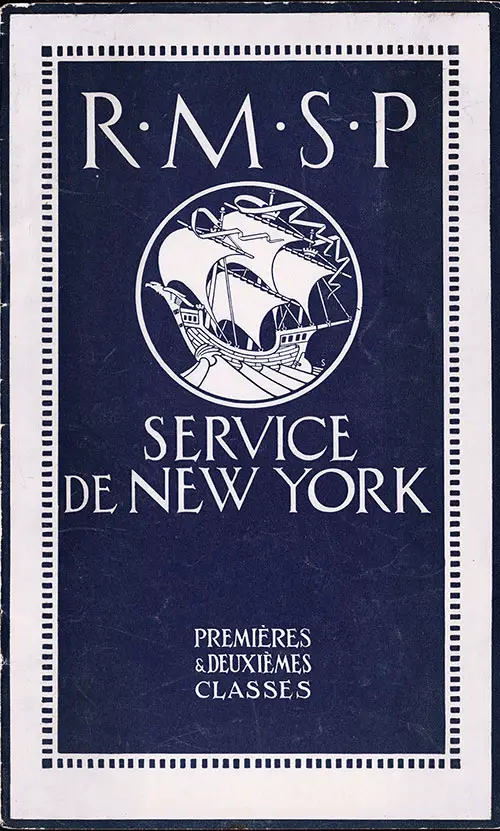 Royal Mail Steam Packet Company History and Ephemera
The Royal Mail Steam Packet Company that provided transatlantic passenger services to and from Hamburg, Cherbourg, Southampton, and New York and on occasion Quebec.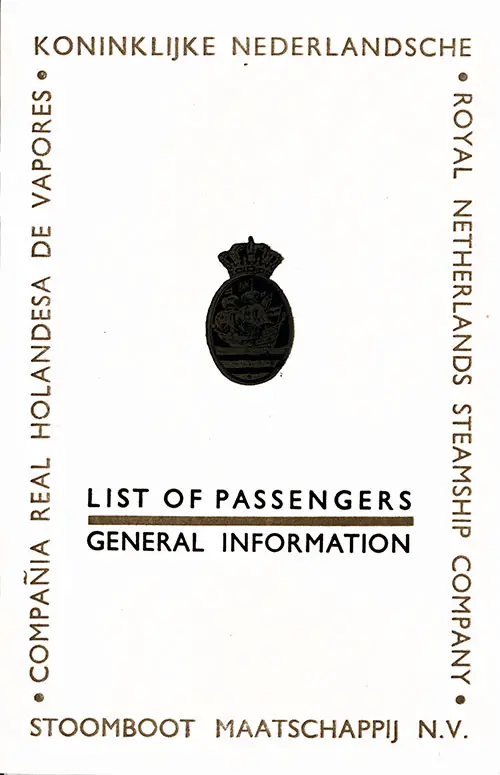 Royal Netherlands Steamship Company (KNSM) History and Ephemera
This long-Established Dutch shipping company was one of the really great Caribbean, Central American and South American traders with a vast fleet. Koninklijke Nederlandsche Stoomboot Maats (KNSM) was founded on 1st October 1856 by a group of Dutch entrepreneurs. KNSM provided cargo and passenger services from Northern Europe to the West Indies, Central, and South America.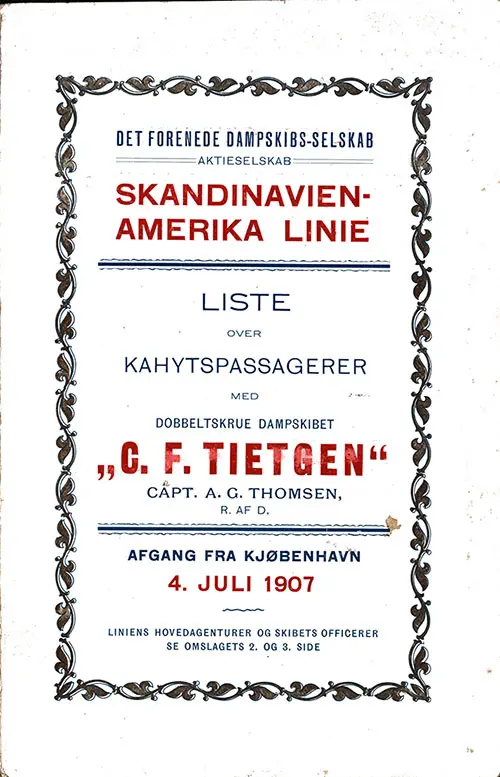 Scandinavian-American Line History and Ephemera
Favored in the early 20th century, alike by those who crossed the Atlantic for pleasure and for business, the Scandinavian-American Line -- the descriptive name under which the company operated its passenger service between the United States and the Scandinavian countries -- typifies everything that made ocean travel a delight.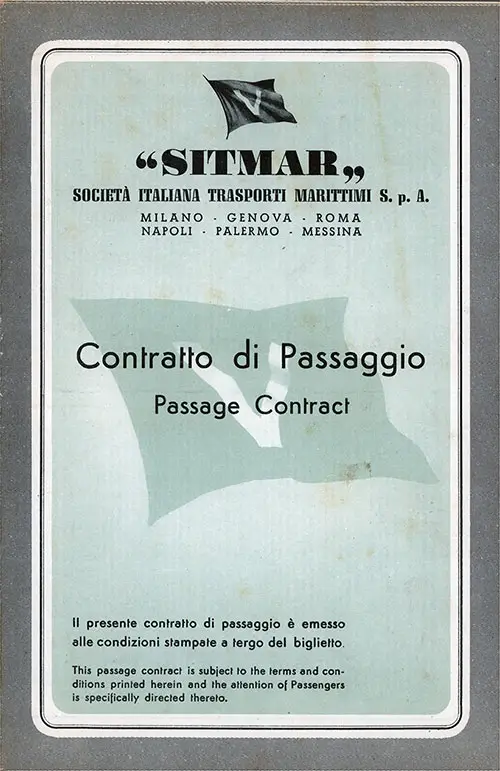 "SITMAR" Line History and Ephemera
Societa Italiana Trasporti Marittimi S. p. A. or Sitmar Line was an Italian shipping company founded by Alexandre Vlasov (1880-1961). In 1928 Alexandre Vlasov chartered his first vessel, named after his son Boris.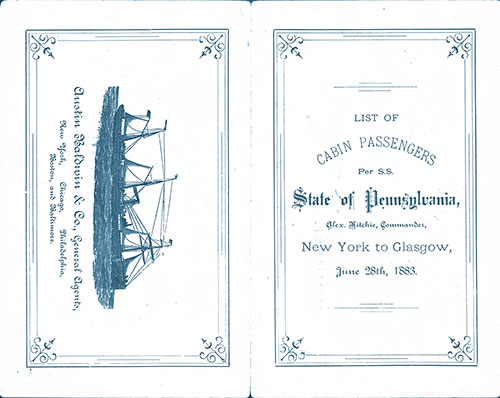 State Line Steam-Ship Company History and Ephemera
The State Line Steam-Ship Company now runs its steamers from New York to Glasgow and the north of Ireland forthnightly; but it is expected that early in July 1873, the departures will be more numerous, and that vessels offering superior accommodations to passengers will be dispatched weekly.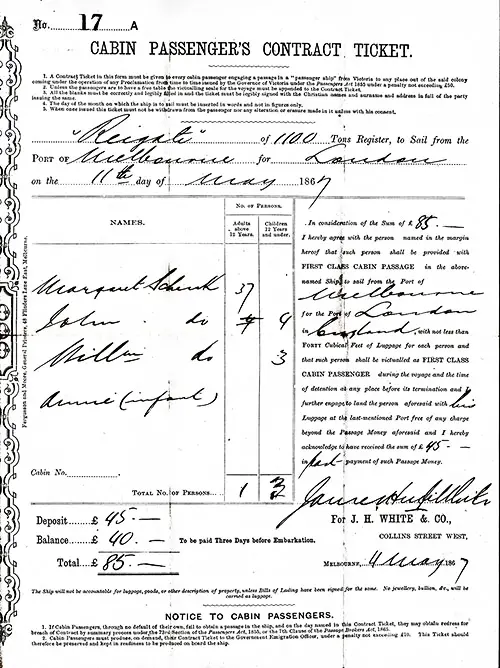 Surrey Steamship Company History and Ephemera
The Surrey Steamship Co., Ltd. of London operated the "Reigate" - a three-masted ship built in 1862 by C. Lungley, London for J. H. Allan, London. She was sold in 1876 to W. B. Jones of Swansea.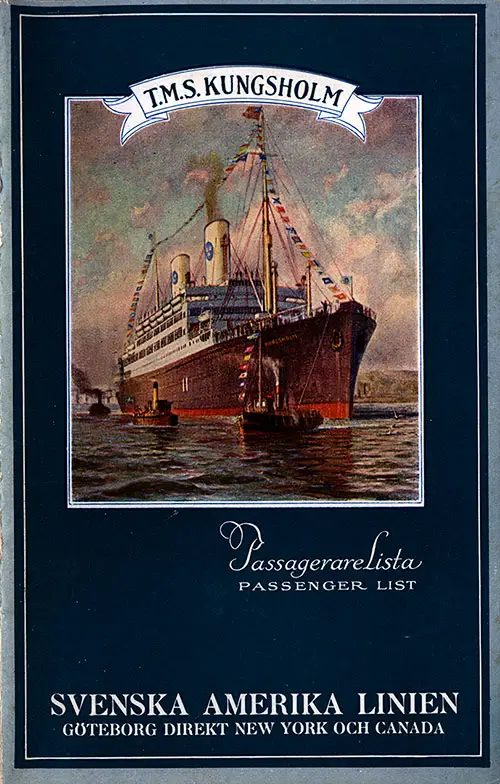 Swedish American Line History and Ephemera
Passenger, freight and mail service direct between New York and Gothenburg, Sweden. Gothenburg is conveniently situated and offers a direct route, with daily connections to all points in Sweden, Norway, Denmark, Finland, Russia, the Baltic states, Germany, etc.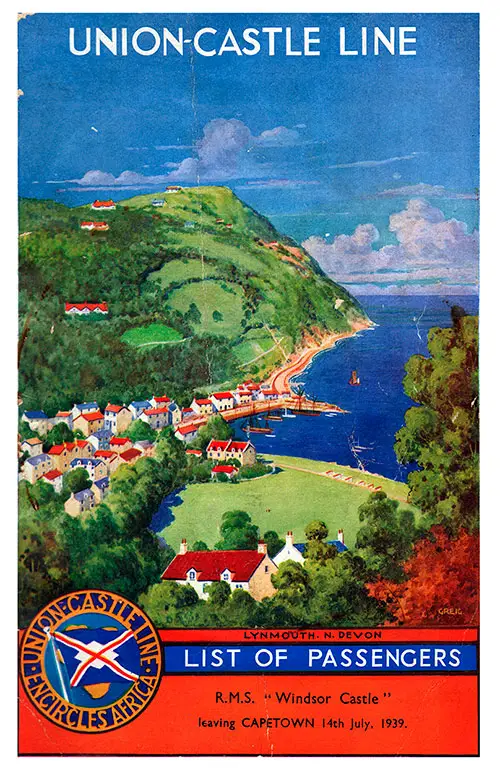 Union-Castle Line History and Ephemera
The Union-Castle Line offered many passenger and freight services including Royal Mail Service; Intermediate Steamship Class Service, East African Coast Service, Mauritius Service and Service to Lobito. For the UK, They served the ports of London and Southampton.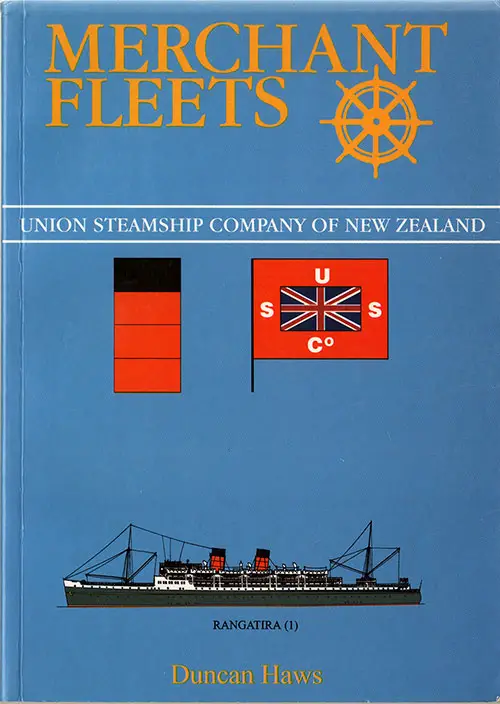 Union Steamship Company of NZ History and Ephemera
The Royal Mail Express Steamers of this Line are despatched from Sydney every fourth Monday and proceed via Auckland, Samoa, and Honolulu to San Francisco taking passengers for all European Porta on through tickets. Passengers have the privilege of stopping over at any ports en route, and also of traveling to or from Samoa by the Company's Regular Island Steamers.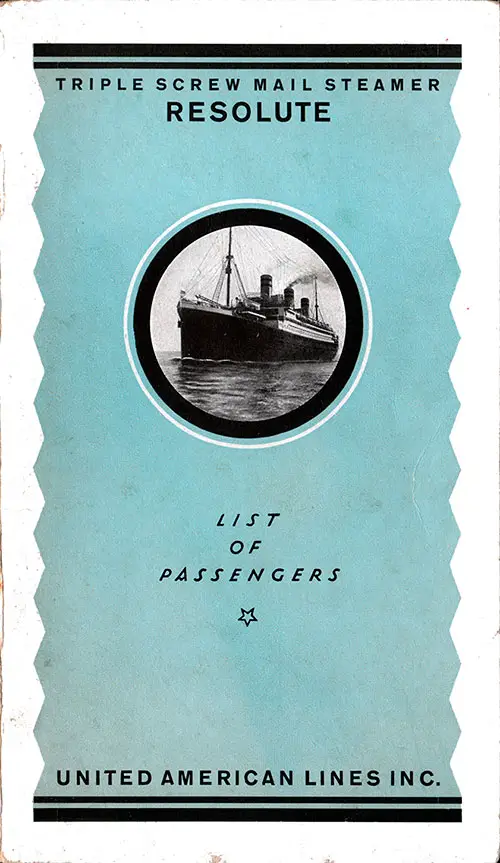 United American Lines (Harriman Line) History and Ephemera
The United American Lines, aka American Shipping and Commercial Corporation, was founded by W. Averell Harriman in 1920. Harriman entered into agreements with the Hamburg-America Line (HAPAG) to handle transatlantic passenger traffic between Hamburg - Southampton - Cherbourg - New York. The Steamship line was sold to HAPAG in 1926.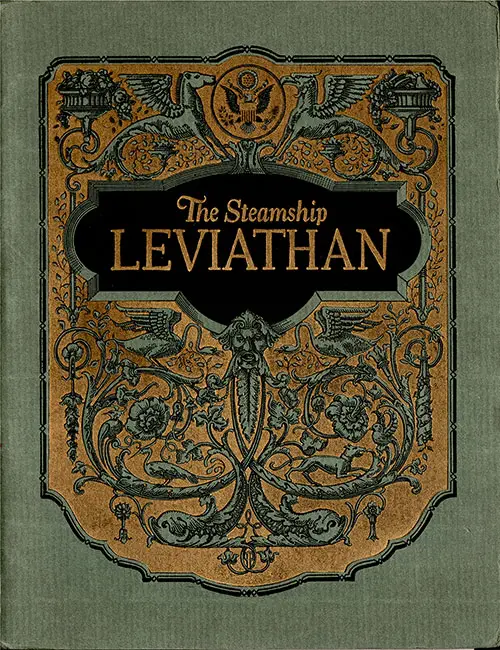 United States Lines (USL) History and Ephemera
United States Lines operated cargo services from 1921 to 1989, and ocean liners until 1969—most famously, the SS United States and the Leviathan. The company was formed with three ships from the tonnage of the failed United States Mail Steamship Company.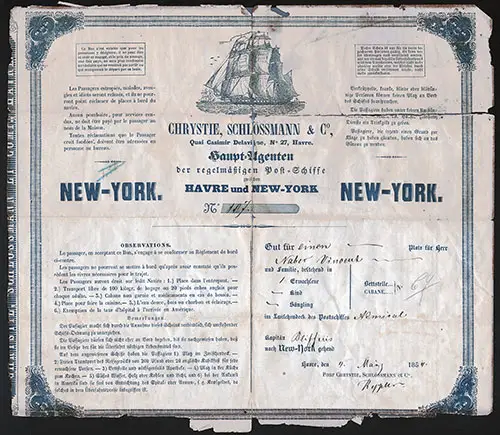 Vanderbilt European Steamship Line History and Ephemera
The Vanderbilt European Steamship Line plied between New York, Southampton, Le Havre, and Bremen. The Ships included the SS North Star and SS Admiral - Fast packet vessels of about 2500 tons each. The price of passage as of June 1856 was $100 for the first Cabin, $60 for Second Cabin.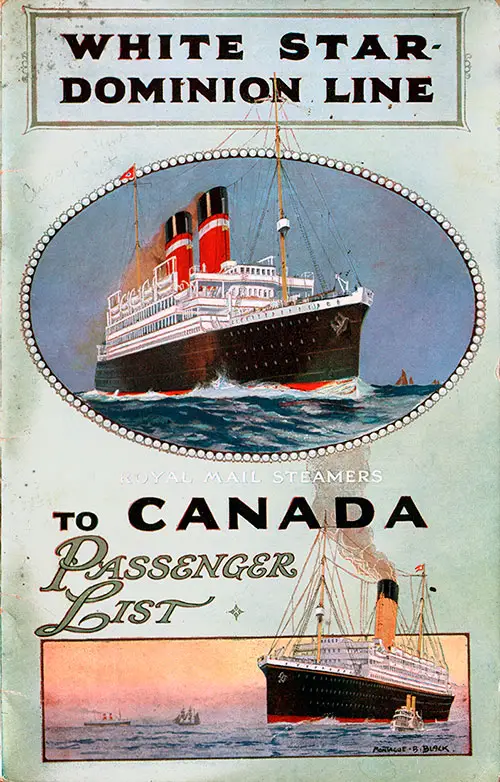 White Star-Dominion Line History and Ephemera
White Star - Dominion Line formed as a joint service between White Star Line the the Domain Line in 1909 to handle passenger and freight traffic between Quebec and Montreal and Liverpool via Queenstown (Cobh). Their passenger fleet included the SS Laurentic, Megantic, Canada, Dominion, and Teutonic. In 1926 the service was rebranded as the White Star Line Canadian Service.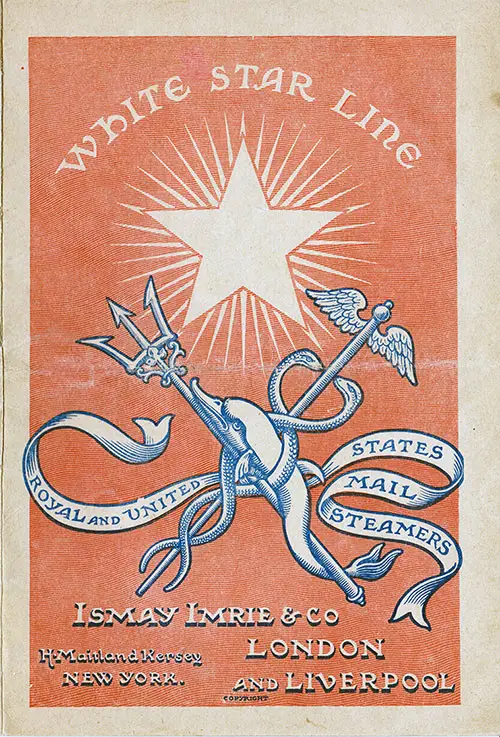 White Star Line History and Ephemera
While half a century has elapsed since the White Star Line commenced running a regular steamer service between New York and Liverpool, the Line has actually been in existence since the middle of last century. Its original fleet consisted of some half dozen American-built clipper ships plying between England and Australia.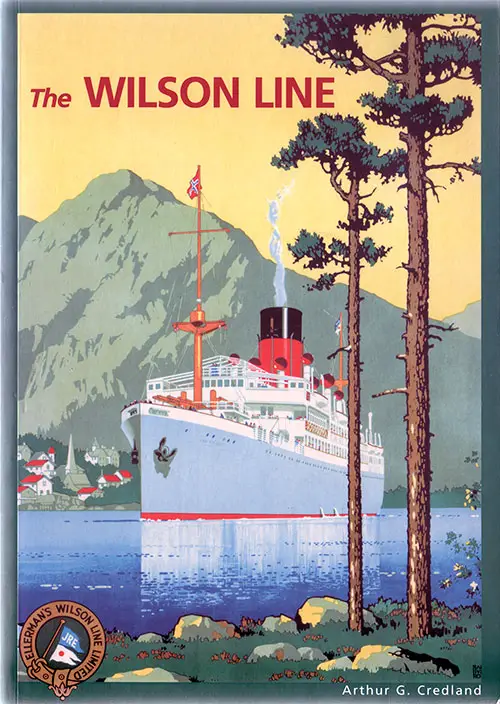 Wilson Line History and Ephemera
The company employs many large and swift ships in the Norwegian passenger traffic, which in the summer season now reaches very considerable proportions. It has frequent services of passenger and cargo vessels to the ports of northern Europe, carrying passengers in the season as far north as the North Cape.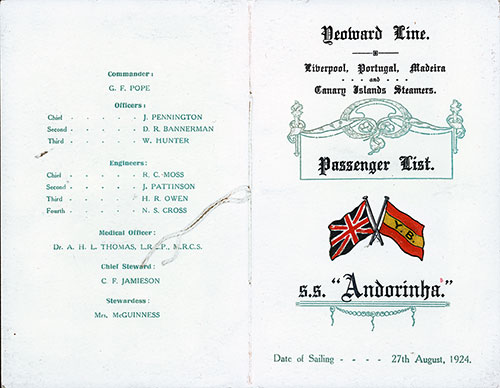 Yeoward Line History and Ephemera
The Yeoward Line, managed by Messrs. Yeoward Brothers, inaugurated their service in the year 1899, and were known world-wide for their Passenger tourist traffic from Liverpool to Lisbon, Madeira and the Canary Islands.