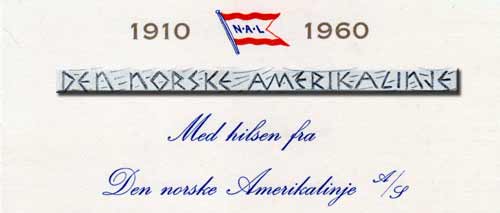 Norwegian America Line (NAL) History and Ephemera
The Norwegian America Line (NAL) Den Norske Amerikalinje was started in 1910 to take advantage of the Immigrant trade between Norway and the United States. The transatlantic voyages between Oslo and New York were made with the following Ocean Liners: Kristianiafjord, Bergensfjord, Oslofjord, and Stavangerfjord during the period covered by the Gjenvick-Gjønvik Archives.
Norwegian America Line Ephemera
Hat Tally (Ribbons)
1917 Ribbon (Hat Tally): SS Stavangerfjord Yellow Lettering on Black with Norwegian Flag on Left Side and NAL flag on the Right Side.
Photographs - SS Stavangerfjord and Bergensfjord - 1924
Photographs of One Class Cabin and Third Class Accommodations on the Norwegian America Line SS Stavangerfjord and Bergensfjord from a 1924 Rate Brochure. Den Norske Amerikalinje offered direct sailing between New York and Bergen, Stavanger, Kristianssand and Kristiania.
Photo 1: Cabin Writing Room
Phot 2: Cabin State Room
Photo 3: Cabin Promenade Deck and Veranda Café
Photo 4: Cabin Music Room
Photo 5: Cabin Dining Room
Photo 6: Cabin Smoking Room
Photo 7: Third Class Dining Room
Photo 8: Third Class Smoking Room
Photo 9: Third Class Promenade Deck