SS Stavangerfjord Passenger List - 6 July 1939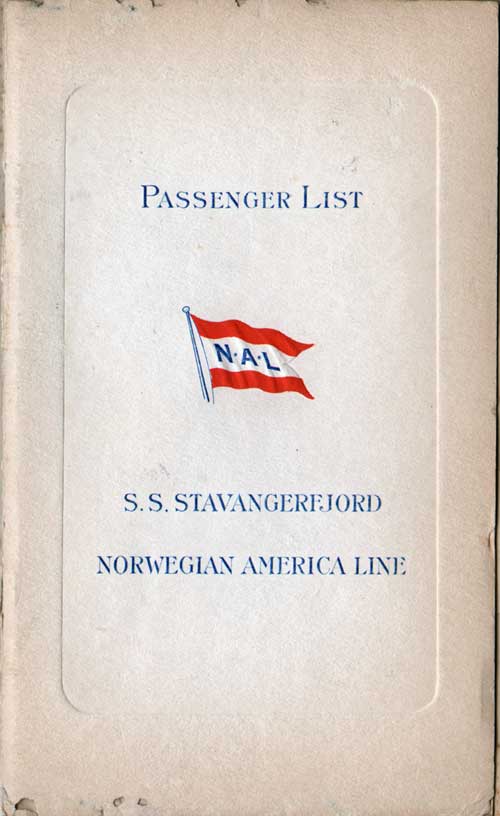 Front Cover of a Cabin, Tourist, and Third Class Passenger list for the SS Stavangerfjord of the Norwegian-America Line, Departing 6 July 1939 from New York to Oslo via Bergen, Stavanger, and Kristiansand, Commanded by Captain K. S. Irgens. Passengers Included Members of the Norwegian Royal Family.
Senior Officers and Staff
Captain K. S. Irgens, Commander
Chief Officer - ROlf Christiansen
Chief Engineer Haakon Bergh
Purser Torbjørn Frydenlund
Doctor Ole Husebye
Chief Steward Harald Dønnum
List of The Royal PARTY
His Royal Highness the Crown Prince of Norway
Olav V (Alexander Edward Christian Frederik; 2 July 1903 – 17 January 1991)
Her Royal Highness the Crown Princess of Norway
Princess Märtha of Sweden (28 March 1901 – 5 April 1954)
Major N. R. Ostgaard
Mrs. N. R. Ostgaard
Capt. N. A. Ramm
Mr. Jens Schive and servants
In 1939, shortly before the outbreak of World War II in Europe, the Crown Prince and Princess made a highly popular visit to the United States. The couple befriended President Franklin Roosevelt and his wife, Eleanor Roosevelt. During this visit, the couple conducted an extensive tour of the Upper Midwest, where many Norwegian immigrants had settled.
During the tour, Crown Princess Märtha was honored with initiation into the Delta Zeta sorority. She and her lady-in-waiting were pinned during the initiation ceremony at the University of North Dakota, by Delta Zeta national president, Myrtle Graeter Malott.
This voyage represented their return trip to Norway.
Cabin Passengers
Miss Anna Bendixen
Mr. Gerhard M. Berg
Mr. Sten Bugge
Miss Katherine B. Cole
Miss Ellen A. Constable
Mr. Samuel Eliot
Miss Francess Elmore
Miss Lillian Elmore
Miss Grace Freeman
Mrs. Haakon Friele
Mr. Ottar Gladtvet
Dr. Francis Grant
Mrs. Francis Grant Jr.
Mr. William Grant
Mr. Joseph Grant
Mrs. Francis C. Grant
Miss Anne Grant
Mr. Christ. Hagen
Mrs. Christ. Hagen
Miss Ingrid Hakinson
Mr. Halns Christian Hansen
Mr. M. Hansen
Mrs. J. M. Hansen
Mrs. Louise A. Hard
Miss Jenny Johansen
Miss Mathilda Kildal
Mr. Ditlev Knudsen
Mrs. Alyce S. Knudsen
Mr. Gunnar Kristiansen
Mrs. Gunnar Kristiansen
Mr. Johan Landmark
Miss Charlotte Matlock
Dr. Hugh McCulloch
Mrs. Hugh McCulloch
Mr. Hugh B. McCulloch
Mr. Robert H. McCulloch
Mr. Bruce M. McCulloch
Mr. E. B. Morris
Miss Julia Morris
Mrs. Charles Morrison
Mr. Theodore Morrison
Miss Oleif Myklebust
Mr. Octavius E. Nelson
Consul Odd Nielsen
Mrs. Odd Nielsen
Miss Edla Norberg
Mrs. Edvine Olstrum
Miss Inez E. Ostberg
Miss Julie Oswald
Mr. Olav Paus
Mrs. Olav Paus
Mr. Johan Reiersen
Mrs. Johan Reiersen
Dr. R. B. Reinertsen
Mrs. R. B. Reinertsen
Mr. Thorstein Roed
Mr. Frederick D. Rose
Mrs. Frederick D. Rose
Mrs. John Rudin
Dr. Erling Rusting
Mr. T. T. Scudder
Mrs. T. T. Scudder
Mr. Olaf Sivertsen
Miss Randi Sundet
Mr. Erling Tovsrud
Mrs. Charles Tyson
Mr. Carl Warden
Mrs. Norman Woodhams
Miss Dorothy Woodhams
Mrs. Elizabeth Zander
Miss Gerda Zwilgmeyer

Additional:
Mr. Carl B. Grown
Mrs. Gertrude Grown
Prof. Herbert Tirigsten
Mrs. Gerd Tingsten
Mr. Paul A. Ytterdal
Dr. Johs. Zimmer
Mrs. Gerd Zimmer
Not onboard
Miss Anna Bendixen
Mr. Sten Bugge
Consul Odd Nielsen
Mrs. Odd Nielsen
Miss Julie Oswald
Total Cabin Class Passengers: 79.
Tourist Passengers
Miss Else M. Alfsen
Miss Ingeborg Andersen
Mrs. Marie Andersen
Mr. Carl Anker
Mrs. Borghild Anker
Miss Gunvor Askergren
Mr. Johannes Bakke
Mrs. Sigrid Bakke
Mr. Tor Bakke
Miss Evelyn Baldwin
Senator Ole Benson
Mrs. Ole Benson
Mr. Floyd Benson
Mr. Bernhard O. Berge
Miss Jeanette Berge
Miss Amalie B. Bergsto
Mrs. 0. Bettum
Mr. Jacob Birkland
Mrs. Erna Birkland
Master Frank Birkland
Miss Marilyn Birkland
Miss Frieda Blad
Miss Maren Braathen
Mr. Christian Brustad
Mrs. Guldborg Brustad
Mr. A. C. Bugge
Miss Inger Bugge
Miss Laura E. Burmeister
Miss Ingeborg Christensen
Miss Emmalin Christiansen
Mr. Paul Christiansen
Mr. Ole C. Christopher
Miss Edith Dahl
Mr. Hans Dahl
Miss Lena L. Day
Mrs. Herbert Deutch
Miss Ruby E. Dickerson
Mrs. Beatrice Dolan
Miss Marion Dolan
Mr. Marius Endresen
Mrs. Marius Endresen
Miss Margit Ericksen
Miss Elsa Ericksen
Mrs. Inga Eriksen
Mr. Einar Eriksen
Miss Nina Eyde
Mrs. Ingeborg Froysaa
Master Tom Froysaa
Miss Shirley Froysaa
Mr. Sjur Fuhr
Mrs. Sjur Fuhr
Mrs. B. Galbraith
Dr. Alfred Cope Garrett
Mr. James Gaw
Mr. John P. Goderstad
Mr. Einar Graff
Mrs. Alice Grude
Mr. Birger Holm Hansen
Mr. Harry Hansen
Miss Helga Hansen
Mrs. Helga Sofie Hansen
Miss Milly A. Haraldsen
Mrs. C. G. Hege
Mrs. Hilda Hegeberg
Dr. Inga O. Helseth
Mrs. Tillie N. Helvik
Miss Hulda Hermann
Miss Hildur Hetland
Miss Astrid A. Hjelle
Miss Ingrid Irgens
Miss Harriet Irgens
Miss Astrid Johannesen
Mrs. E. Johansen
Mrs. Borghild Johnsen
Master John Johnsen
Mrs. Arthur P. Johnson
Mrs. Arthur P. Johnson
Mr. Magnus Johnson
Mrs. Mae Belle Johnson
Miss Marjorie L. Jones
Miss Inga A. Kjos
Mr. Hilmar Knutson
Mrs. Kurt Koffka
Miss Abbie Leer
Miss Helen Leer
Mr. Halyard Ljogodt
Mr. Harald Lonnechen
Miss Mary Marshall
Mrs. Asta Mathisen
Miss Hetty R. Maxwell
Miss Elvira McAyel
Mr. W. L. McIntyre
Mrs. W. L. McIntyre
Mr. Henrik Mendelsohn
Mrs. Ragna Mendelsohn
Mr. Wulf Meszanzky
Mrs. Bertha Meszanzky
Mr. Gunnar Moerck
Mrs. Gertie C. Monsen
Mrs. Mathilde Moran
Mrs. Ella Murray
Mr. C. Myer
Mrs. C. Myer
Miss C. Nalle
Mr. Anton Neilsen
Mrs. Johanna Neilsen
Miss H. Sofia Nelsen
Miss Lillian Nelson
Mrs. Gudrun Nilsen
Mr. Herbert Nilsen
Mr. B. Northgard
Miss Julie Oberg
Mrs. Gunhilde Olsen
Mr. Hans Olsen
Miss Emily Olsen
Miss Martha Olsen
Mrs. Petra Olsen
Mrs. Sigrid Olsen
Mrs. Elizabeth Olson
Mrs. Marie Osland
Miss Dagny Otterland
Mrs. W. B. Overbee
Mrs. Ottilie Page
Miss Hettie S. Parrott
Miss Laura Paulsrud
Mrs. Signe Pedersen
Miss Margretha W. Petersen
Mrs. Elsie Randall
Mr. Cato Refting
Miss H. M. Rice
Mrs. Astrid T. Ringseth
Miss Nancy Ringdal
Mrs. Ida Rorem
Miss Myrtle Rorem
Mrs. Gunhild H. Rosen
Miss Ruth Ruud
Miss Elizabeth Ruud
Mr. Joseph Saetrang
Miss Jenny Sagen
Mrs. Eleanor Sangrte
Miss Margaret Sather
Mr. Jens S. Sele
Mrs. Margit Shanachie
Mrs. Anna Shoquist
Miss Margret Skedsmo
Mrs. S. B. Smith
Mr. Peter Solheim
Mr. Edward Stad
Mr. Paul Somme Stassevitch
Miss Dagmar Svenningsen
Miss Thora Syverstad
Mr. O. B. Thodesen
Mr. Thor Adolf Thoresen
Mrs. Rakel Thoresen
Miss Torunn Thoresen
Mrs. Kristine Thuesen
Miss Oluffa Traae
Dr. William B. Tuerck
Mrs. William B. Tuerck
Mrs. Kristine Tvedt
Mr. Thomas L. Tvedt
Mrs. Theodora W. Ward
Mrs. Signe Wendel
Mr. Emil J. Westre
Mrs. Ragna Westre
Mr. Y. Williamsen
Mrs. Y. Williamsen
Mrs. J. M. Winn
Miss Edith M. Young
Mr. Paul Ytterdal

Additional:
Capt. A. Abrahamsen
Mrs. Martha Anderson
Miss Susan Averill
Mrs. Anna Bendiksen
Mr. Anton Berge
Mr. Bjarne Berg
Miss Anna Collwell
Mrs. Ella Dchl
Miss Nancy Furstenberg
Mrs. Bertine Hoge
Mrs. Ella Johnson
Mrs. Brynhild Juul
Mr. Aksel Karlsen
Mrs. Augusta Karlsen
Mrs. Borghild Kohler
Mr. Sverre Korneliussen
Miss Natalie Leaholm
Miss Elvira Mc.Aveal
Miss Borghild Olsen
Mrs. John N. Stalker
Miss Patricia Thuner
Mr. Christian Tommerstol
Miss Dagrun Tommerstol
Miss Virginia Tyson
Mr. Emil J. Westdal
Mrs. Ragna Westdal
Total Tourist Class Passengers: 181
Not on board :
Miss Else M. Alfsen
Mr. Birger Holm Hansen
Mrs. C. G. Hege
Mrs. E. Johansen
Mr. Halyard Ljogodt
Miss Elvira McAyel
Mr. Herbert Nielsen
Miss Martha Olsen
Mrs. S. B. Smith
Mr. Paul Somme Stassewitch
Mr. Emil J. Westre
Mrs. Ragna Westre
Mr. Y. Williamsen
Mrs. Y. Williamsen
Paul Ytterdal
List of Third Class Passengers
Mrs. Marie Aanonsen
Mrs. Oline Aavik
Mr. Odd Aavik
Mrs. Gudrun Aavik
Miss Ragnhild Akre
Mrs. Anna Andersen
Miss Margrethe Andersen
Mr. Joachim Andersen
Mrs. Ole K. Andersen
Mr. Oscar Andersen
Mrs. Julie Andersen
Mrs. Sofie Andreassen
Mr. F. E. Armstrong
Mrs. F. E. Armstrong
Mrs. Agnes Asbjorn
Master Gregor Asbjorn
Miss Elsie Asbjorn
Miss Margit Bakkelund
Miss Marion Balzer
Mrs. Hilda Beckstrom
Master Stanley Beckstrom
Mr. Henning Beltestad
Mrs. Anna Bensen
Master William Bensen
Miss Evelyn Bensen
Mr. Olaf Berge
Mrs. Erika Berge
Mr. Lars Bergman
Miss Betty Bergstrom
Mrs. Hanna Bjonnes
Mrs. Borghild Brown
Mr. Aksel Brynildsen
Miss Borghild Carlsen
Miss Kim Caskie
Miss Bergliot Christensen
Miss Grethe Christensen
Mr. Rudolph Christiansen
Mrs. Rudolph Christiansen
Mr. Lauritz J. Clausen
Miss Edith Dahl
Mr. Walter Dahlquist
Mr. Ole K. Dale
Mrs. Agnes De Lima
Miss Sigrid De Lima
Miss Gina Dorph
Mr. Sverre Endresen
Mr. Gus. Erickson
Mrs. Gus. Erickson
Mr. Knut Erickson
Mr. Ragnvald Eriksen
Mr. Sigurd Eriksen
Mrs. Gudrun Evensen
Master John R. Evensen
Miss Maja Evensen
Mr. Thore Martin Fagerli
Mr. Peter Fagervolci
Mrs. Elna Fredricksen
Miss Astrid Fredriksen
Mrs. Elna Fredriksen
Mr. E. A. Frier Jr.
Mr. Jacob Gaasland
Miss Mary C. Garner
Miss Ella Guldbrandsen
Miss Marguerite Gundersen
Mr. Ingvald Haavaldsen
Mr. O. A. Hagen
Mrs. O. A. Hagen
Master Robert Hagen
Miss Marjorie Hagen
Mrs. Gerd Hagland
Mrs. Olga Halbrendt
Master Robert Halbrendt
Master Norman Halbrendt
Mr. Arthur Halvorsen
Mr. Thorlein Halvorsen
Miss Valborg Hannisdal
Miss Aagot M. Hansen
Miss Anna Marie Hansen
Miss Hannah Hansen
Mr. Hjalmar Hansen
Mrs. Hjalmar Hansen
Miss Karen Hansen
Mr. Ole Haugen
Mrs. Ole Haugen
Mr. Georg Haugland
Miss Sylvia Hauser
Mr. Olaf Helgesen
Mrs. R. J. Herrick
Miss Carolyn F. Hill
Mr. Bjarne Hillesund
Mrs. Bjarne Hillesund
Mrs. Margit Hoel
Mrs. Alfhild Hoff
Miss Elin Hoffstrom
Mr. Fredrik W. Hoffstrom
Mr. Robert F. Holland
Mr. Martin Holland
Mrs. Ranveig Holland
Mrs. Gunda W. Hoist
Mr. Ingebrigt P. Holvik
Mr. Carl Wille Isaachson
Mrs. Else Isaachson
Miss Toni Isaachson
Mrs. Marie Jacobsen
Miss Laura Jacobsen
Mr. Frank Jensen
Mr. Roy Jensen
Mr. Rolf Ernst Johansen
Mr. Henry Magnus Johansen
Miss Sylvia Johansen
Miss Marie Johnsen
Mrs. Selma Johnsen
Mrs. Inga Johnson
Miss Helen Johnson
Mr. Thorsten Kjos
Miss Judith Klarstrom
Mrs. Jessie Klock
Mrs. Ingrid Knudsen
Miss Alice Knudsen
Mrs. Ragna Knudsen
Mr. Rikard I. O. Kragset
Miss Margaret Kramer
Miss Hilda Kristiansen
Miss Elsa Larsen
Mr. Johan P. Larsen
Mrs. Johan P. Larsen
Mr. Marvin C. Larsen
Mr. Kenneth Larsen
Mrs. Minnie Larsen
Mr. Lars Larsen
Mrs. Lars Larsen
Miss Grete Larsen
Mr. Wm. Larsen
Mrs. Wm. Larsen
Miss Anna Larsson
Mr. Edward J. Leaberg
Mr. Lars Leire
Mrs. Beatrice Leisk
Mrs. Inger Lehne
Miss Marit Lehne
Mr. Karsten Lien
Miss Elizabeth Jane Link
Mr. Jacob Loekkeberg
Mr. Njel Lofthus
Mrs. Hulda A. Lovrak
Mr. Austin Lower
Mrs. Helga Wendth Lund
Miss Valborg Lundgren
Mrs. Ella McConaghie
Mr. Trygve Marthinsen
Mr. G. C. Means
Mrs. G. C. Means
Mrs. Magda Minge
Miss Dagmar Monsen
Mrs. Anne Morstad
Mr. Norman Myhrland
Mrs. Mathilde Nelson
Mr. Osmund Nodland
Mr. William D. Norman
Mrs. Catherine Norman
Mrs. Louise M. Nybro
Miss Christine Nybro
Mr. Andrew Oakland
Mr. Johan Olaussen
Miss Arnhild Olsen
Master Frank Olsen
Miss Helen Olsen
Mrs. Ingeborg Olsen
Miss Solveig Olsen
Miss Karina Olsen
Mr. Jarl Olsen
Mrs. Jarl Olsen
Master Jarl Olsen Jr.
Mrs. Marie Olsen
Mr. Randolf M. Olsen
Mr. Torrey Olsen
Mr. Olai M. L. Olsen
Mrs. Borghild Olson
Mr. Andrew Omdahl
Mr. Sigurd Owland
Mrs. Sigurd Owland
Prof. Lawrence Pasel
Mr. Nils Paulsen
Miss J. Pearson
Miss Anna Pedersen
Mr. Charley Pedersen
Mr. Ottar Pedersen
Mr. Richard Pedersen
Mrs. Solveig Pedersen
Mr. Thorvald M. Pedersen
Master Paul Stanley Pedersen
Master George Bernar Pedersen
Mrs. Gudrun Pettersen
Miss Ruth M. Pettersen
Mr. Johan Pettersen
Mrs. Johan Pettersen
Mr. Nils Pettersen
Miss Grace Quimby
Mrs. Andrea Rehnlund
Mrs. Carrie Rice
Mr. Gunnar Ring
Miss Adelaide Risholt
Mrs. Harriet Rodin
Miss Lena Rohme
Mr. Arthur Ryen
Mrs. Arthur Ryen
Mr. Martin Salvesen
Mr. Johan Samsonsen
Mrs. Gudrun Samsonsen
Mrs. Marion T. Sanderson
Mrs. Josefa M. Sandvik
Mrs. Josefine Seglem
Miss Olivine Sernes
Mr. Ole Setervang
Mrs. Marie Setervang
Mr. M. K. Sigvardsen
Mr. Gunder Simonsen
Mrs. Martha Sjursen
Master Martin Sjursen
Miss Alice Sjursen
Master Sigurd Sjursen
Master Robert Sjursen
Mrs. Judith Snyder
Miss Engeleiv Soldahl
Mr. Ole Sorensen
Master James Sorgini
Mr.. Helmer Nilsen Stava
Mr. Lauritz Steen
Mrs. Claudine Steen
Mrs. Sofie Stenersen
Master Olaf Edwin Stenersen
Mrs. Astrid Stenstadvold
Master Russell Stenstadvold
Mr. Theodore Stone
Mr. Hans Store
Mr. John Sunde
Mr. Harald Sundt
Mrs. Harald Sundt
Mr. Gustav Swensen
Mr. Olav Swensen
Mr. Roy Taraldsen
Mrs. Lena Tarbell
Miss Sigrid Tellefsen
Mr. N. H. Theodores
Mrs. N. H. Theodores
Mr. Thomas Thompson
Mrs. Thomas Thompson
Miss Gladys Thorpe
Miss Karen Tomter
Miss Magdelli Troland
Mr. Theodore Trulsen
Mrs. Lena Trulsen
Mr. David Turner
Mr. Soren O. Vatsend
Mr. Arvo E. Vaurio
Mr. Sivert Voland
Mrs. Marie Vollan
Miss Anna E. Wang
Mr. Kristen K. Wanthe
Miss Astrid Westergren
Mr. Wilhelm Wilhelmsen
Mr. Yngve Williamsen
Mrs. Hulda Williamsen
Mr. Hans Winge
Mrs. Gustav S. Woll
Mr. Frank H. Wright

Additional:
Miss Dorothy L. Andersen
Mr. Rolf K. Andersen
Miss Helen Breivik
Mrs. Martha Corlsen
Mr. Bernhard Dvergdal
Mrs. Ingebjerg Einset
Miss Helga Einset
Mr. Oyvincl Einset
Miss Ingeborg Einset
Mr. Hakon Eriksen
Miss Eleanore M. Eriksen
Mr. Edward G. Fevong
Mr. Hans K. Fossas
Miss Gudrun Grondahl
Mr. Erik Greaker
Mr. Tor Halvorsen
Mr. Arrit Hansen
Mr. Johan Hansen
Mrs. Petra Hagfors
Mr. J. Hovde
Mrs. J. Hovde
Mr. Erik Isaksen
Mr. Chrislian D. Jacobsen
Mr. Carl Johnson
Mrs. Anna Johson
Miss Karla Karlsen
Mr. Johan P. Keiseras
Mrs. Oline P. Keiseras
Mr. Hans E. Knutsen
Miss Karalina Larsdotter
Mrs. Annie Laycock
Mr. Johan J. Lykling
Mrs. Karoline Nerheim
Mr. Kaare Nerheim
Mr. Gustav Nilsen
Mrs. Sigrey Nilsen
Mss Inger Noess
Mr. Otto Olsen
Mrs. Johanna T. Paulsen
Mr. Tanning Pettersen
Mrs. Ragna Pettersen
Mr. Einar Reppesgaard
Mr. Eigil J. Schutz
Mr. Otto Setervang
Miss Inez Setervang
Mr. Arvid Setervang
Mr. Eddie Setervang
Miss Solfrid Setervang
Mr. Sigurd Simonsen
Mr. Gunvold Somme
Mr. Hans Svendsen
Mr. Hans Sorensen
Mr. Einar Svandberg
Mr. Thommas Telle
Mr. Trygve P. Terland
Miss Marie Theodorsen
Mr. Edw. Thorsnes
Mrs. Margit Thorsnes
Miss Margit Thorsnes
Mr. Emil Tonnessen
Mrs. Nora Veborg

Not on board
Mrs. Sofie Andreassen
Mrs. Agnes Asbjorn
Master Gregor Asbjorn
Miss Elsie Asbjorn
Miss Enith Dahl
Mr. Rognvald Eriksen
Mr. Thorlein Halvorsen
Mrs. R J. Herrick
Mr. Blame Hillesund
Mrs. Bjarne Hillesund
Mr. Anna Larsson
Mr. Edvard J. Leaberg
Mr. Karsten Lien
Mr. Jacob Lekkeberg
Mr. G. C. Pieons
Mrs. G C Means
Mrs. Anhill Olsen
Mr. & Mrs. Johan Pettersen
Mrs. Josefine Seglem
Miss Olovine Sernes
Miss Astrid Westergren
Total Third Class Passengers: 305
Information for Passengers
Meals are generally served at the following hours:
Cabin Class
Breakfast 8.00-9:30 am
Bouillon 11:00 am
Lunch 1.00 pm
Tea and Coffee 4.30 pm
Dinner 7:00 pm
A chime is sounded at 8:00 am and half an hour before and immediately preceding lunch and dinner.
Tourist Class
Breakfast 8.00-9:30 am
Lunch, First sitting 12:30 pm
Lunch, Second sitting 1.30 pm
Tea and coffee 4.00 pm
Dinner, First sitting 6.30 pm
Dinner, Second sitting 7.30 pm
A gong is sounded at 8:00 am and half an hour before and immediately preceding lunch and dinner.
Third Class
Breakfast 8'00-9:30 am
Dinner, First sitting 12:30 pm
Dinner, Second sitting 1.30 pm
Coffee 4.00 pm
Supper, First sitting 6.30 pm
Supper, Second sitting 7.30 pm
The Management will highly appreciate the cooperation of our Passengers in observing the scheduled meal hours during the voyage.
This will eliminate any undue delays and greatly assist making your stay on board as pleasant and comfortable as possible. Thank you.
Seats at The Dining Table are assigned by the Steward after sailing. Seats will be assigned with due regard to Passengers' wishes. Meals will be served in staterooms or on deck in case of sickness only.
GAMBLING is prohibited.
Baths may be ordered from the bathroom or stateroom servants.
Library. Books may be borrowed from the ship's library by applying to the music room attendant or deck waiter. to whom the books must be returned the day before disembarking.
Baggage. Only ordinary steamer trunks and hand-baggage is allowed in the staterooms.
Baggage labeled "Baggage Room" will be placed in the baggage room, entrance on "D" Deck aft, port side, to which there is access every day from 10:00 to 11:00 am and from 4:30 to 5:30 pm Baggage labeled "Hold" will be placed in ship's hold.
Deck Chairs may be , secured by applying to the Deck Waiter (Music robm attendant). Charge, one dollar and fifty cents ($1.50). Deck chair cushions $0.50.
Blankets and Pillows must not be taken from the staterooms for use on deck.
Rugs may be hired for $1.00 for the voyage by applying to the deck waiter (music room attendant).
Wireless Telegrams are received for transmission at any time. Wireless station is located on upper deck (Bridge Deck).
Ordinary Telegrams are received for transmission by the Purser.
Letters must be stamped with Norwegian stamps and put in the mail boxes. Mail will be sent ashore at the first port of call.
Stamps are obtainable from the music room attendant (deck waiter) and also from the shop attendant in the social hall.
Valuables. The company will not be responsible for money, jewelry or other valuables, belonging to the Passengers. The Passengers are warned not to leave such articles in their staterooms. Money and other valuables enclosed in special safety envelopes provided for such purposes may be deposited with the Purser, who will give receipt for package, but as no charges are made, the company assumes no responsibility.
Doctor's Office is located on "E" deck, starboard side. Hours from 10:00 to 11:00 am and from 4:00 to 5:00 pm Emergency calls are attended to at any time. No charges will be made when illness originates on board. For attendance to illnesses originating prior to embarkation a fee may be charged. Medicine is free. A trained Nurse will attend Passengers in case of illness.
Purser's Office (also information office) located on "C" Deck, vestibule starboard side is open from 9:30 to 11:30 am and from 3:30 to 4:30 pm
BENNETT'S Travel Bureau is located opposite Purser's office.
Barber Shops are located on "C" Deck, forward and Shelter Deck aft. The following articles may be purchased in the Barber Shops: Cameras, films, fountain pens, pencils, watches, sun goggles, seasick remedies, toilet articles, caps, etc.
Shops are located in social halls. The following articles may be purchased in the shops: Postal Cards, stamps, books, magazines, souvenir books, souvenirs, playing cards, cigars, cigarettes, tobacco, pipes, fruit, chocolate, candies.
TIPS are, in accordance with general practice, Not included in the price of ocean ticket.
Connections Between
Copenhagen, Stockholm
and Baltic Ports
From Copenhagen:
To Danzig—SS "Sleipner" every Tuesday.
To Memel (Klaipeda), Libau (Liepaja)—Fortnightly Service.
To Riga—Sailing every Tuesday-First Class Kr. 50.00.
From Stockholm:
To Riga. SS "Konung Oscar" from Stockholm every Sunday at 10:00 am Trip 24 hours.
To Memel, Danzig, Gdynia SS "Marieholm" from Stockholm. Regular servicee.
To Tallinn. SS "Estonia" from Stockholm every Wednesday at 12 o'clock. Trip requires 20 hours.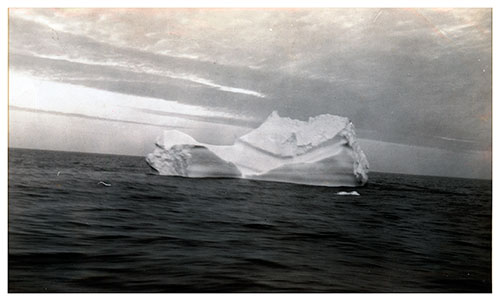 Photo of Iceberg seen during the voyage.