Ship Publications - Newspapers, Newsletters, and Magazines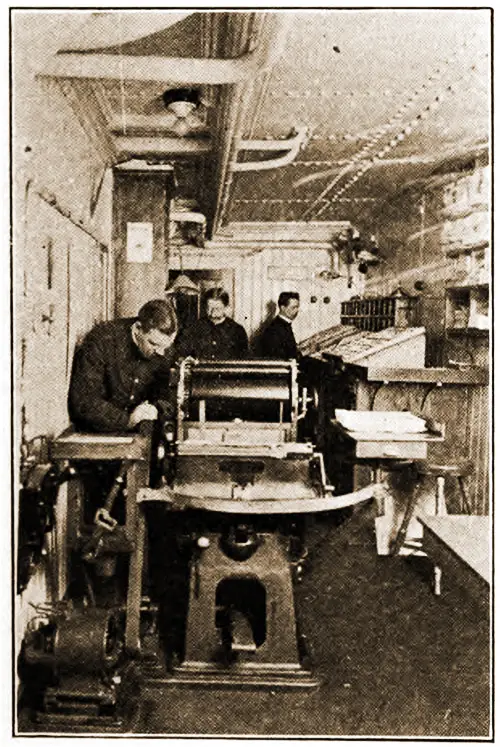 Printing a Daily Newspaper on Board a Steamship circa 1910. GGA Image ID # 13297b9132
Our travel-related newspapers, newsletters, and magazines encompass several steamship lines, including Cunard, CGT French Line, Hamburg America Line, and Norddeutscher Lloyd. Maritime publications include Sea Breezes, Steamboat Bill, The Shipbuilder, and more.
Marine publications became a reality on 7 February 1903 on board the Cunard liner Etruria. This paper was a small affair, with condensed news. The editor was the purser, J. A. McCubbin, and when his blue pencil had done its share, the "ship's printer," A. Harris (whose setting of menus and programs), set to work, and at 2 am, the paper went to press. Half an hour later, several hundred copies were in the custody of the "circulation superintendent," who saw that they were in the hands of of passengers with the matutinal rolls.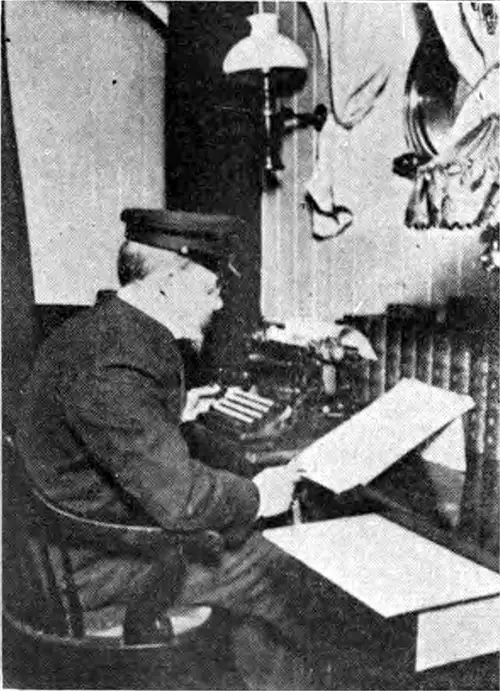 Editing the Daily Newspaper Printed on Board an Ocean Liner circa 1910. GGA Image ID # 13299ca93c
The "ship's printer" is not by any means an unknown quantity. For years he has been at work on ocean liners and men-ofwar, where it was desirable that menus, concert programs or orders of the day should receive the authority imparted by the dignity of print.
While the transformation has been going on at sea the new invention has given rise to much discussion ashore among newspapermen and philologists. Marconi himself has uttered the wish that some better phrase be found than "wireless telegraphy," and this has set the philologists to work, so far with little noteworthy or tangible result. Newspaper usage will doubtless lead the way to a solution of this question.
The Cunard Daily Bulletin was printed on heavy calendered paper and typographically compared favorably with many of the magazines published here and abroad. The daily journal is generally prepared by the Purser and his two printers (assistants) and a flat-bed press.
The paper goes to press in the early morning hours, and the novelty of reading a newspaper at their breakfast tables was much enjoyed by the passengers.
Historical Maritime Magazine Archives
Cunard Daily Bulletin
Cunarder Travel Magazine
North German Lloyd Bulletin
The Seven Sea Magazine by HAPAG Lloyd
Other Maritime Publications
Steamboat Bill: Journal of the Steamship Historical Society of America
Articles