Cunard Daily Bulletin - RMS Campania - 24 January 1908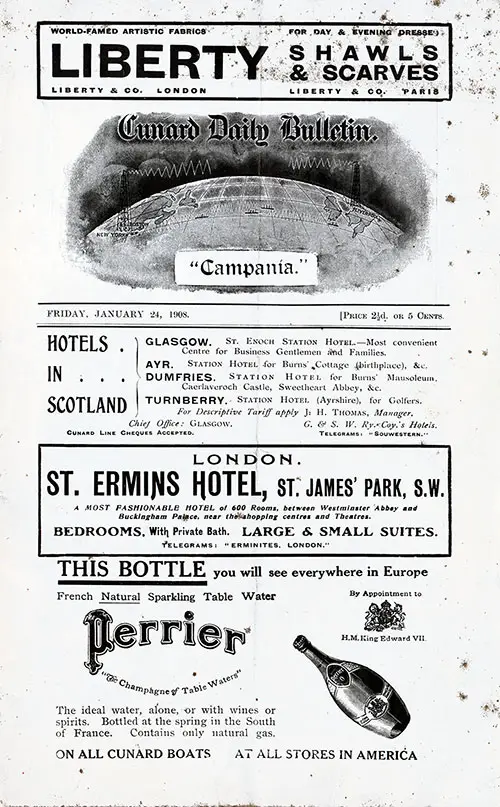 Front Page, RMS Campania Onboard Publication of the Cunard Daily Bulletin for 24 January 1908. GGA Image ID # 12f0130b51
Cunard Daily Bulletin, RMS Campania Edition, provided readers with plenty of advertisements, short stories, Saloon Passenger List for this voyage, Marconigrams, Views of the RMS Mauretania, TSS Carpathia, RMS Carmania and Caronia, and the RMS Lusitania.
CUNARD DAILY BULLETIN
"CAMPANIA EDITION"
Friday, 24 January 1908
CONTENTS
The Candid Man: P. 3
Poetry: P. 10
Cunard Buoy: P. 12
Saloon Passenger List: P. 15 & 18
Marconigrams: P. 16 & 17
Anecdotes : P.  21
Views of the R.M S. "Mauretania": P. 22
T.S.S. "Carpathia": P.  23
R.M.S. "Carmania" and "Caronia": P. 24
Bricklayers, and an Old Book: P.  26
R.M.S. "Lusitania": P.  28
Mooring Buoy
Mooring Buoy for the RMS Lusitania and RMS Mauretania in the River Mersey. GGA Image ID # 12f0ffc329
The accompanying picture shows the mooring buoy now laid down for the "Lusitania" and "Mauretania," in that famous anchorage, the Sloyne, in the river Mersey. The buoy, which is the largest yet made, is securely anchored, and when the ship's cable is attached, she rides easily and safely, there being ample room for her to swing with the tide. The buoy is so large that in order to transport it from London to Liverpool, an ocean liner—one of the Bibby Line—had to be requisitioned, its conveyance by rail or coastwise steamer being altogether impossible.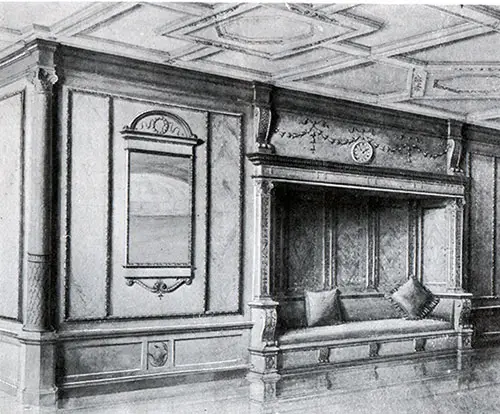 Grand Entrace on the Main Deck of the RMS Mauretania. GGA Image ID # 12f1190a06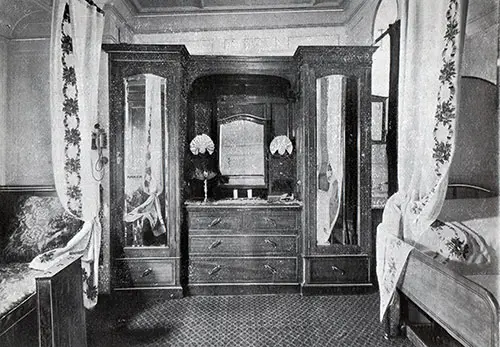 First Saloon Stateroom on the RMS Mauretania. GGA Image ID # 12f15ec4ac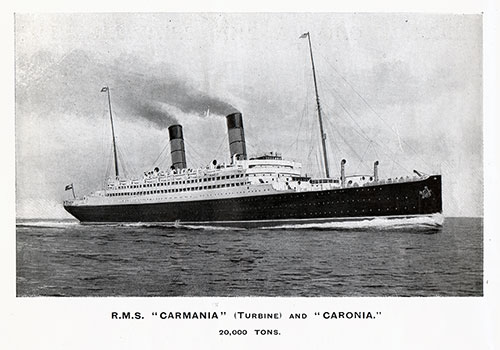 The RMS Carmania and RMS Caronia, Turbine Sister Ships of the Cunard Line at 20,000 Tons. GGA Image ID # 12f1bd85c0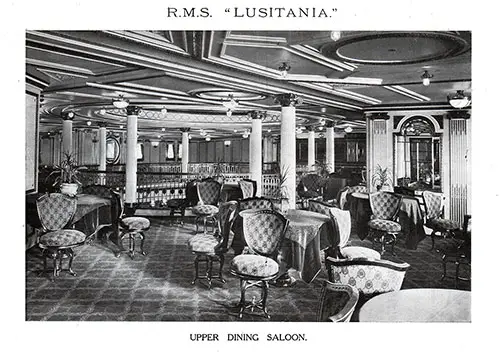 Upper Dining Saloon on the RMS Lusitania of the Cunard Line. GGA Image ID # 12f1cf6232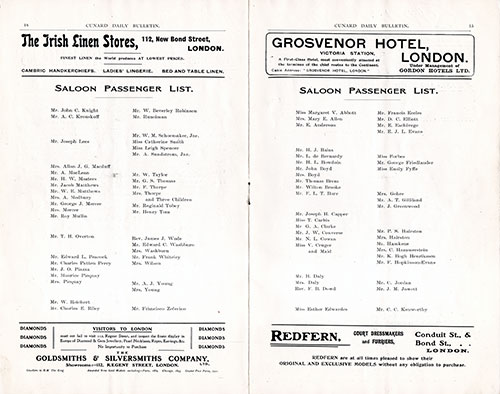 Saloon Passenger List, RMS Campania, 19 January 1908 Published in the RMS Campania Edition of the Cunard Daily Bulletin for 24 January 1908. GGA Image ID # 131154c230
View the 19 January 1908 RMS Campania Saloon Passenger List
Marconigrams, RMS Campania Onboard Publication of the Cunard Daily Bulletin for 24 January 1908. GGA Image ID #
EDITORIAL OFFICE:
R.M.S. "CAMPANIA."
Friday January 24th, 1908, 2 a.m.
PRESS ASSOCIATED TELEGRAMS,
Received through the Marconi Station at Cape Cod, Massachusetts.
MISCELLANEOUS NEWS FROM ALL PARTS OF THE WORLD.
New York.
Wall Street. —Stocks dull, professional closed lower, cotton advanced early on bullish census figures, broke sharply, closing steady, nel loss of eleven to twenty points. Metals dull.
London, England.
London bank rale reduced to four percent.       
Paris, France.
Paris bank rate reduced to three-and-a- half percent.
Bruges, Belgium.
At Bruges, a small village thirteen miles East of Ostend, through the overturning of a gipsy's wagon, Vandyke's masterpiece "Erection of the Cross" was disclosed.
This picture was recently stolen from the Notre Dame Church at Courtrai.
Washington, D.C.
Through the recent arrest at New York of a man charged with counterfeiting Haitian money, the secret service men discovered a conspiracy to overthrow the Republic Government of Haiti, possibly extending to San Domingo, Cuba. The seized papers implicated an American Consular Agent at St. Mary's, and who was summarily dismissed.
Berlin, Germany.
The Berlin Socialists retaliation against the Chancellor's stand on the Prussian suffrage, will try and introduce a motion to reduce his salary unless he promises a bill for universal, equal and direct suffrage throughout the Empire.
WEATHER FORECAST.
Friday.
Snow, much colder, high North-westerly winds.
—:o: —
FROM THE LOG
WINDS AND WEATHER.
Midnight.       Thursday January 23rd. Moderate Southwesterly breeze, moderate Westerly sea.
8 a.m. Moderate breeze, overcast, smooth sea.
Noon. Moderate Southwesterly breeze, smooth sea.
4 p.m. Moderate breeze, overcast, clear.
8 p.m. Moderate breeze, clear, moderate head sea.
—:o: —
TIME BAROMETER THERMOMETER
4 a.m. 30.01  52
8 a.m. 30 07  51
12 noon        30-10  46
—:o:—
DAILY RUNS.
Knots
Sunday noon 32 from Daunts Rock Light «Ship, Queenstown.
Monday 408  Lat. 50'04N. Long. 21'01W.
Tuesday 350 Lat. 48'19N. Long.29'82W.
Wednesday 420 Lat. 45'27N. Long.38'58W.
Thursday 520 Lat. 41'50N. Long.49'29W.
—:o: —
WIRELESS COMMUNICATIONS.
SS Arabic, bound West
SS La Touraine, bound West
SS Dominion bound East
Cunard SS Ivernia, bound East
TODAY'S WIRELESS EXPECTATIONS.
SS Baltic bound East.
SS La Bretagne bound East.
Land Stations :—
Capo Sable
Sable Island
Siasconsett, Mass.
—:o:—
Tomorrow's Wireless Expectations.
RMS Mauretania
SS New York
SS Graf Waldersee
SS Minnetonka
SS Republic.
Land Stations:—
Sagaponack, LI
Seagate, LI
—:o: —
The Campania Orchestra will play the following selections in the First-Class Dining Saloon: —
1 p.m. to 1:45 p.m.
Cake Walk "The Southport Belle" Rimmer
Fantasia ** Reminiscences of all Nations"
Valse " Récits d'Amour* Waldteufel
Selection "The Belle of New York" Kerker
Entr'act         " Down South " Myddleton
7 to 8 p.m.
March " The Invincible Eagle " Sousa
Romantic Suite        Stanley
Walt/. " Wiener Blut "         Strauss
Selection       "Véronique"   Messager
Entr'act         "Anona"        Grey
F. R. Staelens, Musical Director.
—:o: —
Seamen's Charity Concerts.
Concerts will be held in the Main Saloon and in the Second-Class Drawing Room at 8:50 this evening Collections will be taken in aid of the Seamen's Charities of Liverpool and New York.
Selected Advertisements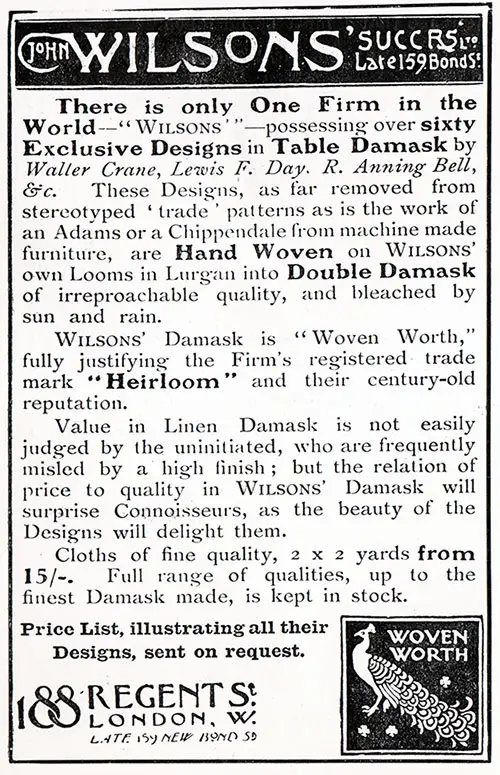 Advertisement - John Wilsons' Successors, Ltd., RMS Campania Cunard Daily Bulletin for 24 January 1908. GGA Image ID # 130fcbaa79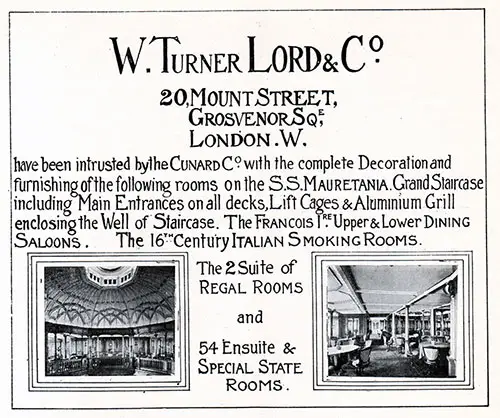 Advertisement - W. Turner Lord & Co., RMS Campania Cunard Daily Bulletin for 24 January 1908. GGA Image ID # 13101a0e82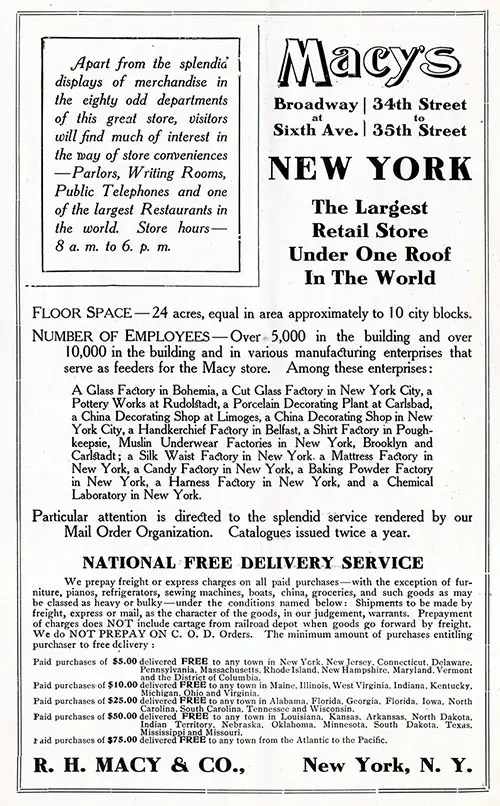 Advertisement - R. H. Macy & Co., RMS Campania Cunard Daily Bulletin for 24 January 1908. GGA Image ID # 1310502c8e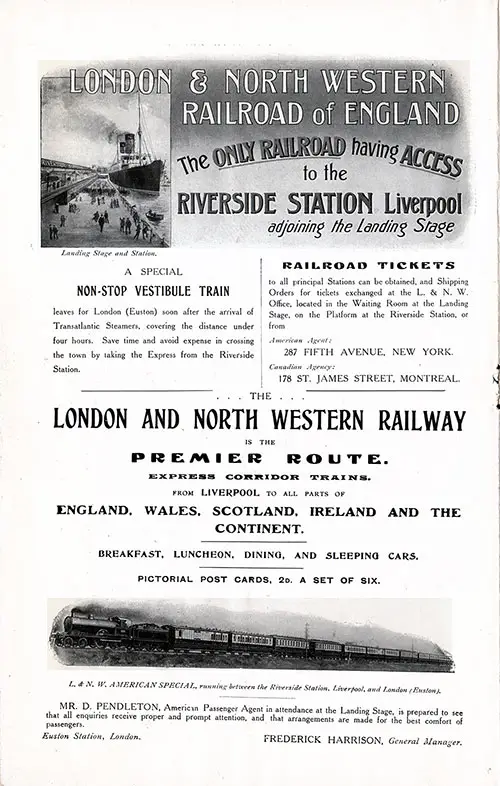 Advertisement - London & Northwestern Railroad, RMS Campania Cunard Daily Bulletin for 24 January 1908. GGA Image ID # 13107b287a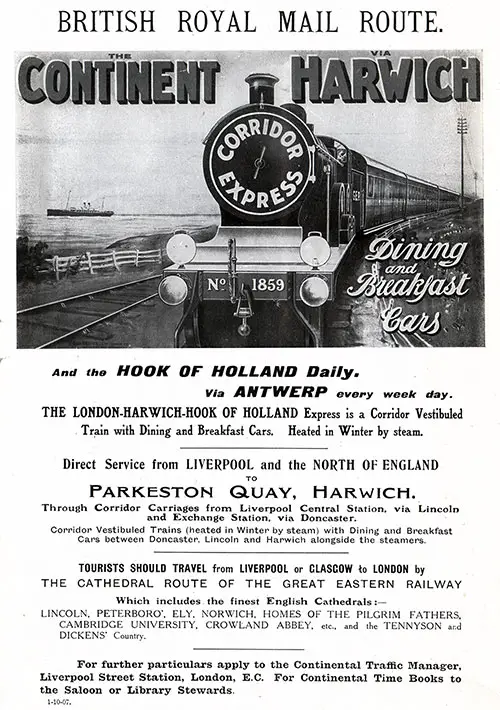 Advertisement - Corridor Express Dining and Breakfast Cars, RMS Campania Cunard Daily Bulletin for 24 January 1908. GGA Image ID # 131091d79e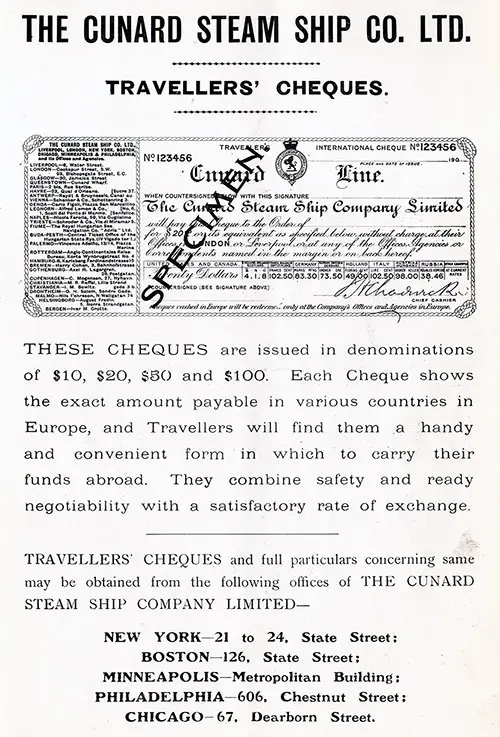 Advertisement - Cunard Travellers' Cheques, RMS Campania Cunard Daily Bulletin for 24 January 1908. GGA Image ID # 13109929d0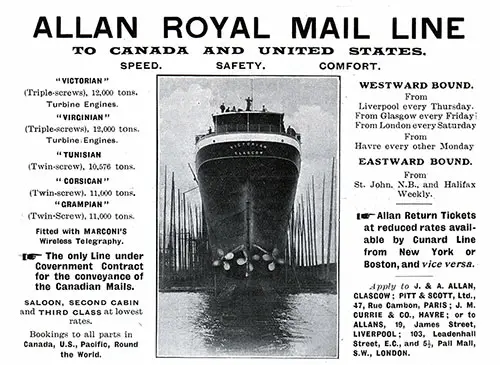 Advertisement - Allan Royal Mail Line, RMS Campania Cunard Daily Bulletin for 24 January 1908. GGA Image ID # 1310eab955