The Cunarder, Christmas - Winter Issue - December 1923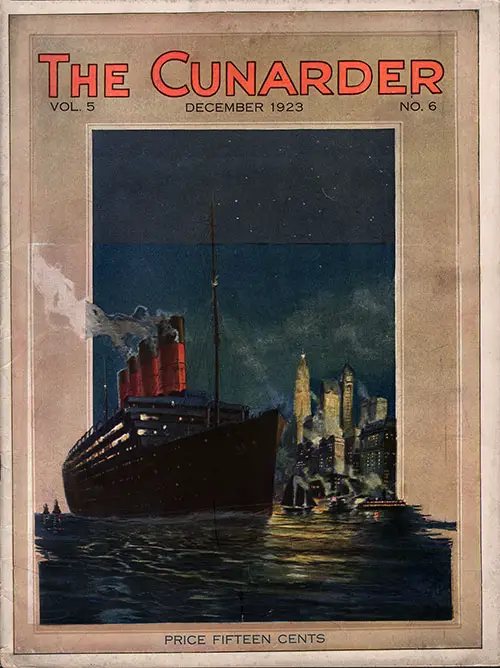 Front Cover of the Christmas & Winter Issue of the Cunarder Magazine, December 1923. GGA Image ID # 101a049cf5
The December 1923 Christmas - Winter Issue of the Cunarder Magazine featured articles included: Christmas in the Desert, by Donald Townsend; Christmas in Two Lovely Far-Away Lands; Staunch Little Sailors on the Cunard Fleet, by Ethel Fleming; and Do Your Christmas Planning Early, by Martha Meadows. Women's fashion of the day was illustrated by On the Crest of the Wave of Fashion number.
1923-12 The Cunarder Vol. 5, No. 6
Contents
Frontispiece - The Gateway to Winter Glory
This panorama of mountain splendor and new-fallen snow is what you might see from the Villa Suvretta in Switzerland's most lovely winter playgournd, St. Moritz. It is an enchanting background for the brilliant cosmopolitan life which makes the Engadine such a long-to-be-remembered holiday place for those who seek variety and beauty.
Christmas in the Desert, by Donald Townsend
It was on Christmas Eve that from the shoreless undulating desert I first saw the Pyramids of Ghizeh. The few tourists who had come out to Egypt before the New Year were already hurrying to their hotels in Cairo for their tea or to dress for one of the dinners and dances that hotel managers arrange for their guests, -- and for those mystic hours of the late afternoon and evening peculiar to Egypt, the desert was mine.
Christmas in Two Lovely Far-Away Lands
Christmas is long drawn out at Bethlehem. First come the Latin ceremonies on December 25; fourteen days later comes the Armenian fest ...
This is a not-at-all wintry view of Palma, in the Balcaric Islands near Spain. Yet it was taken at Christmas time by the author of "Blue Waters."
Staunch Little Sailors on the Cunard Fleet, by Ethel Fleming
So adorable are these small asilors that a certain officer of a certain large ship adops at least four children, unofficially of course, each voyage.
Santa Clause never skips the kiddies traveling in the Third Class on the Cunard Line.
Includes phtograph of a nurse abord the Mauretania.
Do Your Christmas Planning Early, by Martha Meadows
No matter what fun you may be planning for this year's Christmas merrymaking at home, there's always the excitng prospect of spending next Christmas in some foreign place with quaint or fascinating customs.
Filming "The Eternal City" Right There
When "The Eternal City" was filmed, in Rome itself, the King of Italy laoned his pet cavalry regiment to George Gitzmaurice to make part of the picture.
California Day on the SS California
Photos include: Barbara La Marr and a Prize Cluster of Grapes; Miss La Marr Presenting Captain Blaikie with a Picture of California.
Advice to Cunard Travelers - Fourty-Five Years Ago, by Meredith Edwards
An essential condition of comfortable traveling in any country is to have a sifficient supply of its current money, and to understand its value.
Who's Who on the Cunarders
Photographs of passengers including: Mrs. Ogden Reid, well known New Yorker, who left on the Berengaria for a two-month vacation; Dr. and Mrs. Gallivan, of New York, who left onthe Berengaria. She is the daughter of Winfield R. Sheehan of the Fox Film Co.; Mrs. Rason Kalbfleisch and her daughter Jean, of Rochester, New York, Sailing from New York City on the Aquitania for a tour of the Continent.
Some Transatlantic Notables
Photographs included: David Lloyd George, Ex-Premier of England, and his family, came on their first visit to America on the Mauretania; Sir John and Lady Martin-Harvey, prominent English players, who were brought here by the Shuberts; Funeral of the late Capt. Matheson of the Camania -- his ashes buried at sea.
On the Crest of the Wave of Fashion
Model photographs include: A Charming Hat for Travel; Another Chapeau of Charm; White Velvet, with a skilful touch of Black makes for a striking evening gown; Black satin wrap.
A Shelf of Books, by Ethel Fleming
Reviews include: Harry: A Mother's Story of Her Son by Neith Boyce; Tetherstones: A Romantic Novel by Ethel M. Dell; Men, Maidens, and Mantillas -- A Travel Book About People by Stella Burke May.
© 1923 Cunard Steam Ship Company, Liverpool, England, UK, 32 Pages.

Ocean Travel Onboard Publications
GG Archives
Onboard Newspapers
Cunard Daily Bulletins
Cunard Fashion & Pleasure Resort Supplements
Cunard Travel Magazine
L'Atlantique - Daily Newspaper of the French Line
Hamburg-American Line
HAPAG-NGL Publications
North German Lloyd Bullein
Sea Breezes Magazine
Sea History Magazine
Steamboat Bill: Journal of the Steamship Historical Society
Other Ocean Travel Publications
Ocean Travel Topics A-Z