Cunarder Travel Magazine - Special Scandinavian Issue - May 1923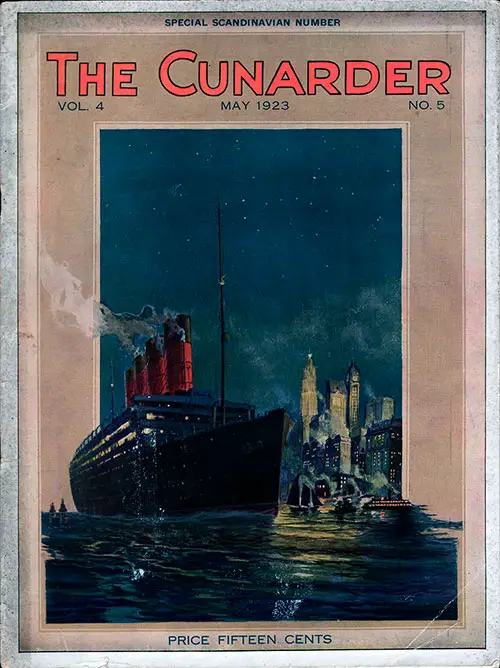 Front Cover for a Special Scandinavian Issue of the Cunarder for May 1923. GGA Image ID # 101972b892
The Cunarder, Volume 4, Number 5, May 1923 was a Special Scandinavian Issue that featured articles included: The Great Fair at Gothenberg this Summer, by Victor O. Freeburg; Scandinavian Art; Good Reasons for Touring Scandinavia; Sweden as the Traveler's Goal, by Olof H. Lamm; and Copenhagen, By Chance--and Choice, by Alice Rostetter.
Copyright, 1923, The Cunard Steam Ship Company Limited
"The Cunarder" may be purchased at all subway and elevated newsstands and at Tyson's offices in the leading hotels of New York. It is also for sale upon the arrival and departure of Cunard and Anchor Line steamers, as well as at the Cunard Building, 25 Broadway.
Table of Contents (Articles)
Forntispiece, Amid the Birches in Sweden
The Great Fair at Gothenberg this Summer, by Victor O. Freeburg
Scandinavian Art

Oden from Sagas of the Norse Kings by Gerhard Munthe, Norway
A Country Funeral by Erik Werenskiold, Norway
The Gull Pluckers by Anna Ancher, Denmark
Will He Clear the Point? by Michael Ancher, Denmark
A Peasant Girl of Mora, Sweden by Anders Zorn

Who's Who on the Atlantic Ocean

Mr. and Mrs. Hamilton de Kubies
The Very Rev. D. Thomas C. Fry, D.D.
Lord Rothermere
Miss Mary Millicent Rogers
Miss Adele Astaire

Good Reasons for Touring Scandinavia
By Rail and Trail Over Dovre, by Hanna Astrup Larsen
Sweden as the Traveler's Goal, by Olof H. Lamm
Copenhagen, By Chance--and Choice, by Alice Rostetter
On the Crest of the Wave, by Eleanor Gunn

Article on Women's Fashion featuring a White Frock, ideal for shipboard wear and for Spring days abroad by Grande Maison de Balnc and for leisurely hours, Cinderella Crepe printed in the new Sari Indienne design makes a negligee of charming atmosphere. Design by Macksoud.

A Shelf of Books, by Ethel Fleming

The Outcast by Selma Lagerlöf (Doubleday, Page & Co.), New York 1922 - Selma Lagerlöf's Newest Book
The Bridal Wreath by Sigrid Unset (Knopf), New York 1923 - A Tale of Medieval Norway
From the Deep of the Sea by Charles Edward Smith (Macmillian) New York 1923 - An Epic of the Artic
Growth of the Soil by Knut Hamsum (Knopf) New York 1923 - A New Edition of Hamsun's Masterpiece
List of Advertisers
Allerton Houses, Chicago
Toyo Kisen Kaisha (Oriental SS Co.)
Ritz-Carlton, Atlantic City
Swiss Federal Railroads, New York
Ritz-Carlton, New York
Philadelphia Trust Company
P & O British India & New Zealand Companies Mail, Freight and Passenger Services
The Waldorf-Astoria, New York
Cunard Anchor, Anchor-Donaldson Proposed Sailings
The Unexcelled Linnard Service
The Anchor Line to Scotland
Hotel Chelsea, New York
Insurance Company of North America, Philadelphia
W. & J. Sloane, New York
Brown Shipley & Company, London
The Ambassador Hotel, New York
Thos. Cook & Son, New York
Mothersill Remedy Company, Ltd, Detroit, MI
E.E. Barrett & Co, Inc., New York
Horton's Ice Cream - Served Exclusively on the Cunard Line Steamers
Fourteen East Sixtieth Street, New York
National Life Preserver Co., New York
Frank Tourist Company, New York
Anglo-South American Bank Limited, New York
H. Hicks & Son, New York
International Correspondence Schools, Scranton, PA
Gorham Sterling Silverware, New York
Radio Corporation of America, New York
Shredded Wheat Company, Niagra Falls, NY
Bowman Hotels, New York
Archives Inventory Ref Nbr: ALPM CUN04-05-1923