Cunard Daily Bulletin, Fashion & Pleasure Resort Supplement - 1906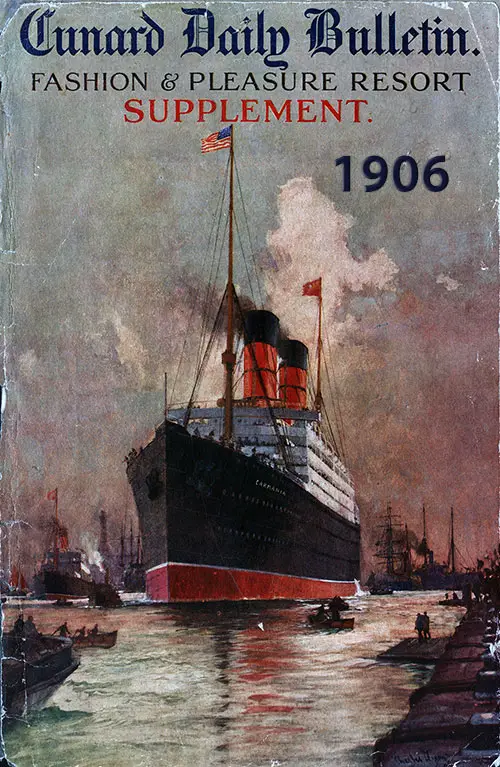 Front Cover of the 1906 Cunard Daily Bulletin Fashion & Pleasure Resort Supplement. GGA Image ID #
The Cunard Daily Bulletin, Fashion & Pleasure Resort Supplement was an Annual Publication published by the Cunard Line and distributed during the year to their transatlantic passengers on the many Cunard Ocean Liners.
Table of Contents
CUNARD PAGES.
Cunard Sailings
Cunard List of Agents
Cunard RMS " Carmania," Transverse Section
The First and Last Cunarders
Views on New York-Mediterranean Adriatic Service
Cunard RMS " Carmania "
A Striking Contrast
MISCELLANEOUS ARTICLES, TALES.
Introdnction
The World of Dress, by Mrs. Aria
Britain's Sea-Gates
The Cruise of the " Wild Dnck"
The Path of the Purchaser, by Mrs. Aria
Through the Trossachs
RAILWAYS.
London and North Western Railway
Great Eastern Railway
Views on the Great Eastern Railway
Great Northern, North Eastern and North British Railways (East Coast Route)
Great Northern Railway (Ireland)
Lancashire and Yorkshire Railway
Cambrian Railways
Fnrness Railway Co.'s Tours
Great Sonthern and Western Railway, Ireland
Caledonian Railway, Scotland
Great Eastern Railway Continental Service
VIEWS OF BRITISH SCENERY.
Builth, Central Wales
Views of Old Liverpool
Barmouth Bridge
Aberystwith
Conway Castle -- Britannia Tubular Bridge, Anglesey -- Gwrych Castle, Rhuddlan - Penmaenmawr
Chester Cathedral
Matlock Bath
Callander
Ellen's Isle
Grange Bridge, Borrowdale
The River Irvon, Llangammarch Wells
The Land of the Broads
Lincoln Cathedral
Peterborough Cathedral
Pont-y-Pair Bridge, Bettws-y-Coed -- Dolbadarn Castle, Llanberis -- Fairy Glen, Bettws-y- Coed -- Llanberis -- Roman Bridges
Edinburgh
Scarborongh
Richmond Castle
York
Ann Hathaway's Cottage, near Stratford-on-Avon
Stratford-on-Avon Church
The Upper Lake, Killarney
Garnish Island, Parknasilla
HOTELS -- Towns.
Edward's Family Hotel, London
Kingsley Hotel, London
Thackeray Hotel, London
Esmond Hotel, London
Scarborough Hotel
Turnberry Station Hotel, Ayrshire
Station Hotel, Ayr
Station Hotel, Dumfries
St. Enoch Station Hotel, Glasgow
Lake Hotel, Killarney
Harrogate
Tarbet Hotel, Loch Lomond
North British Station Hotel, Edinburgh
North British Station Hotel, Glasgow
Devonshire House Hotel, London
Grand Hotel, Birmingham
Regent Hotel Leamington Spa
Malvern
SHOPPING GUIDE
T. Fisher Unwin, London
J. C. Vickery, London
Royal Irish Industries Association, Dnblin
Richard Clamp & Son, Liverpool
Paul & Co., Aston Manor
G. Trollope & Sons and Coils & Sons, Ltd , London
Jaeger Wool Co., London
Maple & Co., London
Jays, Ltd., London
International Fur Store, London
Marconi Wireless Telegraph Co., London
Royal Exchange Assnrance, London
Horlick's Food Co., London
The Parisian Hat Co.. London
John Wilsons' Successors, London
Peter Robinson's, London
The Irish Warehouse, London
Crosse & Blackwell, London
Walpole Bros., Ltd., London
Hudson & Kearns, London
Watson & Co., Liverpool
Fry's Chocolate
Marten & Carnaby, West Dulwich, London
Lancaster House, West Dulwich, London
Savoy Taylors Guild, Ld., London (Back Cover)