Ellis Island Immigration Experience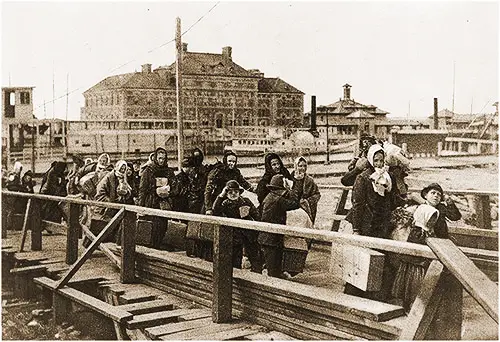 Tender Brings New Immigrants to Landing at Ellis Island. Emigrants coming up the board-walk from the barge, which has taken them off the steamship company's docks, and transported them to Ellis Island. The big building in the background is the new hospital just opened. The ferry-boat seen in the middle of the picture, runs from New York to Ellis Island. Quarantine Sketches, The Maltine Company, 1902 [1]. Library of Congress # 97501086. GGA Image ID # 148396ba43
Immigrants on inbound ships that arrived in New York were anchored off the Narrows. Inspectors onboard processed first and second-class passengers, and those who passed inspection went on to dock at the piers in Manhattan. Ferries then took steerage passengers to Ellis Island for processing (along with first and second-class passengers who failed inspection). The average immigrant spent three to five hours on Ellis Island.
Ellis Island Immigration Resources
End Notes
Note 1: In 1902, The Maltine Company issued an album of photographs, called Quarantine Sketches. It contains between thirty and forty engravings showing the care of immigrants at the New York quarantine station on Ellis Island, in all its phases from the arrival on shipboard to the departure by rail for the far west. It is altogether one of the most instructive booklets that has been published by the Maltine Company; and this is according it great praise, for the company is noted for the dissemination of useful material.