The American Library Association's Work At Ellis Island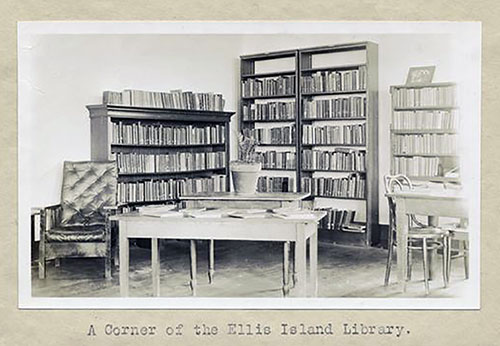 A Corner of the Ellis Island Library. New York Public Library
THE hospital at Ellis Island is one of the Federal Public Health Service Hospitals. Ellis Island itself is really three islands, joined together at one end by connecting bridges, like three teeth in a comb. The three divisions are designated by numbers, Island no. 1 being the headquarters of the immigration work proper —examination and detention quarters for the immigrants, and the administrative offices. Islands no. 2 and no. 3 contain the hospital buildings, where the number of patients averages from 150 to 475 all the time.
The library was moved about a month ago from a little room about twelve feet square to a ward at the extreme end of Third Island. This is a bit remote for some of the patients to reach, but they are cared for in other ways, and the room itself is such a nice one that we are only too grateful to the hospital authorities for moving us. It is about 25 by 55 feet, with windows on three sides, and a magnificent view of the harbor with all its varied shipping. and will be one of the choicest locations imaginable this summer in the hot weather.
We have four classes of patients in the hospital—the War Risk men, of whom there are only about 20 left, but who are responsible for our undertaking the work in the first place; the immigrants who are detained thru illness contracted on shipboard or of longer standing, which may, if it does not yield to treatment, cause their return to the country of origin; Bolsheviki, or others, waiting for deportation; and many, many seamen, both foreign and American.
All receive exactly the same book service. There are six wards reserved for contagious cases, chiefly children, for whom we can do little. For the adults in these wards we supply newspapers and magazines, and we also use in these wards the worn books which are not worth rebinding, such as the Grosses and Dunlap reprints. Everything left in these wards is burned when read.
The A. L A. has placed about 500 books of fiction in the Red Cross house on Second Island, and these are read in the room and may be borrowed by both patients and employes for use outside. Indeed, we wish the employes of the hospital to feel as free to use the library as the patients, tho I must confess that so far they have been largely in the minority. This is partly due to the fact that we have not been able to keep the library room open evenings, and partly because they have taken it for granted that it was for patients only, and have not tried to use it. I believe that if we could convince them that it was their library too, and that they were welcome to come and smoke and read in the evenings, the labor turnover which is so appalling at present might be distinctly lessened.
At present, except for one movie a week in the Red Crass house, there is absolutely no recreation for them, and no place to sit except the Red Cross house or their own crowded dormitories. But until we have more help (which means more money) we can not undertake both day and evening hours.
But to come back to the patients. In an immigrant hospital of this kind, we naturally have many races represented, and to meet their needs we already have books in 23 languages, and are still hunting for more. We have a little rubber-tired wagon similar to a tee-wagon but stronger, with two shelves, and with this we make our rounds to the wards, 18 in all, visiting each ward twice a week, so that every bed patient as well as those able to walk about, may have a chance to get a book, and so far as possible, a book in his own tongue.
For an Arab patient I could find but six books In Arabic. We have been fortunate in having regular weekly donations of Scandinavian newspapers from the American-Scandinavian Foundation, of Spanish and French papers and magazines from the Foreign Department of the Hotel McAlpin, and of all sorts from the American Foreign Language Paper Association.
These papers are invaluable, both in supplying material in languages in which we have not yet been able to get books, such as the Czecho. Slovak and Jugoslavian, and in establishing friendly relations with a non-English-speaking person who is apt to assume when a book is offered that it is just another scheme to get money from him, or else that it is in English which he cannot read.
When I make up my wagon to visit the immigrant wards, I always plan to carry at least two books of every language which we have represented in the library collection, and more of the more usual tongues, so as to be prepared for all possible emergencies. This usually fills the top shelf, and on the lower shelf I put in my English books, with plenty of western stories, a few good love stories, one or two histories and biographies, and a few books of travel, with maybe an arithmetic, a book on letter-writing, an elementary chemistry and something on gasoline engines.
At first I made the mistake of carrying all fiction, and that is of course still far in the lead in popularity, but the other books, are much appreciated, and are often grabbed with some such exclamation as "Why I didn't think you had such books in the library."
Some of the immigrants read three or four languages, putting me quite to shame with their knowledge of literature. One Icelandic man now in the hospital speaks seven with ease—his English is perfect and without accent. Many of the foreigners are eager borrowers of our "beginning-English" books. and I regret very much that it has not been possible to organize little classes of these and take advantage of their enthusiasm.
But after all it is with the seamen on Third Island, where my own room is located, that my interest at present is closest. When these men become convalescent, they naturally drift down to the library and it has been a matter of great interest to the hospital authorities to see how much they read. Dr. Kerr, the chief medical officer of the island, has spoken a number of times of the surprise he felt when he found that these "hardened old salts" would read book after book, and he has commended the library very strongly for its therapeutic value in helping to keep the patients in a contented frame of mind.
And the young Americans, of whom there are a great many more than I had sap-posed were following the sea, simply read book after book—always western or sea stories first, and then gradually drifting to books on engines, navigation, and the like. We have even had several requests for cook books, which after all is not so strange when we consider that every ship must have its cook.
Our circulation last month was about 1300—about 600 in foreign languages. Since I should estimate the entire collection at about 2500 to 3000 volumes, of which perhaps 700 or 800 are foreign, this means that the books are well used. With the larger building up of the foreign collections and the rounding out of the English. we shall probably be able to increase the circulation considerably.
We have several Russians who have read every Russian book, our best Polish reader finished the Polish collection a month before his discharge, and some of the French have practically exhausted that collection. There are several Spanish seamen there at present, and as a consequence Spanish took the lead in the foreign languages this last month, with French second, Italian third, and Swedish fourth.
Most interesting is the story of the American lad of nineteen who has been helping us in the library. Ever since he became convalescent, which means during all the time I have been at work on the Island, he has voluntarily spent all his fret time both mornings and afternoons in the library, charging and discharging books when I was making the rounds of the wards, putting them on the shelves, doing carpenter work and general tinkering, and making himself invaluable generally.
Last week he came to me and said he was to be discharged on Saturday. and "My. but I shall miss these books," he said. I told him he wouldn't need to if he shipped on an American boat, for we were putting collections on every boat in the American merchant marine. He was interested at once. "Is the — Line (plying between Canada and Florida) American or Canadian?" was the next question. I said I didn't know but I thought it was Canadian. 'Well. believe me, I'm going for a job on an American line this time if I can get one. I won't go back to the — Line at all." And he didn't.
Lest Wednesday he came over to tell me that he had shipped on a U. S. Shipping Board vessel for China, and that they bad a library on board in charge of the steward. with Thursday set for the day to exchange books. He feels that the books are going to help make the voyage better, and more profitable for him, and it is because I have found so many other men on the island just as keen to hear about the A. L A. Binaries. which many of them already know, that I feel I have got to do what I can to make this present campaign a success.
I don't want to leave Ellis even temporarily, but I can't hear to work over there now with those Lots and then have the whole thing go hack on them at the end of a year for lack of funds to keep it up. So I've consented to turn over my place temporarily to someone else, and I'm off to the New York State headquarters at Syracuse to do what I can for my sailors.
And I hope that someone else will he as strongly interested as I am in them, to work for all the other points in the Enlarged Program. for everyone of them is good and worthy of the finest kind of support. We simply can't afford to lose the impetus that we got during the war, and go hack to the old easy-going drifting ways of former days.
This personal description of one bit of A. L. A. work was requested from Miss Huxley as illustration one phase of the larger work under Miss Caroline Jonas from whom an article descriptive of hospital service in and amend New York we hope to present in a later Issue— Eo. L. J.
Huxley, Flounce A. "The American Library Association's Work At Ellis Island," in The Library Journal, April 15, 1920