First-Hand Impressions of Ellis Island - 1923
Kindergarten Class at Ellis Island ©Brown Bros.
PROOF THAT IT'S THE LITTLE THINGS THAT COUNT AT ELLIS ISLAND The human side of Ellis Island stands out most happily in the kindergarten, where you see little girls and boys from all over Europe beginning to learn fellow-citizenship. Friendliness is the keynote of this room, and despite the difference in language, the entente is very cordial, indeed.
The only way to get the real atmosphere and "feeling" of Ellis Island, the great gateway to the United States, is to imagine yourself an immigrant, entering that gate for the first-time.
As you come across in the ferryboat and view the dignified, imposing red administration building, you can well imagine, especially if it is your first visit, as it was mine, the impresson the Island makes on the thousands of newcomers each year.
There is an official strength and dependability about the buildings, a sense of well-ordered routine that is confirmed later when you examine the inner workings of this intricate, yet smooth-running, system.
And anyone who has viewed the working of that system will wonder not a little at the reports one sometimes hears, the absolutely unfounded reports that belittle and depreciate the way immigrants are received at Ellis Island.
Anyone who visits the Island unofficially, as I did, and gets an opportunity to see how things really are, will appreciate how humanely and efficiently the great task of handling thousands of immigrants a year is accomplished.
You step off the ferryboat and walk down the path to the attractive entrance, trying to imagine yourself a foreigner in a strange land, wondering how such a man or woman feels as the gateway of the land of promise swings open.
You go up the steps and into a large, light room, where the men and women are divided off and given a medical examination, the men by men doctors and the women by women doctors.
After the examination, those who are detained for some illness or diseased condition are sent to the large, modern, well-equipped hospital for treatment.
The others go upstairs to the great hall, where they are quickly divided off according to nationality, and are seated on long benches to await the customary inspection.
The inspector checks up each name on his sheet, each immigrant is questioned, and those whose standing is adequate and who pass the simple examination are free to leave Ellis Island immediately and enter the United States officially.
Those who are detained are brought before a Board of Special Inquiry, and their cases considered. If the Board decides that they are eligible for admission, they too, are free to leave.
Everything, you notice as you view various aspects of the system, gives the benefit of the doubt to the immigrant. The system is not, as some people might mistakenly suppose, intended to exclude as many immigrants as possible.
On the contrary, every circumstance is carefully weighed and treated with a very humane and kindly consideration, and if an immigrant can be admitted, he is admitted.
When an immigrant is free to leave the Island, he—or more particularly she—is not simply left adrift, bewildered and very often all alone in a strange city. It is here that one pauses to admire the way in which the human touch is applied to all the problems of Ellis Island.
Suppose you were a young Portuguese woman, bound for Wisconsin. You speak no English—the newness and bigness of this new big world frightens you.
A friend of your father's has written that he will put you on the train to Wisconsin. He does not arrive. What are you to do?
The Traveler's Aid steps in at this point. One of their staff sees that the young woman gets safely to her train—they wire her people in Wisconsin. She is as well provided for as if her father's friend had come for her.
And if he had come for her, the authorities would have made sure, before entrusting her to a stranger, that his credentials were as they should be.
So thorough are the investigations at Ellis Island that it is comparatively safe for unaccompanied women to come not only to New York, but even to travel across the continent.
Other things are done to ensure the welfare of immigrants leaving the Island. They get their railway tickets there, preventing speculators from fleecing them.
They can change their foreign money there, at the current rate of exchange, likewise securing them from loss through unscrupulous agents. They can also buy packages of food for the journey from a firm which has the concession to sell foodstuffs at fair fixed prices.
There is a telegraph station where they can send and get telegrams from their friends and relatives, and there is a post-office.
You are agreeably surprised at the wealth of accommodation provided for newcomers to the United States, and you can realize, seeing all these things, why it is that the promise held out by Liberty is carried out at the very beginning —things are conducted at Ellis Island with the immigrant's viewpoint in mind.
Insofar as such a difficult task is at all possible, the immigrant is made to feel at home from the moment he puts foot on the Island till he leaves.
Especially interesting are the quarters for those who are detained, for some good reason, until they, too, can go out to seek their fortunes in this new country.
Large, light, airy dormitories, with sanitary conveniences, are provided for those who have to stay over, separate quarters for men and for women. A visiting Englishman who made a tour of Ellis Island declared that the sleeping quarters there were at least equal to those in some of the boarding houses in Great Britain.
There is a large, white-tiled dining room where good food is served to those of the immigrants who have to stay over. There is also a large recreation room and an enclosed porch, overlooking the Bay, which the women and children in particular enjoy.
And the one spot of all which shows the human side of Ellis Island at its best is the kindergarten. Here you see little hoys and girls from a dozen countries all over Europe.
Two little girls from Holland, their yellow pigtails and neat print frocks a picture of tidiness, are stitching a brown goose in outline on a pretty apron. A group of little boys are cutting out pictures.
A tiny youngster rolls himself and a huge ball along the floor. Later there are songs, and the little newcomers take their first step in learning the language of their adopted country.
Friendliness is in the very atmosphere of this room—friendliness despite the differences in language, and the newness and strangeness which generally make children irritable and ill- tempered.
It is a reflection of the atmosphere as a w hole on Ellis Island, this friendliness. It is a proof of the fact that a kindly understanding can accomplish wonders. And anyone who gets a glimpse of the very intricate regime at Ellis Island will agree that its smoot h-running methods are a cause for wonder.
It is not only in large things that Ellis Island proves inviting to immigrants. It is true that the outer aspect of the Island— and the buildings,—is impressive—and Ellis Island, as you may know, cost $10,000,000.
But there are all sorts of smaller comforts and even luxuries, notable among the latter a great pipe-organ which provides music for those who are detained at the Island. Sunday concerts, with prominent artists, are held.
Entertainments are arranged. Music, which everyone, no matter what his nationality, understands, is a good way of making the newcomers feel happy and at home. It is typical of the good spirit, the human sympathy and understanding that rule Ellis Island.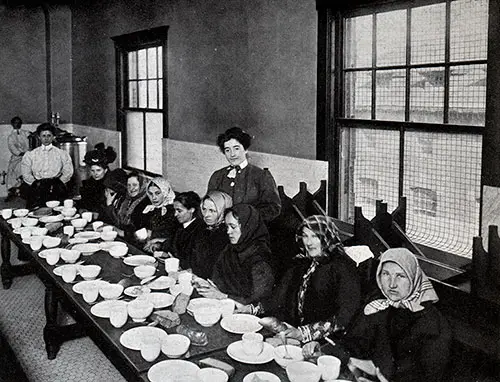 Immigrant's First Meal in America ©Brown Bros.
THEIR FIRST MEAL IN AMERICA IS A GOOD ONE
The large, while-tiled dining-room at Ellis Island is typical of the whole smooth-running régime. Here good, nourishing, appetizing food helps along the favorable impression newcomers to the United States take away with them from Ellis Island.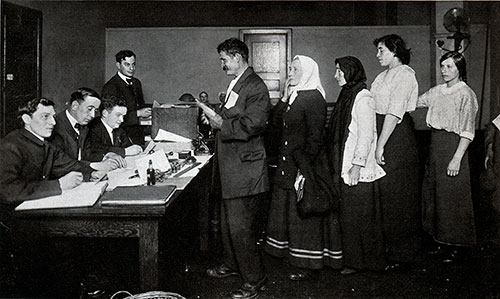 Immigrants Before the Board of Inquiry ©Brown Bros.
SOME SPECIAL CASES BEFORE THE BOARD OF INQUIRY
Immigrants who for some reason or other fail to establish their eligibility for admission into the United States are brought before the Board of Special Inquiry and their cases considered. Every circumstance is carefully weighed, and if an immigrant can possibly be admitted, he is admitted.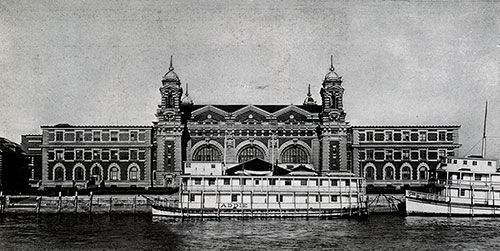 Ellis Island Administration Building and Transportation Barges ©Brown Bros.
THE IMPOSING ADMINISTRATION BUILDING AND THE TRANSPORTATION BARGES
These white-painted barges, heated in winter, carry immigrants from the steamer to Ellis Island. There is an official impressiveness about the administration building that is confirmed later when you examine the inner workings of the system at Ellis Island.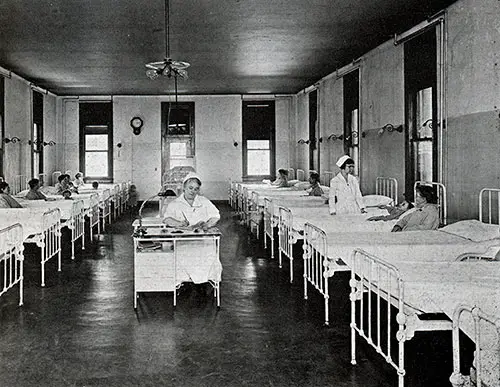 Hospital Ward at Ellis Island ©Brown Bros.
A SUNNY WARD IN THE HOSPITAL
Here patients with infectious diseases are treated free of charge until good health makes them eligible for entrance into the United States. It is unusually pleasant for a hospital.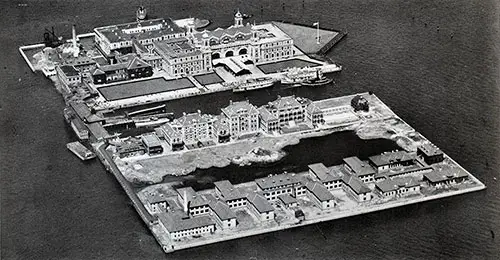 Arial View of Ellis Island © Fairchild Aerial Service
AN AIR PILOT SEES ELLIS ISLAND FROM AN UNUSUAL VIEWPOINT
But even from the air, Ellis Island has a square look. It is, as not many people know, a "manufactured ' island, and cost, with its buildings and equipment, $10,000,000. Its situation, on the busiest bay in the world, makes it a remarkably interesting foyer to newcomers from all parts of the world.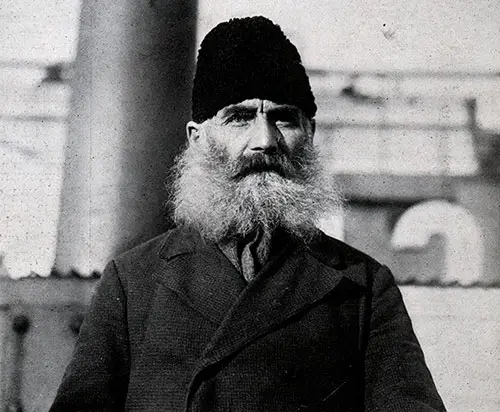 Old Immigrant from Odessa ©Bradley & Merrill
A FINE TYPE OF IMMIGRANT ON ELLIS ISLAND
A grand old man, indeed, is this white-bearded grandfather from Odessa, visions peace and comfort in a new country lighting his face with interest.
Smith, "Judge" Harold I., "First-Hand Impressions of Ellis Island," in The Cunarder, Vol. 5, No. 3, September 1923, p. 23-26+.