Boston Immigration History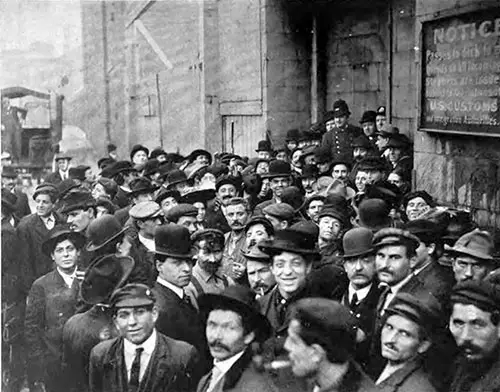 Boston Immigrant Landing Station - Recently Arrived Immigrants circa 1912. The New Immigration, 1912. GGA Image ID # 147a2c2b8c
Our Boston Immigration History section includes a critical report from the immigration commissioner from 1913, the processing of immigrants arriving in Boston from 1914, and Commonwealth Pier as a Joint Landing Stage from 1915.
Report of Commissioner of Immigration at Boston, 1913
The problem of conducting the business of Boston's port in the quarters that have been rented during the past ten years becomes increasingly difficult. These quarters form part of the second or top story of a wooden building (sheathed on the outside with tin) used for a steamship dock.
The Arrival and Transit of Immigrants Arriving in Boston (1914)
The United States Immigration Station in Boston is on Long Wharf at the foot of State Street. Here immigrants who fail to pass primary inspection on the docks, and who are held for observation of their physical or mental condition, are detained until one can hear from their friends or relatives, or until the Secretary of Labor has decided an appeal which has been taken from the decision of the local Commissioner of Immigration as to their eligibility for admission into the United States.
Commonwealth Pier as a Joint Landing Stage (1915)
At present, every Boston transatlantic pier handling a passenger steamer has its unique layout, where immigrants may be examined and admitted to the country. If rejected or detained for further examination, they are sent to the present inadequate detention station on the end of Long Wharf.