War Time Factors In Immigration to the United States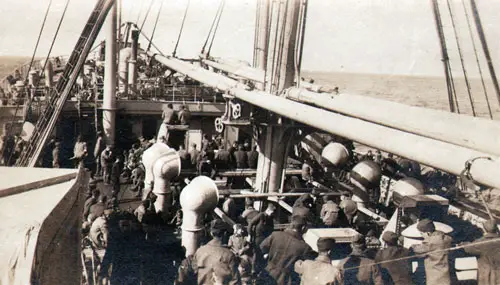 Soldiers on B Deck of the Troop Transport Ship Princess Matoika Looking Aft, 1919. GGA Image ID # 154af0bd33
Alien Arrivals and Departures Since 1915
DURING the five-year period 1915-1919, the number of aliens arriving in and departing from the United States was as follows:
ALIEN ARRIVALS
1919
1918
1917
1916
1915
Immigrant :
247,358
115,916
152,959
355,767

258,678
Non-Immigrant :
149,804
109,500
58,926
72,904
68,963
Total
397,182
225,416
211,885
428,671
327,641
ALIEN DEPARTURES
1919
1918
1917
1916
1915
Emigrant :
261,718
80,612
67,852
69,725
160,641
Non- Emigrant :
190,808
103,333
68,531
95,059
123,995
Total
392,526
183,945
131,183
164,784
284,636
Net Gain
4,636
41,471
80,702
263,887
43,005
Immigration After The First World War (1915)
What will be the effect of the European war on immigration ? This is a question of portentous interest; a question far more important, in fact, than the effect of the war upon trade and commerce, for the life of America is being profoundly influenced by the alien blood and alien traditions which, in recent years, have come in increasing volume from the Slavic and Latin countries of the south of Europe rather than from the Anglo-Saxon and Teutonic countries of the north.
Your Government of the United States Making New Americans (1916)
For the first time in its history, the United States Government is intelligently concerned with making the right sort of citizen out of its adult immigrant material. It is no longer enough that hordes of aliens shall be added yearly to the heterogeneous and unassimilated population already with. in our boundaries.
Immigration and The Great War (1916)
A CRISIS has been reached in our immigration policy. The war has, for the moment, very largely reduced the flow of aliens to our shores. For the first time in many decades we have breathing space.
America In The Making (1919)
For two years or more, a lively press and a listless people were discrepant features of the United States. They were also the subject of puzzled comment on this side. The New York Herald, the Sun, Tribune, and Evening Post expressed themselves impeccably throughout, and with due wrath against German methods. Yet the American masses were but faintly moved.
Important Facts Regarding Recent Immigration
Under the new immigration law, which went into effect on June 3, 1921, only 77,106 immigrants will be allowed to enter the United States in the next year. The law limits the number to percent of the total of each foreign nationality in the United States in 1910.