O'Day Sailboats and Yachts from Bangor Punta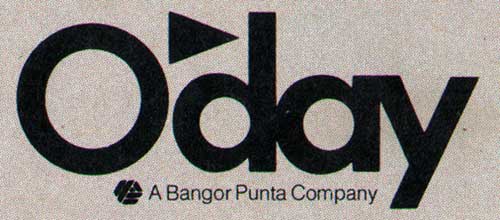 O'Day made three types of sailboats / yachts during the Bangor Punta Era (1966-1984):
O'Day 12, 15, 19, Day Sailer, Day Sailer II, Funfish, Javelin, Kitten, Mariner, Ospray, Rhodes, Seven/Eleven, Snark, Sprite and Widgeon
O'Day 20, 22, 23, 25 and 26
O'Day 27, 28, 30, 32, 34, 37 and 39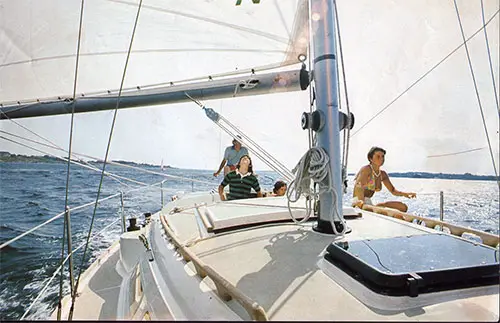 Bangor Punta Era Marketing Materials for O'Day Sailboats, Yachts and Cruisers. View the O'Day Fleet of Sailboats.
Section D: O'Day Branding and Miscellaneous
Section E: O'Day Catalogs & Brochures
O'Day Sailboat and Yacht Videos
The O'Day Gold Medal Fleet 2 Year Warranty (1973 O'Day Catalog)
Every item manufactured by O'Day, a Bangor Punta Company, or O'Day's subsidiaries, is warranted to be free from defects in material and workmanship at the time of shipment from O'Day's plant.
O'Day will repair or replace any item which was defective at the time of shipment from O'Day's plant provided O'Day is promptly notified within thirty (30) days after the date of original purchase by the original user but in no event shall this warranty extend beyond a period equal to 24 months from the date of shipment from O'Day's plant and, if requested by O'Day for purposes of verification of any claimed defect, the item is returned to O'Day for examination.
Any expenses incurred in the returning of an item shall be at the owner's expense. In no event shall O'Day's liabilities for defects for any item manufactured by O'Day exceed O'Day's replacement cost.
This Warranty is VOID if:
Repairs are attempted by anyone other than O'Day or its authorized designees,
Repairs are needed due to normal wear and tear or lack of maintenance,
For replacement of a part which is a normal maintenance replacement item.
This Warranty does not apply to accessories manufactured by others but furnished with O'Day's equipment as they are usually warranted by their respective manufacturers.
THERE ARE NO WARRANTIES, EITHER EXPRESSED OR IMPLIED, OF MERCHANTABILITY, FITNESS OR OTHERWISE, WHICH EXTEND BEYOND THE WARRANTY EXPRESSED HEREIN.
O'Day accepts no responsibility or liability for any representations, acts ,or omissions of retail or wholesale dealers relating to the preparation and/or sale of O'Day's products to original users.