What Makes O'Day Sailboats A Better Value? (1974)
RAY HUNT DESIGNS BY JOHN DEKNATEL
C. Raymond Hunt Associates now design sailboats exclusively for O'Day. Their list of winning designs is impressive and includes the Gold Medal O'Day 23, 22, and 20, to name a few.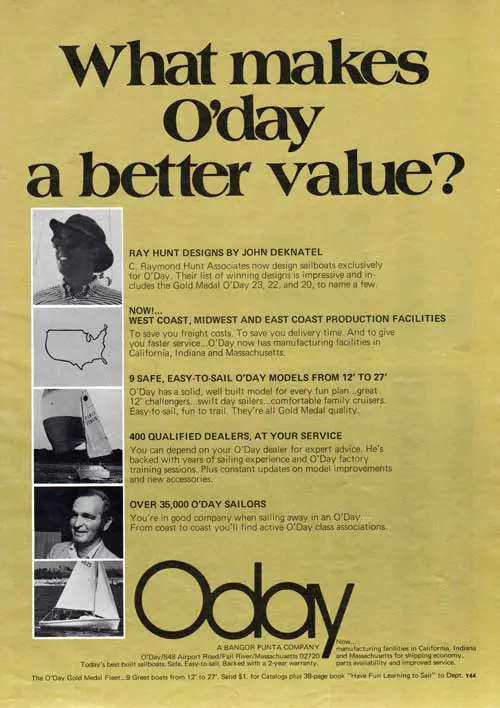 NOW!... WEST COAST, MIDWEST AND EAST COAST PRODUCTION FACILITIES
To save you freight costs. To save you delivery time, and to give you faster service, O'Day now has manufacturing facilities in California, Indiana, and Massachusetts.
9 SAFE, EASY-TO-SAIL O'DAY MODELS FROM 12' TO 27'
O'Day has a solid, well-built model for every fun plan. Great 12' challengers, swift day sailers, and comfortable family cruisers. Easy-to-sail, fun to trail. They're all Gold Medal quality.
400 QUALIFIED DEALERS, AT YOUR SERVICE
You can depend on your O'Day dealer for expert advice. He's backed with years of sailing experience and O'Day factory training sessions. Plus constant updates on model improvements and new accessories.
OVER 35,000 O'DAY SAILORS
You're in good company when sailing away in an O'Day. From coast to coast you'll find active O'Day class associations.
Today's best-built sailboats. Safe. Easy-to-sail. Backed by a 2-year warranty.
Now with manufacturing facilities in California, Indiana, and Massachusetts for shipping economy, parts availability, and improved service.
The O'Day Gold Medal Fleet … 9 Great boats from 12' to 27'. Send $1. for Catalogs plus 38-page book "Have Fun Learning to Sail" to Dept. Y
O'Day
Fall River Massachusetts 02720
A Bangor Punta Company
GG Archives REF: BPODY-015-1974-C-AD