O'Day 23: Sail a Convertible Cabin Top (1973)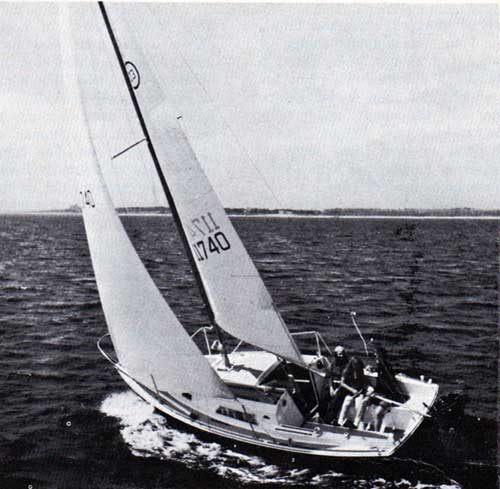 Here's a convertible cabin top that goes from 4'7" to 6'4". The new O'Day 23...a combination of the best features of previous 23's.
Add optional zip-on curtains...the cabin becomes weatherproof and completely private.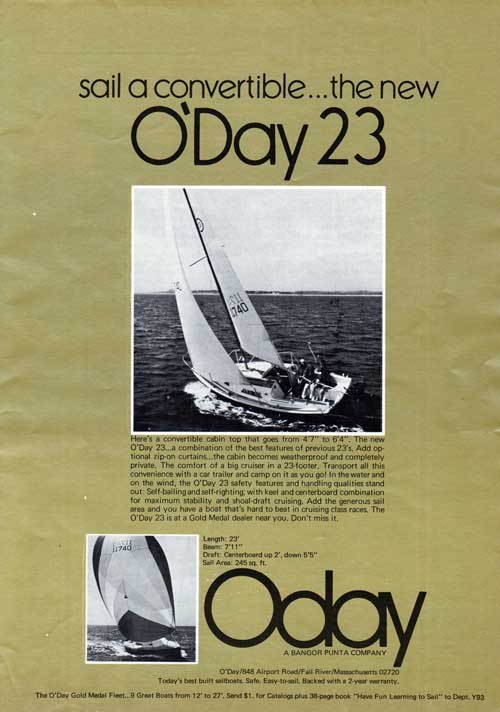 The comfort of a big cruiser in a 23-footer. Transport all this convenience with a car trailer and camp on it as you go!
In the water and on the wind, the O'Day 23 safety features and handling qualities stand out:
Self-bailing and self-righting; with keel and centerboard combination for maximum stability and shoal-draft cruising.
Add the generous sail area and you have a boat that's hard to beat in cruising class races.
The O'Day 23 is at a Gold Medal dealer near you. Don't miss it.
Length: 23'
Beam: 7'11"
Draft: Centerboard up 2', down 5'5"
Sail Area: 245 sq. ft.
O'Day
A BANGOR PUNTA COMPANY
O'Day/848 Airport Road/Fall River/Massachusetts 02720 Today's best built sailboats. Safe. Easy-to-sail. Backed with a 2-year warranty.
The O'Day Gold Medal Fleet...9 Great Boats from 12' to 27'. Send $1. for Catalogs plus 38-page book "Have Fun Learning to Sail" to Dept. Y93
GGA REF: BPODY-011-1973-C-AD