O'Day 32 Yacht - New! Aft Cabin (1977)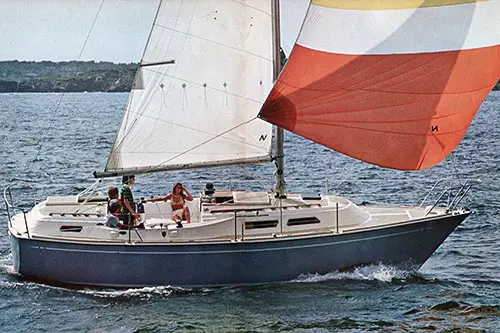 Cruising to the "Comfort Rule" Ask the experts how it's done.
When you're ready for a 32 footer, you're ready for all the extras a boat can offer. You're ready for the O'Day 32 aft cabin.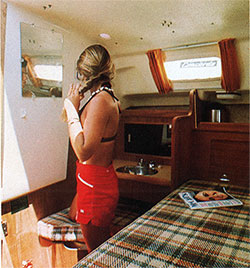 O'Day and C. Raymond Hunt Associates, designers, have been working together for years.
They've generated an incomparable stockpile of design and production know how. The O'Day 32 is the latest development by this team.
For her size, she's the ultimate in luxurious aft cabin cruising, at a sail away price.
O'Day and Hunt have missed no chance to polish up details, to include many essentials as standard equipment.
To see how O'Day builds in quality, let's inspect the 32. The first thing to note is that hull, keel and centerboard trunk are all molded as one piece. There's no finer way to achieve structural integrity and graceful lines. Inside lead ballast keeps her stable.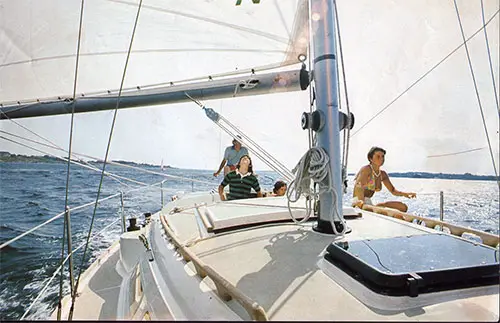 Keel-centerboard construction makes her versatile. Let her lure you off on long voyages. Or, try exploring inlets and shallow harbors.
She's a great gunkhole cruiser for the whole family, drawing only 3'4" with centerboard raised.
When you want performance to windward, simply lower the board from inside the cockpit. Her 7'1" draft makes her drive through the seas with command.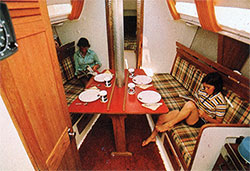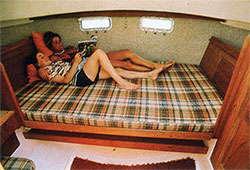 She handles beautifully under sail or power. Her Atomic 4 engine has its own spacious engine room that makes routine maintenance convenient.
Now, let the captain take you aboard for some sailing tips. He'll tell you that good ballast and 10'6" beam make her stable and easy to handle whether beating or running before the wind. She's steady under main and working jib. Just as she is under spinnaker or genoa.
Two can take this gentle yacht alone on a voyage. Or 6 can find happiness aboard an O'Day 32. She has an enormous cockpit amidships for relaxed sailing and sunning, and many an evening's party.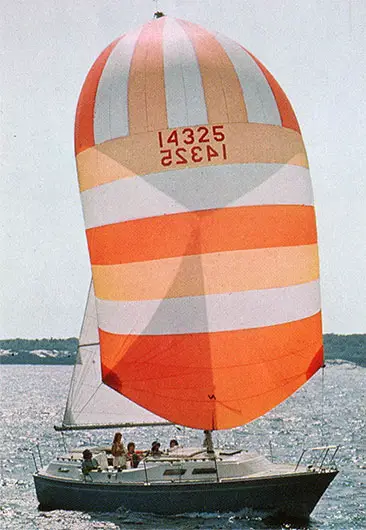 And, last but by no means least, let the mate show you your accommodations. You'll appreciate the privacy of the aft stateroom.
Large double berth, head and vanity and hanging locker make the owner's aft cabin a luxury you'll want to own. Headroom is 6'1".
The main cabin sleeps 4 more, in 2 separate compartments. That's 6 adult sized berths in all. The forward compartment is completely private. It has 2 V-berths and 2 hanging lockers. The hatch and windows keep it bright and airy.
The main cabin offers 2 foam cushioned berths, with storage behind the back cushions, plus dry storage under the seat cushions.
The enclosed head with shower and vanity further ensure privacy. Seating for 6 on facing settees around a large drop-leaf table makes meal time a social event. And no cook can help but love the roomy aft galley. It saves steps in serving the cockpit crew.
Flush, gimballed stove, stainless steel sink, automatic pressure water system, and big ice box. It's a nautical chef's delight. Locker and drawer space will please cook and crew. Four hanging lockers in all and numerous storage compartments will stow plenty for extended family cruising.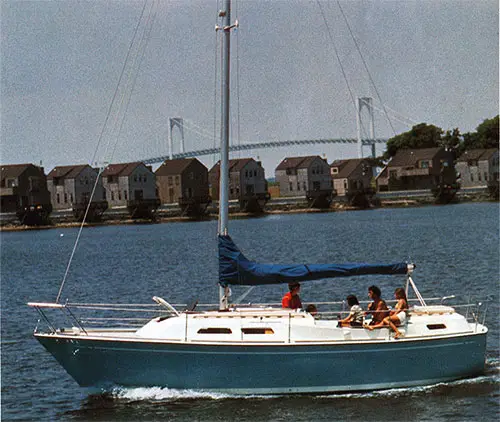 The O'Day 32 provides a full 6'5" headroom in the main cabin. Even on a long cruise, you won't believe she's under 40'. You'll sail, eat and sleep in pure comfort.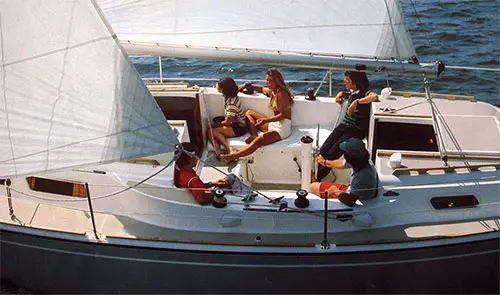 Finishing touches? O'Day gives you all of them. Two-tone non-skid decks, teak trim, formica table tops, finest craftsmanship, and many other flourishes.
Our standard equipment includes main, jib, Atomic 4, 30 h.p. inboard engine, and numerous safety and comfort features.
(See the long standard equipment list)
That's the reason you've come to the experts for the super yacht.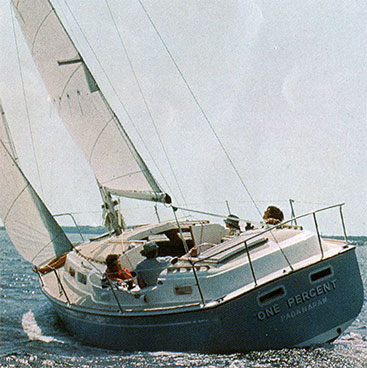 You'll thank designers John Deknatel, Winn Willard and Peter Boyce for their attention to detail every time you sail your O'Day 32.
Through the teamwork of the O'Day builders and Hunt designers, we've made a good idea into a great boat, at a competitive price.
The O'Day 32 is the best in O'Day's long history of quality fiberglass production.
The O'Day 32 Yacht Specifications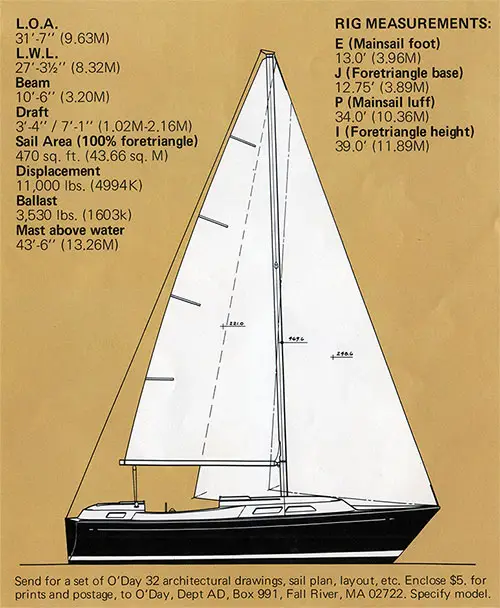 L.O.A. 31'-7" (9.63M)
L.W.L. 27'-31/2" (8.32M)
Beam 10'-6" (3.20M)
Draft 3'-4" / 7'-1" (1.02M-2.16M)
Sail Area (100% foretriangle) 470 sq. ft. (43.66 sq. M)
Displacement 11,000 lbs. (4994K)
Ballast 3,530 lbs. (1603k)
Mast above water 43'-6" (13.26M)
RIG MEASUREMENTS:
E (Mainsail foot) 13.0' (3.96M)
J (Foretriangle base) 12.75' (3.89M)
P (Mainsail luff) 34.0' (10.36M)
I (Foretriangle height) 39.0' (11.89M)
Send for a set of O'Day 32 architectural drawings, sail plan, layout, etc. Enclose $5. for prints and postage, to O'Day, Fall River, MA 02722. Specify model.
O'Day
A Bangor Punta Company
GGA REF: BPODY-026-1977-C-BRO