The O'Day 37 Yacht: Flat-Out Cruising Machine (1980)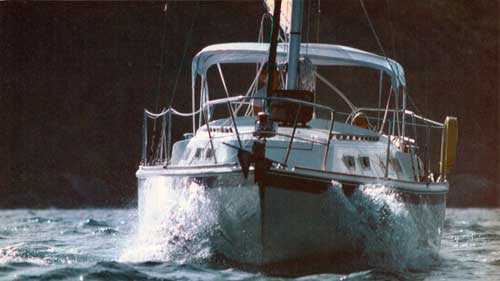 You're getting wiser, thank God. You've logged enough miles under your keel to really appreciate the high performance luxury of an O'Day 37.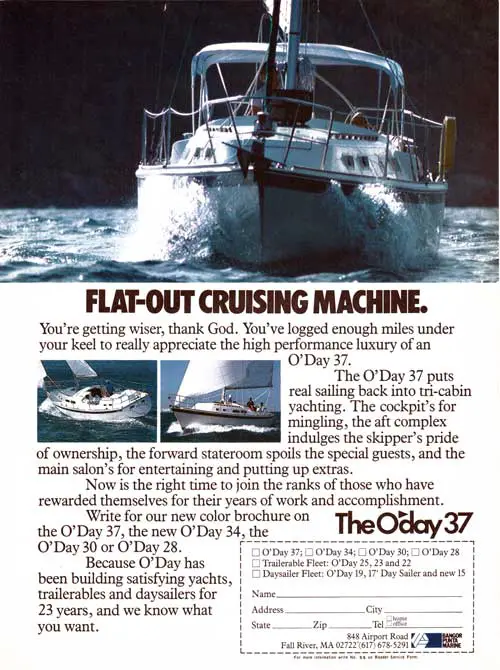 The O'Day 37 puts real sailing back into tri-cabin yachting.
The cockpit's for mingling, the aft complex indulges the skipper's pride of ownership, the forward stateroom spoils the special guests, and the main salon's for entertaining and putting up extras.
Now is the right time to join the ranks of those who have rewarded themselves for their years of work and accomplishment.
Write for our new color brochure on the O'Day 37, the new O'Day 34, the O'Day 30 or O'Day 28.
Because O'Day has been building satisfying yachts, trailerables and daysailers for 23 years, and we know what you want.
O'Day 37
O'Day 34
O'Day 30
O'Day 28
Trailerable Fleet:
O'Day 25
O'Day 23
O'Day 22
Daysailer Fleet:
O'Day 19
O'Day 17' Day Sailer
O'Day 15
GGA REF: BPODY-037-1980-C-AD