The O'Day 37 Yacht: Long Distance Calling. (1979)
O'Day knows that the executives who punch through a pile of papers every week want a boat that can punch through a few waves on the weekend.
Because the captains of American industry today were the captains of our daysailers fifteen years ago. And the thrills of great performance are never forgotten.
The O'Day 37 puts real sailing back into the luxury tri-cabin yacht.
Because John Deknatel and the Hunt Associates' designers understand where the hotel room leaves off and a yacht begins — where to make the accommodations spacious, but when the hull lines should prevail.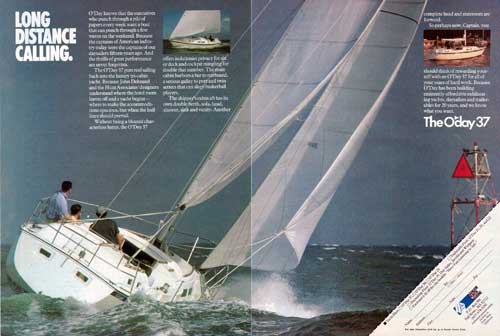 Without being a bloated characterless lump, the O'Day 37offers isolationist privacy for six or deck and cockpit mingling for double that number.
The main cabin harbors a bar to starboard, a serious galley to port and twin settees that can sleep basketball players.
The skipper's cabin aft has its own double berth, sofa, head, shower, sink and vanity. Another complete head and stateroom are forward.
So perhaps now, Captain, you should think of rewarding yourself with an O'Day 37 for all of your years of hard work.
Because O'Day has been building eminently-affordable exhilarating yachts, daysailers and trailerables for 20 years, and we know what you want.
Yacht Fleet
O'Day 37
O'Day 30
O'Day 28
Trailerable Fleet
O'Day 25
O'Day 23
O'Day 22
Daysailing Fleet
O'Day 19
Day Sailer
Javelin
Widgeon
BANGOR PUNTA MARINE
Fall River, MA 02722
Additional manufacturing facilities in Costa Mesa, California
GGA REF: BPODY-035-1979-C-AD-2