Alouette Snowmobiles - Featherweight Corporation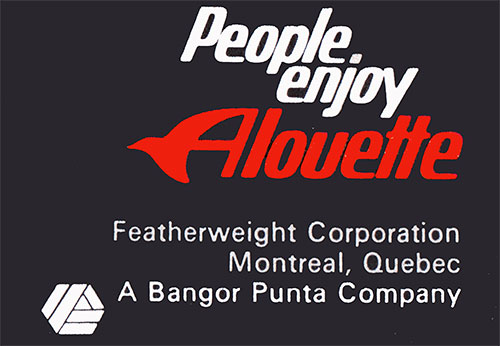 Bangor Punta Corporation owned Alouette / Featherweight Corporation for about two years from 1970 to 1972.
In 1971, Bangor Punta had anticipated production of 25,000 snowmobiles divided between two subsidiaries: Alouette and Starcraft. Both companies featured a family and fun line - Alouette's XLs and Starcraft's Escorts -- and a sporty performance series -- Alouette's GTs and Starcraft's Eliminators. Their engines ranged from 15 to 60 hp.
By May 1971, Bangor Punta decided to concentrate on the Alouette Line of Snowmobiles, manufactured by Featherweight Corporation of Montreal, Canada. The Starcraft Line was discontinued in 1972.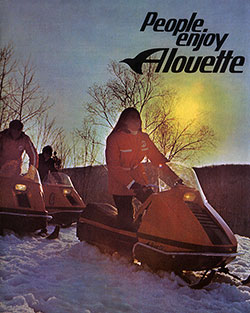 Alouette is Designed for Pleasure (1970)
People enjoy Alouette Snowmobiles for power, plus engineering perfection that lets you get the best out of winter's most people-oriented sport.
BPALO-001-1970-C-AD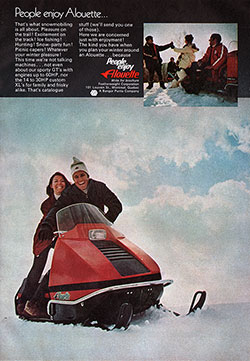 People Enjoy Alouette Snowmobiles (1972)
That's what snowmobiling is all about. Pleasure on the trail! Excitement on the track like fishing, hunting, snow party fun, picnic capers. Whatever your winter diversion, make if fun with Alouette.
BPALO-002-1972-C-AD