BP Boat Dealers (1970)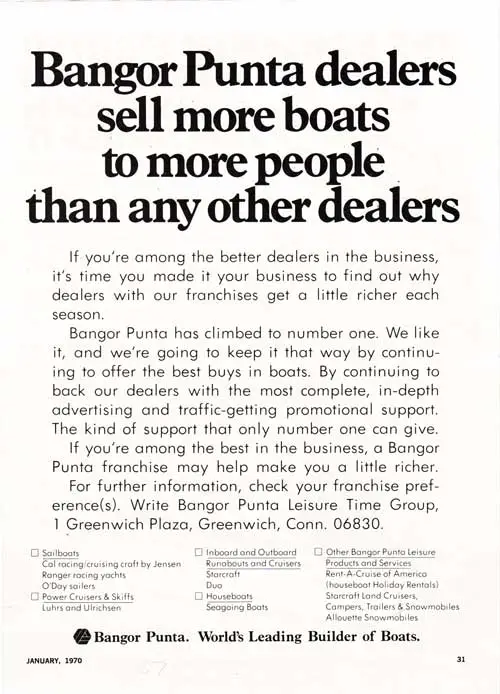 Bangor Punta dealers sell more boats to more people than any other dealers (1970)
If you're among the better dealers in the business, it's time you made it your business to find out why dealers with our franchises get a little richer each season.
Bangor Punta has climbed to number one. We like it, and we're going to keep it that way by continuing to offer the best buys in boats. By continuing to back our dealers with the most complete, in-depth advertising and traffic-getting promotional support. The kind of support that only number one can give.
If you're among the best in the business, a Bangor Punta franchise may help make you a little richer.
For further information, check your franchise preference(s). Write Bangor Punta Leisure Time Group, Greenwich, Conn. 06830.
Bangor Punta. World's Leading Builder of Boats.
GGA REF: BPCOR-006-1970-BW-AD
Bangor Punta Leisure Time Division Information
Sailboats Cal racing/cruising craft by Jensen Ranger racing yachts
O'Day sailers
Power Cruisers & Skiffs Luhrs and Ulrichsen
Inboard and Outboard Runabouts and Cruisers Starcraft Duo
Houseboats Seagoing Boats
Other Bangor Punta Leisure Products and Services Rent-A-Cruise of America (houseboat Holiday Rentals) Starcraft Land Cruisers, Campers, Trailers8i
Snowmobiles Allouette Snowmobiles