Financial Review - Bangor Punta Corporation - FY 1976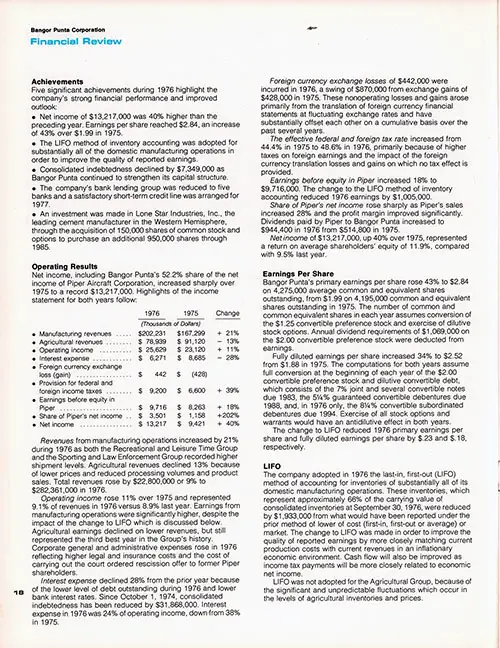 First Page of the Financial Review Section of the Fiscal Year 1976 Annual Report for the Bango Punta Corporation. GGA Image ID # 15d2d509fe
Achievements
Five significant achievements during 1976 highlight the company's strong financial performance and improved outlook:
Net income of $13,217,000 was 40% higher than the preceding year. Earnings per share reached $2.84, an increase of 43% over $1.99 in 1975.
The LIFO method of inventory accounting was adopted for substantially all of the domestic manufacturing operations in order to improve the quality of reported earnings.
Consolidated indebtedness declined by $7,349,000 as Bangor Punta continued to strengthen its capital structure.
The company's bank lending group was reduced to five banks and a satisfactory short-term credit line was arranged for 1977.
An investment was made in Lone Star Industries, Inc., the leading cement manufacturer in the Western Hemisphere, through the acquisition of 150,000 shares of common stock and options to purchase an additional 950,000 shares through 1985.
Operating Results
Net income, including Bangor Punta's 52.2% share of the net income of Piper Aircraft Corporation, increased sharply over 1975 to a record $13,217,000. Highlights of the income statement for both years follow:
Revenues from manufacturing operations increased by 21% during 1976 as both the Recreational and Leisure Time Group and the Sporting and Law Enforcement Group recorded higher shipment levels.
Agricultural revenues declined 13% because of lower prices and reduced processing volumes and product sales. Total revenues rose by $22,800,000 or 9% to $282,361,000 in 1976.
Operating income rose 11% over 1975 and represented 9.1% of revenues in 1976 versus 8.9% last year. Earnings from manufacturing operations were significantly higher, despite the impact of the change to LIFO which is discussed below.
Agricultural earnings declined on lower revenues, but still represented the third best year in the Group's history. Corporate general and administrative expenses rose in 1976 reflecting higher legal and insurance costs and the cost of carrying out the court ordered rescission offer to former Piper shareholders.
Interest expense declined 28% from the prior year because of the lower level of debt outstanding during 1976 and lower bank interest rates. Since October 1, 1974, consolidated indebtedness has been reduced by $31,868,000. Interest expense in 1976 was 24% of operating income, down from 38% in 1975.
Foreign currency exchange losses of $442,000 were incurred in 1976, a swing of $870,000 from exchange gains of $428,000 in 1975. These nonoperating losses and gains arose primarily from the translation of foreign currency financial statements at fluctuating exchange rates and have substantially offset each other on a cumulative basis over the past several years.
The effective federal and foreign tax rate increased from 44.4% in 1975 to 48.6% in 1976, primarily because of higher taxes on foreign earnings and the impact of the foreign currency translation losses and gains on which no tax effect is provided.
Earnings before equity in Piper increased 18% to $9,716,000. The change to the LIFO method of inventory accounting reduced 1976 earnings by $1,005,000.
Share of Piper's net income rose sharply as Piper's sales increased 28% and the profit margin improved significantly. Dividends paid by Piper to Bangor Punta increased to $944,400 in 1976 from $514,800 in 1975.
Net income of $13,217,000, up 40% over 1975, represented a return on average shareholders' equity of 11.9%, compared with 9.5% last year.
Earnings Per Share
Bangor Punta's primary earnings per share rose 43% to $2.84 on 4,275,000 average common and equivalent shares outstanding, from $1.99 on 4,195,000 common and equivalent shares outstanding in 1975.
The number of common and common equivalent shares in each year assumes conversion of the $1.25 convertible preference stock and exercise of dilutive stock options. Annual dividend requirements of $1,069,000 on the $2.00 convertible preference stock were deducted from earnings.
Fully diluted earnings per share increased 34% to $2.52 from $1.88 in 1975. The computations for both years assume full conversion at the beginning of each year of the $2.00 convertible preference stock and dilutive convertible debt, which consists of the 7% joint and several convertible notes due 1983, the 51/4% guaranteed convertible debentures due 1988, and, in 1976 only, the 81/4% convertible subordinated debentures due 1994.
Exercise of all stock options and warrants would have an antidilutive effect in both years.
The change to LIFO reduced 1976 primary earnings per share and fully diluted earnings per share by $.23 and $.18, respectively.
LIFO
The company adopted in 1976 the last-in, first-out (LIFO) method of accounting for inventories of substantially all of its domestic manufacturing operations.
These inventories, which represent approximately 66% of the carrying value of consolidated inventories at September 30, 1976, were reduced by $1,933,000 from what would have been reported under the prior method of lower of cost (first-in, first-out or average) or market.
The change to LIFO was made in order to improve the quality of reported earnings by more closely matching current production costs with current revenues in an inflationary economic environment.
Cash flow will also be improved as income tax payments will be more closely related to economic net income.
LIFO was not adopted for the Agricultural Group, because of the significant and unpredictable fluctuations which occur in the levels of agricultural inventories and prices.
Financial Position
Working capital was $68,699,000 at September 30, 1976, slightly higher than last year. Working capital generated by operations during the year was used for reduction of consolidated debt, capital expenditures and investments.
Capital expenditures continued to emphasize modernization of existing facilities and production tooling for new products.
Further expansion of capacity for sailboat and sporting and law enforcement equipment production was also started in order to meet customer demand. Capital expenditures amounted to $6,152,000, 14% higher than in 1975. Depreciation expense amounted to $4,972,000.
Other investments in 1976 include 150,000 shares of common stock of Lone Star Industries, Inc. acquired for $2,554,000.
The investment in Piper Aircraft Corporation rose by $7,670,000 during 1976, to $64,633,000. The increase consisted of the equity in Piper's undistributed earnings, legal costs, and the settlement of certain claims by former Piper family shareholders who sold their interest in Piper to Bangor Punta. On September 30, 1976, Bangor Punta's investment exceeded by $42,520,000 its equity in Piper's net assets.
Consolidated debt declined by $7,349,000 during 1976. Long-term debt at year end amounted to 38% of capitalization — long-term debt and shareholders' equity — compared with 43% at the end of 1975.
Shareholders' equity rose 14% to $115,781,000. Book value per common share increased from $17.22 at the end of 1975 to $19.72 at the end of 1976. These amounts include $10.90 in 1975 and $11.70 in 1976, representing the cost in excess of net assets of companies acquired and the amount by which the carrying value of the investment in Piper exceeds the equity in its net assets.
Litigation
As explained elsewhere in this Annual Report, Bangor Punta is awaiting the decision of the Supreme Court of the United States in the appeal of the Chris-Craft judgment.
The damage award against the company and its co-defendants, including accrued interest through September 30, 1976, amounts to approximately $38,000,000. Bangor Punta and First Boston Corporation have negotiated an agreement (which requires the consent of Bangor Punta's insurance underwriter) providing for the sharing of any payment to Chris-Craft if Bangor Punta and First Boston are held jointly liable.
If the present money judgment is upheld, the payment will be shared equally. Should the judgment be reduced below $38,000,000, Bangor Punta's share shall be the lesser of 61% of the payment or $19,000,000. Bangor Punta and First Boston have also agreed to limit, under certain circumstances, the liability of the Piper family co-defendants to the amount which has been placed in an escrow fund.
Should Bangor Punta be required to pay all or a substantial portion of a significant judgment to Chris-Craft, it would have an adverse effect on its financial condition. If Bangor Punta's final net liability were to exceed $15,000,000, then the arrangements for additional financing discussed below would be cancelled and a series of defaults could occur under various loan agreements which could result in all outstanding debt becoming due and payable.
In view of the uncertainty as to the amount of Bangor Punta's liability as finally determined, the amount of any insurance recovery, and the amount of contribution by the other defendants, no provision for the effect of the Chris-Craft litigation has been made in the September 30, 1976 financial statements.
Resolution of this litigation is also necessary before Bangor Punta will be in a position to reevaluate the amount at which its investment in Piper is carried in its balance sheet.
Financing and Cash Flow
The remaining balance of $2,000,000 under a revolving bank credit was paid on December 31, 1975. Arrangements were subsequently completed to reduce the bank lending group to five lenders who took over the other participations in the term loan.
The remaining balance of this loan is $4,000,000 which comes due in quarterly installments of $1,000,000 through September 30, 1977. A short-term credit of up to $12,000,000 was also made available for the 1977 fiscal year.
The credit will be cancelled, however, if Bangor Punta's final net liability in the Chris-Craft litigation, after allowing for contribution and insurance recovery, exceeds $15,000,000.
Bangor Punta has obtained a commitment from its insurance company lender for an additional term loan of $10,000,000 to be borrowed prior to December 31, 1977. Borrowing of these funds will be contingent upon both the availability of a $12,000,000 bank credit and a final net liability for Bangor Punta in the Chris-Craft litigation of not more than $15,000,000.
Under the terms of this commitment, the interest rate on the presently outstanding insurance company debt, excluding the 7% convertible notes, was increased effective August 25,1976 to 10.5% from an average rate of 8.0%.
The maturity of these notes will be extended and repayment of the aggregate indebtedness, including the additional borrowing, will be in approximately equal annual installments through September 1, 1988.
The expiration date of the Series A and B Warrants will also be extended to September 1, 1988. The terms of the 7% convertible notes remain unchanged.
Scheduled long-term debt maturities for the next five years under existing loan terms are as follows (in thousands):

A five-year comparison of the primary components of internally-generated cash flow from continuing operations follows (in thousands):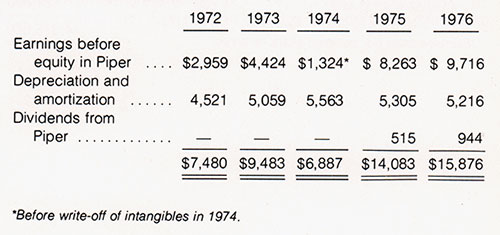 Dividends
Since July 7, 1975, Bangor Punta has been under order of the United States Circuit Court of Appeals not to pay any cash dividends until final disposition of the Chris-Craft litigation by the Supreme Court.
Because of the absence of available retained earnings under a covenant in the indenture for its 814% convertible subordinated debentures due 1994. the company had suspended quarterly dividends on its $1.25 and $2.00 convertible preference stocks after payment of the December 15, 1974 dividend.
The indenture was amended on November 30,1976 and would permit the payment of dividends. However, the insurance company and bank loan agreements presently prohibit the payment of dividends (see note 11 to Bangor Punta's financial statements).
At September 30, 1976, dividends in arrears were $2,351,600, representing $2.1875 per share on the $1.25 and $3.50 per share on the $2.00 convertible preference stocks.
Common Stock
At September 30.1976, Bangor Punta had 4,117,187 shares of common stock outstanding. Additional shares of common stock were reserved for issuance upon the conversion or exercise of convertible debt, convertible preference stock, warrants, and stock options as set forth in the following table: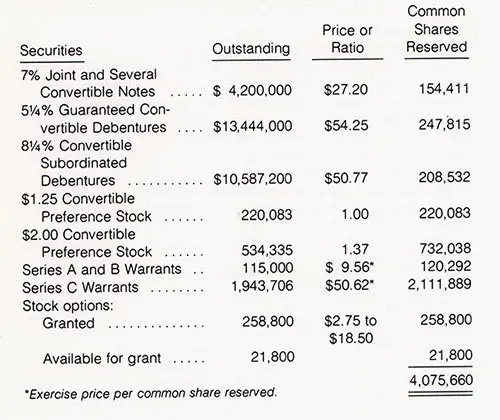 Lone Star Investment
On August 11, 1976. Bangor Punta acquired as an investment 150,000 shares of the common stock of Lone Star Industries, Inc. and nine options to purchase over a period of years ending in 1985 an additional 950,000 shares of such stock.
The acquisition of the Lone Star shares and options was from Mr. James E. Stewart, and entities related to him. Mr. Stewart is Chairman of the Board of Lone Star. He is also Vice Chairman of the Board, Chairman of the Executive Committee and a major shareholder of Bangor Punta.
The purchase price for the 150,000 shares acquired for cash of $2,554,000 and the first 400,000 of the shares subject to option is $17,026 per share, the average of the mean market price for Lone Star stock during the months of March through June, 1976.
The purchase price for the remaining 550,000 shares subject to option is to be $1.00 per share less than an average of market prices computed at the time of each purchase, but not less than $19,026 per share.
The entire transaction is subject to ratification by Bangor Punta shareholders at the next shareholder meeting. Should shareholder approval not be obtained, the options would be cancelled, the 150,000 shares would be returned to Mr. Stewart, and Mr. Stewart would repay the purchase price.
The purchase agreement provides that should any option not be exercised, Mr. Stewart would have the right to repurchase, at a price equal to Bangor Punta's cost, all or a part of the Lone Star shares previously sold to the company.
Lone Star is the largest manufacturer of cement in the Western Hemisphere, and a leading distributor of building materials through its National Building Centers Group. Lone Star reported for 1975 revenues of $625 million and earnings per share of $1.74; shareholders received a dividend of $1.00 per common share during 1975.
Recently, Lone Star announced that its annual dividend rate has been increased to $1.10. Lone Star's unaudited interim report for the nine months ended September 30, 1976 showed revenues and earnings ahead of the comparable period in 1975.
Lone Star has approximately 11,100,000 shares of common stock outstanding. The reported NYSE composite monthly high and low market price for Lone Star common stock during the months of August through November, 1976 was as follows:

Piper
Sales of Piper Aircraft Corporation reached $210.753,000 in 1976. a 28% increase over 1975 sales. Unit aircraft deliveries rose by 20%. significantly exceeding the 5% increase in general aviation industry deliveries.
Piper's net income tripled to $6.707.000 in 1976 from $2,218,000 in 1975, and represented 3.2% of sales in 1976 versus 1.3% the year before. The higher profit margin resulted from the increase in aircraft production, improved manufacturing productivity, and the shift in the product mix toward higher margin aircraft. Piper has used the LIFO inventory accounting method since 1974.
Capital expenditures during 1976 increased sharply to $6,753,000, up from $2,416,000 in 1975. The Lakeland, Florida plant was expanded by 198,000 square feet, almost doubling the size of that factory, and an improved aircraft painting facility was installed. Piper also stepped up its companywide machine tool modernization program, in order to expand capacity and improve manufacturing productivity and product quality.
Piper's long-term debt declined during 1976 to 29% of its capitalization from 34% at the end of 1975. The after-tax return on average shareholders' equity increased to 16.7% in 1976, as compared with 6.0% in the prior year.
Earnings per share rose to $4.08 from $1.35. Cash dividends paid amounted to $ 1.10 per share in 1976. compared with $ 60 per share in the prior year. Separate financial statements for Piper are on pages 40 through 44.
Stock Prices and Dividends
The quarterly high and low prices of the company's three capital stock issues, which are traded on the New York Stock Exchange, were as follows:

No dividends have been paid on common stock during the past two fiscal years. Quarterly dividends of $.3125 per share and $.50 per share were paid on the $1.25 convertible preference stock and the $2.00 convertible preference stock, respectively, on December 15. 1974.
No dividends have been paid on either series of preference stock since that time. See note 11 of notes to consolidated financial statements for information on dividend arrearages and restrictions.
Review of Operating Results by Line of Business
Years Ended September 30
(Millions of Dollars)

Recreational and Leisure Time Group

Revenues of the Recreational and Leisure Time Group increased 33% over 1975, and the profit contribution more than doubled.
The economic recovery and an increased marketing effort resulted in a 46% increase in revenues from United States and Canadian operations. Unit shipments of camping trailers increased 52%, more than double the reported industry increase.
Sailboat and fiberglass powerboat sales also outpaced the reported growth in their markets, and Starcraft maintained its strong position in aluminum boats. Earnings from United States and Canadian operations rose sharply during 1976, reflecting the higher volume, increased productivity, and effective cost control.
Revenues from European operations increased 25% as Jeanneau remained the leading boat builder in France. Sales of Tyler were lower, however, as the British economy weakened.
Foreign earnings were level with last year, as profit margins declined because of continuing inflation, price controls in effect in France during the early part of the year, and foreign currency exchange losses.
Capital expenditures by the Group amounted to $1,661,000 in 1976, down from $1,869.000 in 1975 when a major expansion program was undertaken at Jeanneau.
Expenditures in 1976 emphasized equipment for the internal manufacture of components and improvement of product quality. At year end, expansion was underway at O'Day's Fall River sailboat plant which will significantly increase that facility's capacity.
The Group's working capital increased 10% during 1976 to support the growth in sales. The inventory turnover and accounts receivable collection period both improved with the increasing rate of production and shipments.
The year end backlog indicates that a further improvement in sales and earnings can be expected in 1977, but results will depend on the strength of the domestic and foreign economies, government economic policies, and consumer confidence.
Sporting and Law Enforcement Group

Revenues of the Sporting and Law Enforcement Group rose 12% during 1976, as shipments of shotguns and handguns — mainly to law enforcement agencies and export markets — increased.
Other law enforcement equipment sales were level with last year, but ammunition sales were lower because of the discontinuance of shotshell shipments and reduced demand during 1976 in other lines.
Higher unit volume and improved manufacturing productivity of handguns were the principal causes of the increase in the Group's earnings. Operating expenses increased proportionately less than revenues.
Earnings for the current year were adversely affected by plant startup difficulties and pruning of the product line at the ammunition division, whose future emphasis will be on centerfire pistol ammunition and primers.
The write-off of certain law enforcement equipment component inventories because of lower than anticipated export demand also reduced the profit contribution.
Capital expenditures increased to $2,882,000 from $1,993,000 in 1975. Substantial outlays were made for machine tools to increase capacity and improve manufacturing productivity at the Group's main facility at Springfield, Massachusetts.
Working capital used by the Group was 21% higher than at the prior year end. Inventories increased to support higher handgun and sporting product sales and accounts receivable at year end reflected the impact of seasonal dating programs used by the ammunition and sporting products lines.
Industrial Group

Shipments of heat transfer equipment reached record levels during 1976, but backlogs dropped throughout the year because of uncertainty by customers in the petroleum industry as to the direction of national energy policy. Sales of industrial ovens and conveyors declined as capital outlays by American business continued to be sluggish.
Capital expenditures for the Group rose to $560,000 during 1976 from $232,000 last year. The construction and equipping of a new building was completed at the Houston, Texas facility, and additional land was acquired for future expansion there.
While it is anticipated that 1977 shipments of heat transfer equipment will be lower than this year, the incoming order rate throughout the Group is expected to increase as the year progresses.
Agricultural Group

Revenues and profit contribution of the Agricultural Group declined from the record high levels of last year, but Producers Cotton Oil Company still achieved the third most profitable year in its history.
The decline in ginning and processing revenues can be attributed to the one-third reduction in acreage used by Far West growers for cotton harvested during this fiscal year, as compared with the prior year, and to lower prices for processed products. Inventories of safflower seed and cottonseed carried over from the prior year's record crop were reduced substantially to offset the effect of the acreage reduction on processing volume.
More favorable cotton prices, improved cotton yields per acre and control of costs resulted in higher earnings from Producers' cotton farming operations.
Capital expenditures for the Group amounted to $972,000 in 1976, as compared with $1,288,000 last year, and represented outlays for continuing replacement and modernization of the Group's ginning, processing and farming equipment and facilities.
Producers' current advances to Prodco Finance Company, a nonconsolidated subsidiary which makes loans to growers, increased over the prior year end. With demand for cotton exceeding production and higher prices at the time of planting, Far West growers have increased the acreage planted in cotton this year by 25%.