Transportation: New Services for Shippers
In recent years, the railroad industry has developed a variety of freight-car innovations to serve specialized customer needs. An example is "piggybacking" where truck trailers are transported on railroad flat cars, then swiftly shifted back to trucks for local highway delivery. According to the Association of American Railroads, trailer-on-flat-car traffic is growing at the rate of 10 percent annually.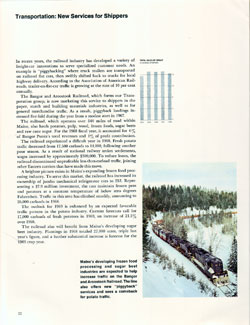 The Bangor and Aroostook Railroad, which forms our Transporation group, is now marketing this service to shippers in the paper, starch and building materials industries, as well as for general merchandise traffic. As a result, piggyback loadings increased five-fold during the year from a modest start in 1967.
The railroad, which operates over 540 miles of road within Maine, also hauls potatoes, pulp, wood, frozen foods, sugar beets and raw cane sugar. For the 1968 fiscal year, it accounted for 6% of Bangor Punta's total revenues and 1% of profit contribution.
The railroad experienced a difficult year in 1968. Fresh potato traffic decreased from 17,500 carloads to 14,000, following another poor season. As a result of national railway union settlements, wages increased by approximately $300,000. To reduce losses, the railroad discontinued unprofitable less-than-carload traffic, joining other Eastern carriers that have made this move.
A brighter picture exists in Maine's expanding frozen food processing industry. To serve this market, the railroad has increased its ownership of jumbo mechanical refrigerator cars to 253. Representing a $7.9 million investment, the cars maintain frozen peas and potatoes at a constant temperature of below zero degrees Fahrenheit. Traffic in this area has climbed steadily, amounting to 26,000 carloads in 1968.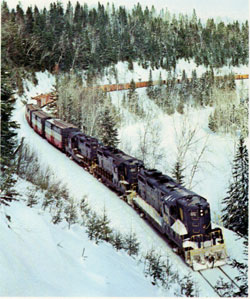 Maine's developing frozen food processing and sugar beet industries are expected to help increase traffic on the Bangor and Aroostook Railroad. The line also offers new "piggyback" services and sees a comeback for potato traffic.
The outlook for 1969 is enhanced by an expected favorable traffic pattern in the potato industry. Current forecasts call for 17,000 carloads of fresh potatoes in 1969, an increase of 21.5% over 1968.
The railroad also will benefit from Maine's developing sugar beet industry. Plantings in 1968 totaled 27,000 acres, triple last year's figure, and a further substantial increase is forecast for the 1969 crop year.
Source: Bangor Punta Annual Report for the Year Ended September 30, 1968, Page 22