Process Engineering: Increased Systems Capabilities
Bangor Punta's Process Engineering and Equipment group serves four major markets:
First, it provides advanced, automated equipment for the materials handling field—particularly the container, packaging and foundry industries.
Second, it sells environmental control equipment to industry and municipalities to combat water pollution and dispose of waste materials.
Third, it designs, engineers and fabricates heat process equipment for the chemical and foundry industries.
Fourth, it operates the largest distributor of refrigeration and air-conditioning equipment on the West Coast.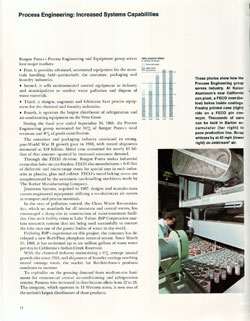 During the fiscal year ended September 30, 1968, the Process Engineering group accounted for 14% of Bangor Punta's total revenues and 8% of profit contribution.
The container and packaging industry continued its strong, post-World War II growth pace in 1968, with record shipments estimated at $18 billion. Metal cans accounted for nearly $3 billion of that amount—spurred by increased consumer demand.
Through the FECO division, Bangor Punta makes industrial ovens that bake on can finishes. FECO also manufactures a full line of dielectric and micro-range ovens for special uses in such industries as plastics, glass and rubber. FECO's metal-baking ovens are complemented by the automatic can-handling machinery made by The Barker Manufacturing Company.
Jetstream Systems, acquired in 1967, designs and manufactures custom-engineered equipment utilizing a revolutionary air system to transport and process materials.
Polution Control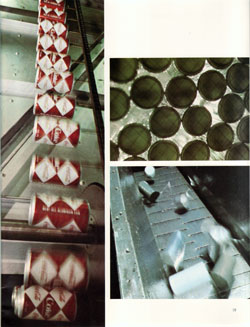 These photos show how the Process Engineering group serves industry. At Kaiser Aluminum's new California can plant, a FECO oven (below) bakes inside coatings. Freshly printed cans (right) ride on a FECO pin conveyor. Thousands of cans can be held in Barker accumulator (far right) to pace production line. Scrap whizzes by at 40 mph (lower right) on Jetstream® air.
In the area of pollution control, the Clean Water Restoration Act, which set standards for all interstate and coastal waters, has encouraged a sharp rise in construction of water-treatment facilities. One such facility exists at Lake Tahoe. BSP Corporation markets ECOLOGIX systems that are being used successfully to convert the lake into one of the purest bodies of water in the world.
Utilizing BSP's experience on this project, the company has developed a new BarS-Phos phosphate removal system. Since March 31, 1968, it has reclaimed up to six million gallons of waste water per day in California's Indian Creek Reservoir.
With the chemical industry maintaining a 6% average annual growth rate since 1958, and shipments of foundry castings reaching record tonnage totals, the market for Bartlett-Snow's products continues to increase.
To capitalize on the growing demand from medium-size businesses for commercial central air-conditioning and refrigeration systems, Pameco-Aire increased its distribution offices from 22 to 28. The company, which operates in 13 Western states, is now one of the nation's largest distributors of these products.
Source: Bangor Punta Annual Report for the Year Ended September 30, 1968, Page 14