Professional Services: Growing Faster Than the GNP
Services represent a significant and rapidly expanding segment of our national economy. Expenditures on services now total approximately $220 billion a year, and have grown at a faster rate than the gross national product.
Waste Treatment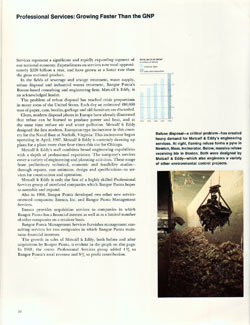 In the fields of sewerage and sewage treatment, water supply, refuse disposal and industrial wastes treatment, Bangor Punta's Boston-based consulting and engineering firm, Metcalf & Eddy, is an acknowledged leader.
The problem of refuse disposal has reached crisis proportions in many areas of the United States. Each day an estimated 480,000 tons of paper, cans, bottles, garbage and old furniture are discarded.
Clean, modern disposal plants in Europe have already illustrated that refuse can be burned to produce power and heat, and at the same time reduce air and water pollution. Metcalf & Eddy designed the first modern, European-type incinerator in this country for the Naval Base at Norfolk, Virginia. This incinerator began operating in April, 1967. Metcalf & Eddy is currently drawing up plans for a plant more than four times this size for Chicago.
Metcalf 8c Eddy's staff combines broad engineering capabilities with a depth of professional experience. The company's services cover a variety of engineering and planning activities. These range from preliminary technical, economic and feasibility studies—through reports, cost estimates, design and specifications—to services for construction and operation.
Metcalf & Eddy is only the first of a highly skilled Professional Services group of unrelated companies which Bangor Punta hopes to assemble and expand.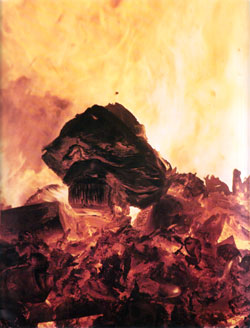 Massive refuse receiving bin in Boston. Both were designed by Metcalf & Eddy — which also engineers a variety of other environmental control projects.
Also in 1968, Bangor Punta developed two other new service-oriented companies: Enesco, Inc. and Bangor Punta Management Services.
Refuse Disposal
Refuse disposal—a critical problem—has created heavy demand for Metcalf & Eddy's engineering services. At right, flaming refuse forms a pyre in Newton, Mass. incinerator.
Enesco provides acquisition services to companies in which Bangor Punta has a financial interest as well as to a limited number of other companies on a retainer basis.
Bangor Punta Management Services furnishes management consulting services for two companies in which Bangor Punta maintains financial interests.
Source: Bangor Punta Annual Report for the Year Ended September 30, 1968, Page 20