Letter to Shareholders, Bangor Punta Corporation, FY 1976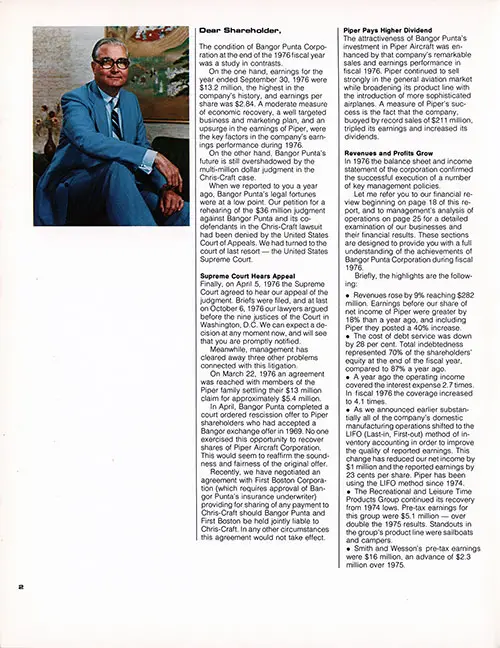 First Page of the Letter to Shareholders of the Bangor Punta Corporation by David W. Wallace, Chairman of the Board and President, 10 December 1976. GGA Image ID # 15c9b4d133
Dear Shareholder,
The condition of Bangor Punta Corporation at the end of the 1976 fiscal year was a study in contrasts.
On the one hand, earnings for the year ended September 30, 1976, were $13.2 million, the highest in the company's history, and earnings per share were $2.84. A moderate measure of economic recovery, a well-targeted business and marketing plan, and an upsurge in the earnings of Piper, were the key factors in the company's earnings performance during 1976.
On the other hand, Bangor Punta's future is still overshadowed by the multi-million dollar judgment in the Chris-Craft case.
When we reported to you a year ago, Bangor Punta's legal fortunes were at a low point. Our petition for a rehearing of the $36 million judgment against Bangor Punta and its codefendants in the Chris-Craft lawsuit had been denied by the United States Court of Appeals. We had turned to the court of last resort — the United States Supreme Court.

Supreme Court Hears Appeal
Finally, on April 5, 1976 the Supreme Court agreed to hear our appeal of the judgment. Briefs were filed, and at last on October 6, 1976 our lawyers argued before the nine justices of the Court in Washington, D.C. We can expect a decision at any moment now, and will see that you are promptly notified.
Meanwhile, management has cleared away three other problems connected with this litigation.
On March 22, 1976 an agreement was reached with members of the Piper family settling their $13 million claim for approximately $5.4 million.
In April, Bangor Punta completed a court ordered rescission offer to Piper shareholders who had accepted a Bangor exchange offer in 1969.
No one exercised this opportunity to recover shares of Piper Aircraft Corporation. This would seem to reaffirm the soundness and fairness of the original offer.
Recently, we have negotiated an agreement with First Boston Corporation (which requires approval of Bangor Punta's insurance underwriter) providing for sharing of any payment to Chris-Craft should Bangor Punta and First Boston be held jointly liable to Chris-Craft. In any other circumstances this agreement would not take effect.
Piper Pays Higher Dividend
The attractiveness of Bangor Punta's investment in Piper Aircraft was enhanced by that company's remarkable sales and earnings performance in fiscal 1976. Piper continued to sell strongly in the general aviation market while broadening its product line with the introduction of more sophisticated airplanes. A measure of Piper's success is the fact that the company, buoyed by record sales of $211 million, tripled its earnings and increased its dividends.
Revenues and Profits Grow
In 1976 the balance sheet and income statement of the corporation confirmed the successful execution of a number of key management policies.
Let me refer you to our financial review beginning on page 18 of this report, and to management's analysis of operations on page 25 for a detailed examination of our businesses and their financial results. These sections are designed to provide you with a full understanding of the achievements of Bangor Punta Corporation during fiscal 1976.
Briefly, the highlights are the following:
Revenues rose by 9% reaching $282 million. Earnings before our share of net income of Piper were greater by 18% than a year ago, and including Piper they posted a 40% increase.
The cost of debt service was down by 28 per cent. Total indebtedness represented 70% of the shareholders' equity at the end of the fiscal year, compared to 87% a year ago.
A year ago the operating income covered the interest expense 2.7 times. In fiscal 1976 the coverage increased to 4.1 times.
As we announced earlier substantially all of the company's domestic manufacturing operations shifted to the LIFO (Last-in, First-out) method of inventory accounting in order to improve the quality of reported earnings. This change has reduced our net income by $1 million and the reported earnings by 23 cents per share. Piper has been using the LIFO method since 1974.
The Recreational and Leisure Time Products Group continued its recovery from 1974 lows. Pre-tax earnings for this group were $5.1 million — over double the 1975 results. Standouts in the group's product line were sailboats and campers.
Smith and Wesson's pre-tax earnings were $16 million, an advance of $2.3 million over 1975.
Producers Cotton Oil Company bettered the forecast and posted its third most profitable year in history, overcoming reduced sales.
Dividend Outlook
Despite the continued improvements in corporate results, the uncertainties of the Chris-Craft case make any prediction on the payment of the preference stock dividend arrearages impossible. However, it is one of management's high priorities to see preference dividends and, hopefully, common dividends resumed on a regular basis.
We have, with the consent of debenture holders, amended an indenture which barred the payment of dividends. We are still, however, prohibited from resuming dividends until the Supreme Court acts on the Chris-Craft case.
Naturally, the whole question of dividends is deeply rooted in the financial condition of the company. Any decision, therefore, will have to be based on conditions existing at the time of consideration of dividends.
Prospects for 1977
How do things look in the year ahead?
We are planning for a year of continued growth, supported by substantially increased capital spending.
We are continuing a company-wide program of modernization of machinery to increase productivity and reduce manufacturing cost.
We are working toward further growth in the Recreational and Leisure Time Products Group. We are expanding the Fall River, Massachusetts facility significantly to increase production of our popular O'Day sailboats.
The newly installed production line for Starcraft campers at the Jensen Marine boatworks in Costa Mesa, California, will give Starcraft convenient access to the rich Western leisure products markets.
Producers Cotton Oil reports that Arizona and California cotton plantings are higher and the outlook is excellent for fiscal 1977.
Piper Aircraft's backlog indicates another record year of sales and profit.
All of these factors provide us with confidence for 1977. But our confidence is tempered by uncertainties.
Any marked increase in oil prices by OPEC would have an unfavorable impact for the economy as a whole and for some of our businesses in particular.
There are also signs that the economic recovery is stalled and it will be some time before it can respond to the measures of the new administration.
Impact of Government Policies
Government is a crucial factor in every business calculation. Resumed inflation could erode our profit margins. A tax cut might stimulate consumer spending in the leisure and recreation market, but it could also fuel inflation.
In recent years, federal agricultural policy has produced good times for the farmer, increased agricultural exports, and has improved the nation's balance of payments.
Bangor Punta is an interested party to government policy in two other important areas: foreign relations and gun control legislation.
We will continue to press our corporate claim for company properties expropriated in 1960 by the current Cuban government. We have a certified claim for lost assets valued at $53 million.
While we strongly favor normalization of relations with Cuba, we believe it is critical that any agreement to resume relations recognize the rights of American nationals and provide for fair compensation of their losses.
Federal Gun Controls
When the new Congress meets in Washington, we expect the issue of gun control legislation to be revived. As you will recall, we already discussed this vital issue a year ago in our annual report.
We reject the position of those who would ban the ownership or use of firearms.
We are determined to protect the right of law abiding citizens to freely purchase, possess and use handguns for peaceful purposes and self-protection.
We support effective federal programs to license handgun owners.
We feel that meaningful mandatory sentences should be imposed for crimes in which any type of firearm is used.
Commensurate with this policy, we recently worked for the defeat of a referendum to ban handguns in Massachusetts, and we see it as the duty of responsible citizenship to continue to speak out for a moderate federal program of owner licensing.
Lone Star Purchase Awaits Approval
During this past year, our company made an important investment in Lone Star Industries. Lone Star is the largest manufacturer of cement in the Western Hemisphere, and a leading distributor of building materials through its National Building Centers Group.
Subject to the approval of our shareholders at the forthcoming annual meeting, Bangor Punta has acquired for $17 per share cash, 150,000 shares of Lone Star stock, and options to purchase an additional 950,000 shares over the next nine years.
If these options are exercised and the present ownership configuration of Lone Star remains the same, Bangor Punta would be the largest single holder of Lone Star stock. We believe that this is an important and worthwhile step forward for our company's future.
Summing Up
Fiscal 1977 holds promise of being a better year than 1976. However, as we have seen, decisions of the federal government in the areas of agriculture, law enforcement, foreign trade, taxes and other economic policies could have far-reaching effects on the future of our corporation and the nation.
As I stated at the beginning of this letter, the resolution of the various problems raised by the Chris-Craft litigation remain the single most important impediment to our company taking its rightful place of leadership among American businesses.
We appreciate very much, the support of shareholders, suppliers, institutional lenders, and most of all, our loyal and dedicated employees.
In closing, I want to express our appreciation to James G. Tremaine who retired as a director during the past year. He had served in this capacity for 20 years and his wise counsel and good cheer will be missed by all.
/s/ David W. Wallace
Chairman of the Board and President
December 10, 1976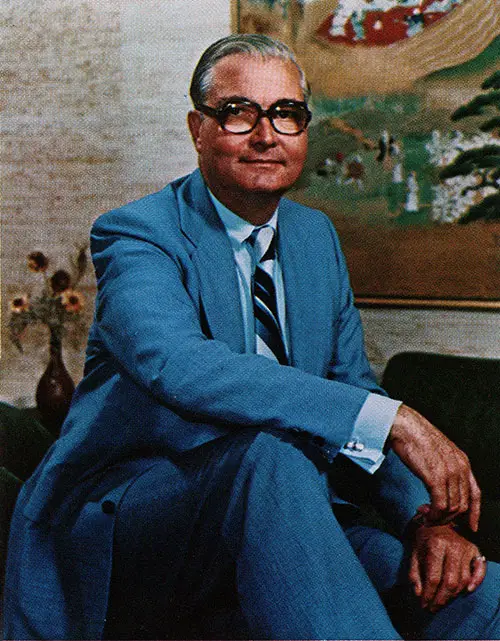 David W. Wallace, Chairman of the Board and President of Bangor Punta Corporation circa 1976. GGA Image ID # 15ca277d78