How's Your Investment IQ? INVESTMENT QUIZ 4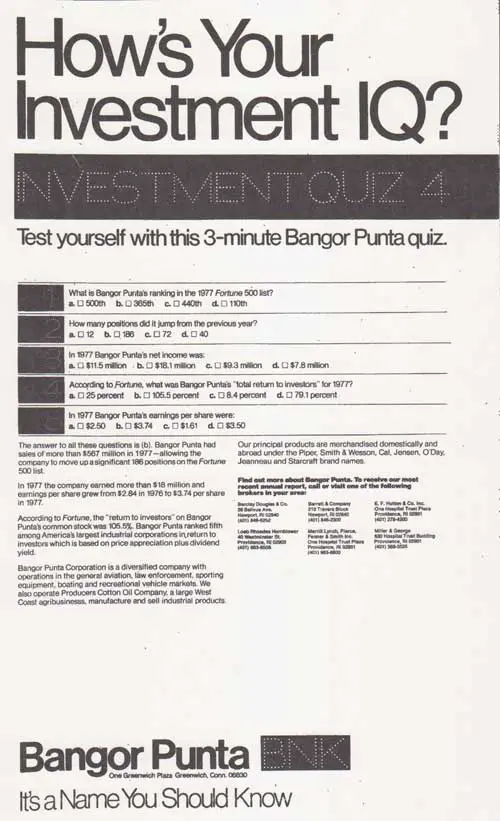 (1978 Advertisement)
Test yourself with this 3-minute Bangor Punta quiz.
What is Bangor Punta's ranking in the 1977 Fortune 500 list?
a. 500th
b. 365th
c. 440th
d. 110th
How many positions did it jump from the previous year?
a. 12
b. 186
c. 72
d. 40
In 1977 Bangor Punta's net income was:
a. $11.5 million
b. $18.1 million
c. $9.3 million
d. D $7.8 million
According to fortune, what was Bangor Punta's "total return to investors" for 1977?
a. 25 percent
b. 105.5 percent
c. 8.4 percent
d. 79.1 percent
In 1977 Bangor Punta's earnings per share were:
a. $2.50
b. $3.74
c. $1.61
d. $3.50
The answer to all these questions is (b). Bangor Punta had sales of more than $567 million in 1977 -- allowing the company to move up a significant 186 positions on the Fortune 500 list.
In 1977 the company earned more than $18 million and earnings per share grew from $2.84 in 1976 to $3.74 per share in 1977.
According to Fortune, the "return to investors" on Bangor Punta's common stock was 105.5%. Bangor Punta ranked fifth among America's largest industrial corporations irueturn to investors which is based on price appreciation plus dividend yield.
Bangor Punta Corporation is a diversified company with operations in the general aviation, law enforcement, sporting equipment, boating and recreational vehicle markets. We also operate Producers Cotton Oil Company, a large West Coast agribusinesss, manufacture and sell industrial products.
Our principal products are merchandised domestically and abroad under the Piper, Smith & Wesson, Cal, Jensen, O'Day, Jeanneau and Starcraft brand names.
Find out more about Bangor Punta. To receive our most recent annual report, call or visit one of the following brokers in your area:
Barclay Douglas & Co.
Loeb Rhoades Hornblower
Barrett & Company
Merrill Lynch, Pierce, Fenner & Smith Inc.
E. F. Hutton & Co. Inc.
Miller & George
Bangor Punta BNK
One Greenwich Plaza Greenwich, Conn. 06830
It's a Name You Should Know