Leisure Time: Serving Growing Recreation Markets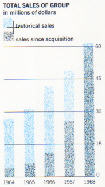 The rapid growth and expansion of Bangor Punta's Leisure Time companies—highlighted in the chart at the right—can be expected to continue. Merrill Lynch, Pierce, Fenner & Smith Inc., in its recent study of the leisure market, cited several major factors for the "boom" in recreation:
The sharp rise in leisure time activities now possible due to shorter work weeks, longer vacations and more three-day weekends.
The strong growth in the American consumer's disposable income—expected to increase 56% by 1975. Families with annual incomes of $10,000 to $15,000 will share a greater portion of this increase, and comprise the nation's major leisure-buying group.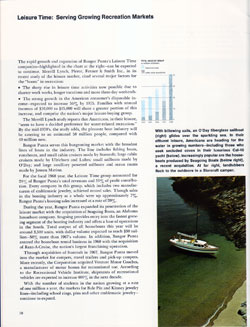 The Merrill Lynch study reports that Americans, in their leisure, "seem to have a decided preference for water-related recreation." By the mid-1970's, the study adds, the pleasure boat industry will be catering to an estimated 58 million people, compared with 40 million now.
Bangor Punta serves this burgeoning market with the broadest lines of boats in the industry. The line includes fishing boats, runabouts, and small cabin cruisers made by Starcraft; large cabin cruisers made by Ulrichsen and Luhrs; small sailboats made by O'Day; and large auxiliary powered sailboats and ocean racers made by Jensen Marine.
For the fiscal 1968 year, the Leisure Time group accounted for 24% of Bangor Punta's total revenues and 33% of profit contribution. Every company in this group, which includes two manufacturers of emblematic jewelry, achieved record sales. Though sales in the boating industry as a whole were up approximately 7%, Bangor Punta's boating sales increased at a rate of 20%.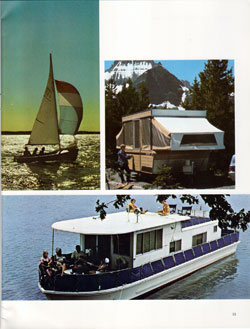 During the year, Bangor Punta expanded its penetration of the leisure market with the acquisition of Seagoing Boats, an Alabama houseboat company. Seagoing provides entry into the fastest growing segment of the boating industry and offers a base of operations in the South. Total output of all houseboats this year will be around 3,500 units, with dollar volume expected to reach $30 million-50% more than 1967's volume. In addition, Bangor Punta entered the houseboat rental business in 1968 with the acquisition of Rent-A-Cruise, the nation's largest franchising operation.
Through acquisition of Starcraft in 1967, Bangor Punta moved into the market for campers, travel trailers and pick-up campers. More recently, the Corporation acquired Venture Motor Coaches, a manufacturer of motor homes for recreational use. According to the Recreational Vehicle Institute, shipments of recreational vehicles are expected to increase 400% in the next decade.
With the number of students in the nation growing at a rate of one million a year, the markets for Bale Pin and Kinney jewelry lines—including school rings, pins and other emblematic jewelry—continue to expand.
Source: Bangor Punta Annual Report for the Year Ended September 30, 1968, Page 10