Recreational & Leisure Time Products - BP Corporation FY 1976
Recreational and Leisure Time Products Division of the Bangor Punta Corporation for FY 1976. Revenues and Profit Contribution Graphs Show Five-Year History. GGA Image ID #
Bangor Punta's Recreational and Leisure Time Products Group is one of the leisure time industry's leading innovators in product development and consumer marketing. Its broad product line includes camping trailers, travel trailers, mini-motorhomes, sailboats, fishing boats, aluminum and fiberglass runabouts and cruisers.
The group was formed during the 1960's through the acquisition of a number of leading recreational product companies: Luhrs Company was acquired in 1962, Jensen Marine and the O'Day Company in 1966, and Starcraft Company the following year.
Bangor Punta entered the international boat market in 1969 with the acquisition of two foreign boating companies, Tyler, Boat Company, Ltd. and Société Jeanneau Constructions Nautiques, S.A.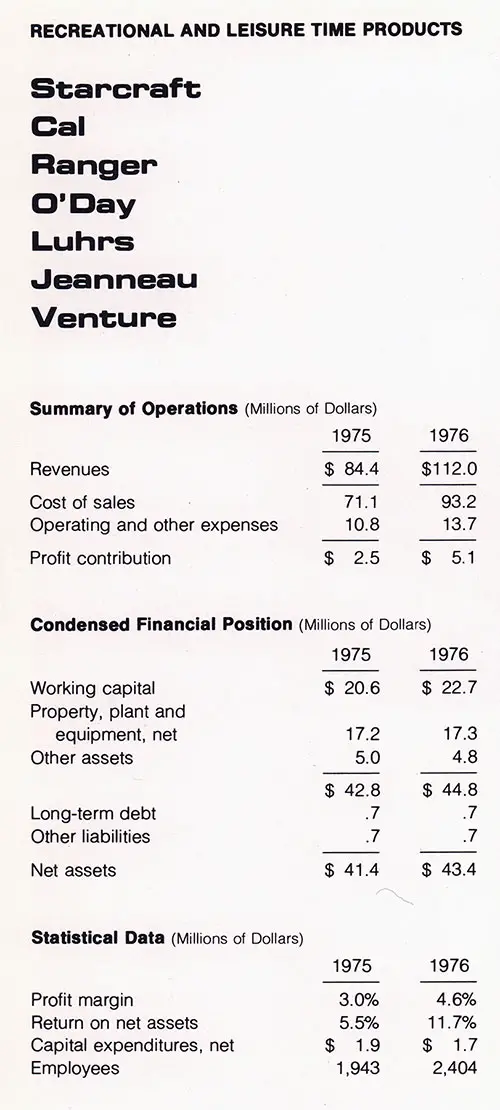 Summary of Operations, Condensed Financial Position, and Statistical Data for Bangor Punta Corporation's Recreational and Leisure TIme Products including Starcraft, Cal, Ranger, O'Day, Jeanneau, and Venture, for the Fiscal Years Ending in 1975 and 1976. GGA Image ID # 15ca4a761c
Starcraft Company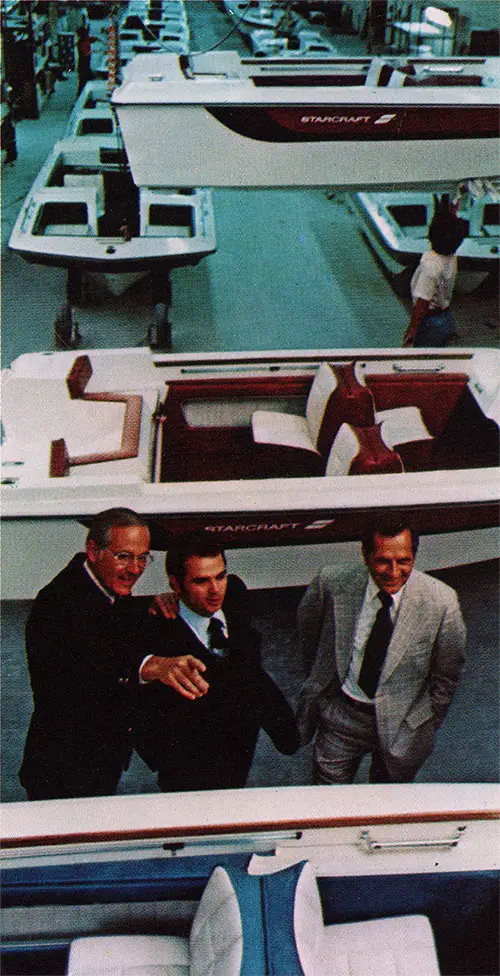 Starcraft management (from left) Frank Alvey, Vice President - Marketing; Dominic Cuzzocrea, Vice President - Finance; Joseph Serieno, Vice President. GGA Image ID # 15ca7912d9
Although many boat and recreational vehicle manufacturers trace their origins to the recent growth of consumer interest in leisure time activities, Starcraft's history began just after the turn of the century.
In 1903 the Star Tank Company, as it was then known, first opened shop in Middlebury, Indiana to manufacture farmyard equipment and thresher tanks. Using its expertise in metal forming, Star Tank built its first metal rowboat in 1915.
For the next two decades this boating business continued to thrive, and by 1940 the metal boat line had expanded to include 61 models.
After the Second World War, Star Tank & Boat Company innovated rolled stainless steel and aircraft aluminum experimental boat models. Teaming up with aluminum company metallurgists, Star pioneered the development of an entire family of special marine aluminum alloys. These metals were specifically compounded to resist salt water damage and to provide strength with considerably reduced weight factors.
Over the years, Starcraft engineers also developed the one-piece boat hull to eliminate the problems of center-line leakage, and lapstraking in aluminum boats to add strength to the hull sides and reduce spray.
Today, Starcraft is the nation's largest manufacturer of aluminum inboard-outboard boats.
When fiberglass was introduced as a boat building material, Starcraft was one of the first to adopt this new technology. At present, Starcraft is a major manufacturer of fiberglass boats for the leisure time market.
Realizing the importance of a smoothly functioning distribution system, Starcraft markets its products through a nationwide network of over 1,700 dealers in all fifty states.
Starcraft's extensive marine products line was expanded through the introduction of a new family of aluminum and fiberglass inboard-outboard cruisers.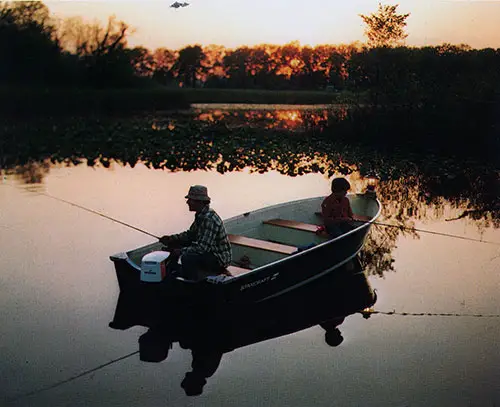 Starcraft Manufactures Eleven Models of Fishing Boats to Meet the Requirements of Virtually Every Fisherman. GGA Image ID # 15cc6e00af
Even larger cruisers are a part of the plans for future sales growth.
As an active participant in the recreational vehicle boom of the 1960's, Starcraft designed and introduced a new camping trailer which featured a hardtop roof elevated into place by a unique crankup lifter system.
This patented system is a unique feature of the Starcraft and Venture brand camping trailers which today account for almost one out of every three campers sold in the United States.
In addition Starcraft also offers a broad line of travel trailers and is participating in the rapidly expanding mini-motor home market with two new models.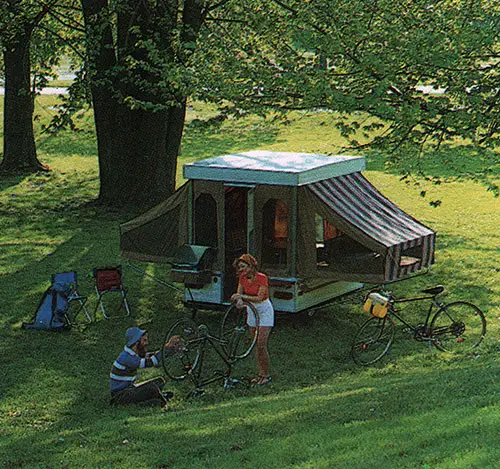 Starcraft is the world's best selling camping trailer. GGA Image ID # 15cc9263dd
In 1976 Starcraft not only improved its sales and profits over 1975 results but also improved the market standing of all its products. Product lines were expanded and facility utilization increased during 1976.
Through a coordinated effort, Starcraft camping trailers are being produced at Jensen Marine's Costa Mesa, California facility in an effort to give Starcraft even greater market penetration for its campers on the West Coast.
Jensen Marine Company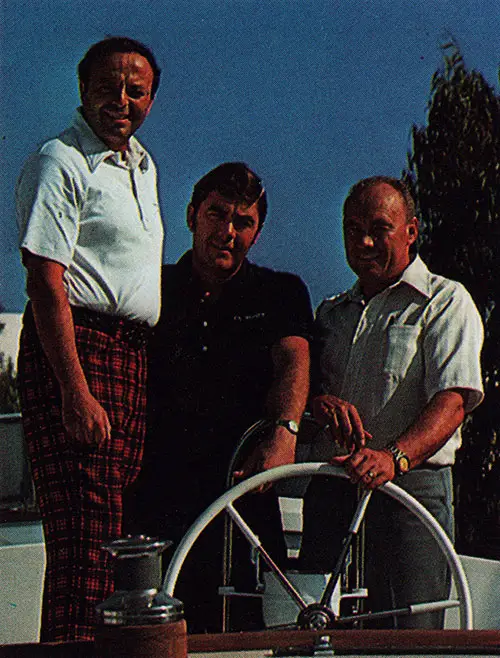 Jensen Marine management (from left) Lewis J. Hecker, Group Vice President; Frank Ault, Vice President - Finance; George Bristol, Director of Research & Development. GGA Image ID # 15cab410b7
Jensen Marine was founded in 1957, and the first Cal sailboat manufactured at its Costa Mesa, California facility was launched in May of 1959. In the intervening 17 years, Jensen Marine, through the Cal and Ranger product lines, has become one of the world's largest manufacturers of off-shore fiberglass sailboats.
Today, the Cal line presents a broad spectrum of sailboats offering satisfaction for the needs of a family sailor with the Cal 27 ft. boat and also meeting the sophisticated requirements of an around-the-world sailor with the Cal 46 ft. cruiser.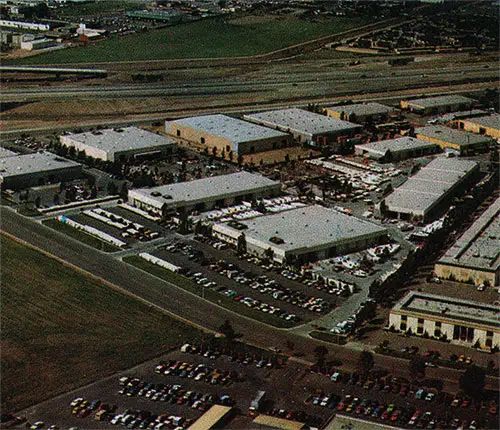 Jensen Marine West's Manufacturing Facilities in Costa Mesa, California. GGA Image ID # 15cc5222c3
The Ranger line of yachts includes seven high quality racer-cruisers designed to sell to the demanding racer and serious cruising yachtsman.
Jensen Marine also produces a line of O'Day family cruisers for distribution in the western half of the country, which complement the successful Cal and Ranger product lines.
Cal, Ranger and O'Day boats have been designed by nationally-known naval architects such as Bill Lapworth, Gary Mull, and C. Raymond Hunt Associates.
These designers have specified strict construction standards and the highest quality materials in order to assure the Bangor Punta tradition of durable, well constructed sailboats. In 1976, special efforts were directed at improving the interior accommodations of these boats and as a result the 1977 line of sailboats will be as comfortable as they are rugged.
O'Day Company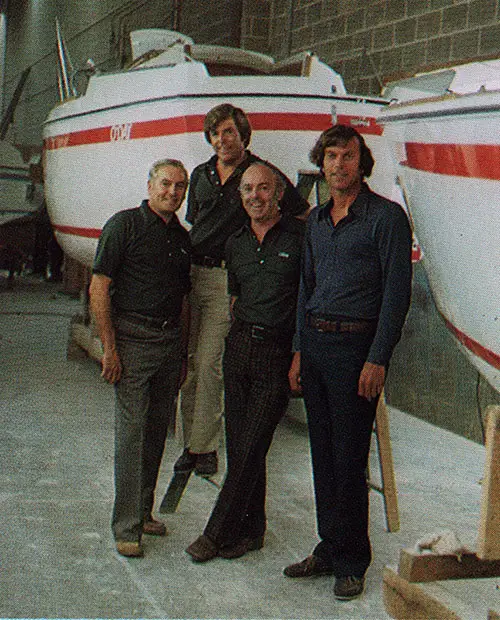 O'Day management (from left) Albert Pelletier, Vice President - Manufacturing; Robert W. Pierce, Vice President - Sales; Bernard F. Gleason, Vice President - Finance; James H. Hunt, President. GGA Image ID # 15cae44be4
The O'Day line of fiberglass sailboats is specifically designed for family sailing — from sail trainers through day sailors, up to boats large enough to accommodate an entire family for overnight cruising. The O'Day line offers sailboats ranging in size from 12 ft. to 32 ft.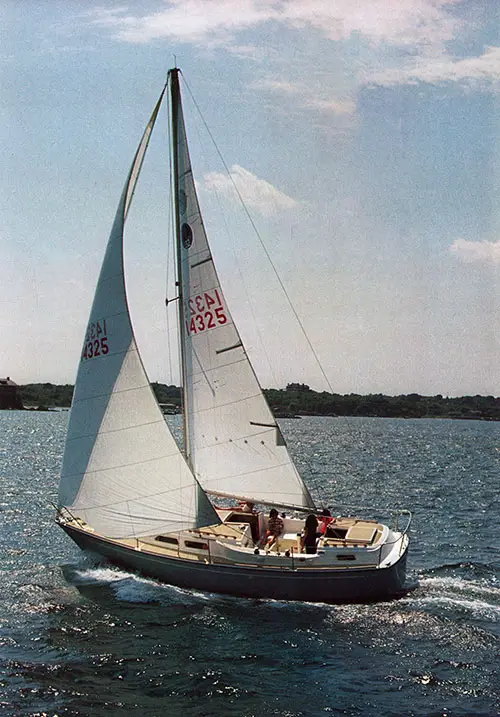 The Luxurious O'Day 32 Cruising Sailboat has a Center Cockpit and Aft Cabin. GGA Image ID # 15cbfedd71
Since 1959, over 40,000 O'Day boats have been produced and distributed throughout the United States and overseas. In recent years, O'Day has increased its market share by moving into the cruising and yacht markets.

In 1976, O'Day completed the most successful year in its history and became the leading manufacturer by dollar volume of sailboats in the United States. The O'Day market is expanding overseas through licensing agreements in Italy and England and production is to begin in Brazil during 1977.
The Luhrs Company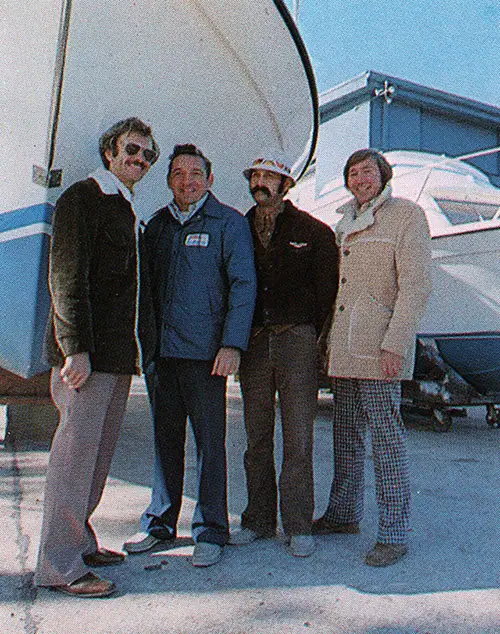 Luhrs management (from left) Lloyd Cazes, Controller; G. Wayne Everlng, President and General Manager; Cortez Marks, Plant Manager;
C. Roy Bergey, Director - Marketing. GGA Image ID # 15cacf6d35
The Luhrs Company was started in 1931 to produce the popular wooden Sea Skiff which very quickly became a well accepted brand in the market. With the advent of fiberglass as a boat building material, Luhrs concentrated its efforts on a line of completely fiberglass boats.
Today, the Luhrs skiff is one of the most popular cruisers in Northeastern coastal waters.
Luhrs' current models offer 28 ft. and 32 ft. family cruisers as well as the popular 25 ft. sports boat; models which function as a handy family runabout, weekend cuddy cabin cruiser, and a boat for the serious sportsfisherman.
To complete the Luhrs product line, a new 37 ft. model is under development which will be produced in both a double cabin and a convertible sedan model.
Société Jeanneau Constructions Nautiques, S.A.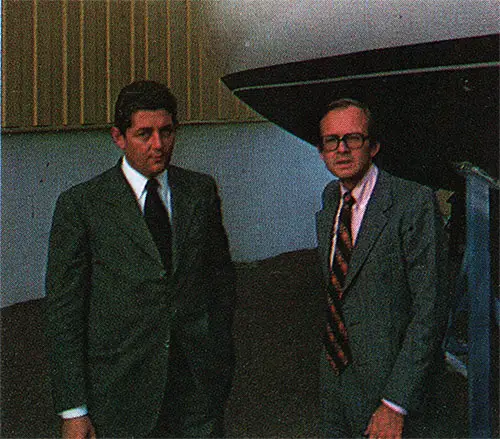 Michel Richard (left), General Manager, Jeanneau Constructions Nautiques; Harold Ehrenström, President, Bangor Punta Overseas. GGA Image ID # 15cb210468
Jeanneau boats were first designed and built in 1957 in Les Herbiers near the west coast of France. As it grew, the company built new plants in Les Herbiers and in nearby towns. Today, there are nine production facilities in this area all within a 30 mile radius.
Since its acquisition by Bangor Punta in 1969, Jeanneau has increased its sales threefold (reaching more than $15 million ) and has achieved record earnings in six out of seven years.
Today, Jeanneau is the leading boat manufacturer in France. It offers a complete line of power and sailboats ranging in size from 12 ft. to 37 ft. Jeanneau's product development program calls for an additional two-to- three models each year. More than 500 dealers throughout Europe market the line.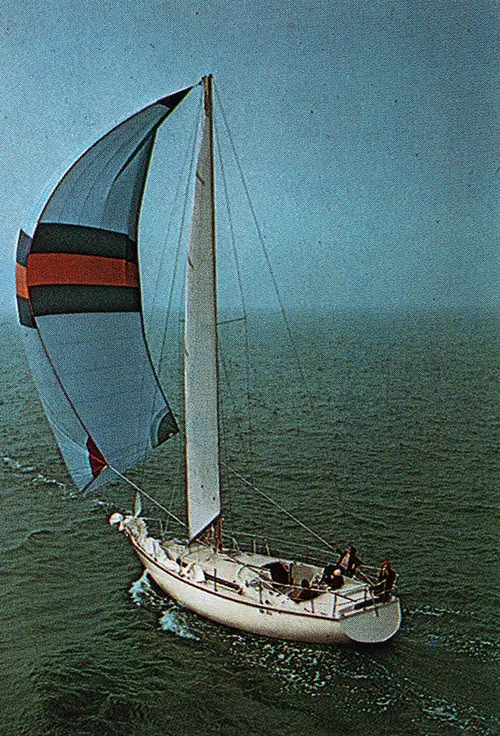 The Gin-Fizz is built by Jeanneau, the largest boat manufacturer in France. GGA Image ID # 15ccdf6730
Tyler Boat Company
Tyler Boat Company was founded in 1961 and shortly became a leader in the manufacture of large size boat hulls. The company today manufactures a wide range of hulls from 25 ft. to 75 ft., for both power and sail, for custom markets in Western European countries.
Tyler showed a steady growth until 1975 when the United Kingdom's economy faltered and the market for custom-built boats turned sharply downward. Recently, Tyler has experienced some improvement in the volume of new orders, and it is hoped that this trend will continue.