Tri-Cabin O'Day 32 and The All Around O'Day 27 (1979)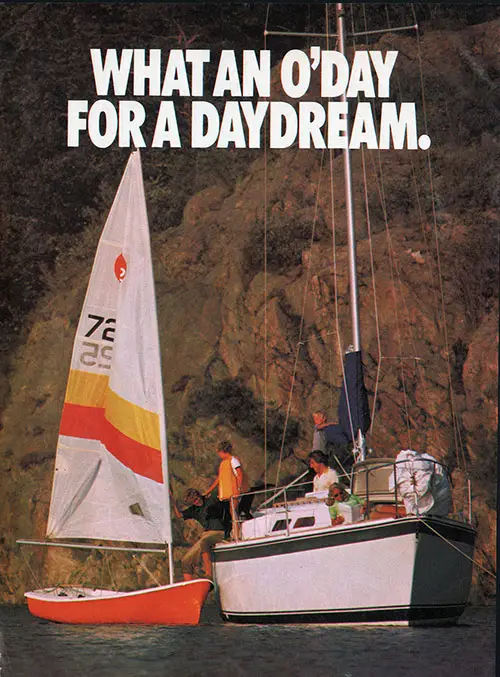 What An O'Day For A Daydream.
THE TRI-CABIN O'DAY 32. Sunlight. Gulls. A community of yachts sharing an anchorage. Summers dissolving into a mosaic of family cruising experiences.
You've learned well from conventional boats: bunks for six are no promise of accommodations for six; one head is not enough; privacy is more than being out of sight; a galley is only as big as it works; if you wanted a boat that can't sail, you'd buy a motorboat.
But since you won't compromise, O'Day's tri-cabin 32 won't either.
John Deknatel and the Hunt Associates' designers began with a huge center cockpit, and then organized the boat in a way that really uses its full 32' length.
One luxurious private cabin aft. One handsome private cabin forward. And a main salon that converts to the biggest private cabin east of a Key West hotel.
And as you've probably guessed, there are two heads (one with shower, of course), a marvelous galley and a hull/rig combination that make the boat sail like a witch.
Sloop. Keel or centerboard. Diesel.
We've got a brochure stuffed with photos and details that will make you crazy.
Write for it today.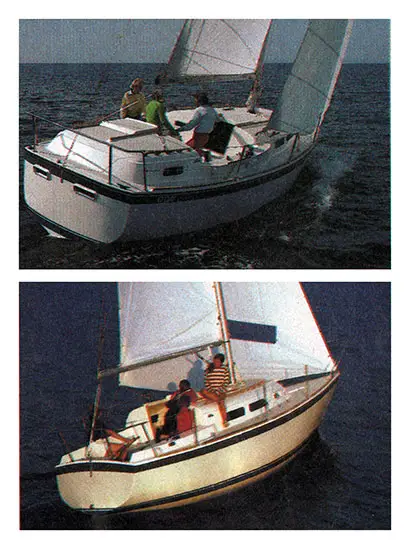 THE ALL AROUND O'DAY 27. Once, all racing was family racing. Then came the era of flat-out machines and not much chance for nice boats to win.
If you haven't heard, the trend is changing back, and family racing is flourishing in clubs across the country. Because it's fun. And fun describes the O'Day 27.
Alan Gurney designed a beamy, fast, fin-keeled racing hull. Tall, powerful rig. Inboard chainplates for close-winded sheeting.
O'Day put the cruising fun in it. An "L" shaped galley. A private head (private from both cabins). Custom cupboards for mugs, plates, cutlery, tools and linens.
Five gorilla-sized berths (for the serious racing types). And settees comfortable enough to encourage malingering below.
Get in on all that sailing offers. Spirited family cruising. A dash of racing. And some plain old messing around with a really nice boat.
Write for our loaded color brochure, right now.
O'Day Yachts (Offshore cruisers 27', 30', 32' and 37')
O'Day Trailerable Cruisers (20', 22', 23' and 25')
Daysailing Fleet (Mariner, DaySailer, Javelin, Widgeon and Twelve)
Enclosed is $1.00 for the booklet "Have Fun Learning to Sail"
For more information write No. 245 on Reader Service Form.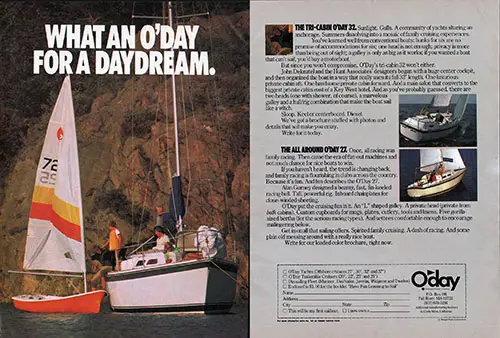 O'Day
A Bangor Punta Company
P.O. Box 991
Fall River, MA 02722
(617) 678-5291
Additional manufacturing facilities
in Costa Mesa, California.
© Bangor Punta Corporation

GGA REF: BPODY-033-1979-C-AD-2