What's A Fleet? A Fleet Is You Starting One. (1970)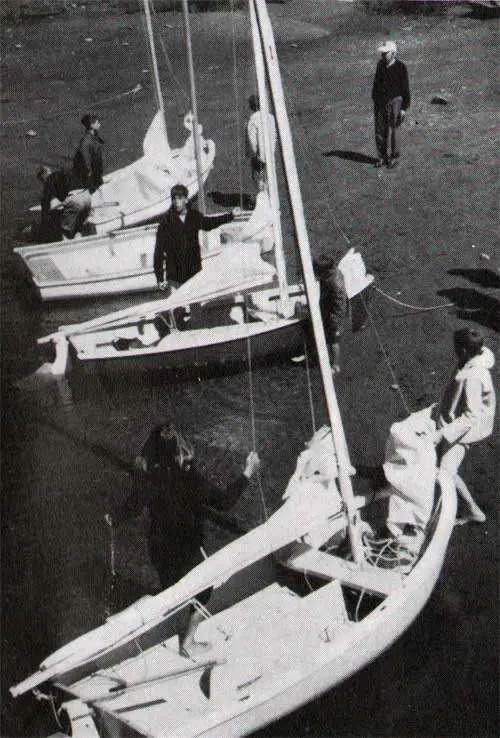 Many's the man who's come to learn of the life that overtakes you when you're part of a group — everyone in an identical boat. It's something you never get over.
You don't forget a dash through the morning sparkle — off in a bunch bound for a picnic and a swim in a corner of the lake or in a bay where you've never been before.
You don't forget the races, either. How your hands grip so tight your knuckles whiten as the sails pop and the booms swing to port and you're in the thick of it charging for the line — seconds to go to the gun.
And there's the great talk, too. Standing around a dock crowded with hulls of many colors — each man propounding on the adjustment of a stay or the leads of his spinnaker.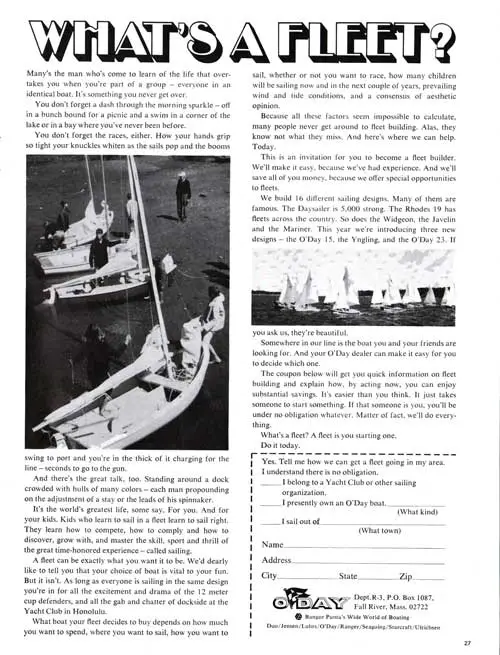 It's the world's greatest life, some say. For you. And for your kids. Kids who learn to sail in a fleet learn to sail right. They learn how to compete, how to comply and how to discover, grow with, and master the skill, sport and thrill of the great time-honored experience — called sailing.
A fleet can be exactly what you want it to be. We'd dearly like to tell you that your choice of boat is vital to your fun. But it isn't. As long as everyone is sailing in the same design you're in for all the excitement and drama of the 12 meter cup defenders, and all the gab and chatter of dockside at the Yacht Club in Honolulu.
What boat your fleet decides to buy depends on how much you want to spend, where you want to sail, how you want to sail, whether or not you want to race, how many children will be sailing now and in the next couple of years, prevailing wind and tide conditions, and a consensus of aesthetic opinion.
Because all these factors seem impossible to calculate, many people never get around to fleet building. Alas, they know not what they miss. And here's where we can help. Today.
This is an invitation for you to become a fleet builder. We'll make it easy, because we've had experience. And we'll save all of you money, because we offer special opportunities to fleets. We build 16 different sailing designs. Many of them are famous.
The Daysailer is 5,000 strong. The Rhodes 19 has fleets across the country. So does the Widgeon, the Javelin and the Mariner. This year we're introducing three new designs — the O'Day 15, the Yngling, and the O'Day 23.. If you ask us, they're beautiful.
Somewhere in our line is the boat you and your friends are looking for. And your O'Day dealer can make it easy for you to decide which one.
The coupon below will get you quick information on fleet building and explain how, by acting now, you can enjoy substantial savings. It's easier than you think. It just takes someone to start something. If that someone is you, you'll be under no obligation whatever. Matter of fact, we'll do everything.
What's a fleet? A fleet is you starting one.
Do it today.
Yes. Tell me how we can get a fleet going in my area. I understand there is no obligation.
I belong to a Yacht Club or other sailing
organization.
I presently own an O'Day boat
(What kind)
I sail out of
(What town)
Name
Address
City State Zip
Fall River, Mass. 02722
Bangor Punta's Wide World of Boating
Duo/Jensen/Luhrs/O'Day/Ranger/Seagoing/Starcraft/Ulrichsen
A Bangor Punta Company
GG Archives REF: BPODY-007-1970-BW-AD