O'Day Reinvents The Basic Sailboat (1976)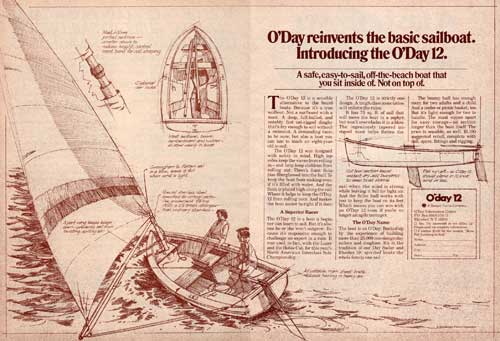 Introducing The O'Day 12
Mast in three jointed sections -- smaller above to reduce weight, control mast bend for sail shaping
Optional Oar locks
Mast sections, boom, centerboard and rudder -- all stow easily in boat
Cunningham to flatten sail in a blow, leave it full when wind is light
Special stainless steel specified for critical parts -- like gooseneck fitting. Alloy is 2 1/2 times stronger than ordinary parts -
O'Day Reinvents the Basic Sailboat
A safe, easy-to-sail, off-the-beach boat that you sit inside of. Not on top of.
The O'Day 12 is a sensible alternative to the board-boats. Because it's a true sailboat. Not a surfboard with a mast. A deep, full-hulled, and notably fast cat-rigged dinghy that's dry enough to sail without a swimsuit.
A demanding racer, to be sure, but also a boat you can use to teach an eight-year- ' old to sail.
The O'Day 12 was designed with safety in mind. High topsides keep the waves from rolling in—and help keep children from rolling out.
There's foam flotation fiberglassed into the hull. To keep the boat from sinking even if it's filled with water.
And the foam is placed high along the rail. Where it helps to keep the O'Day 12 from rolling over. And makes the boat easier to right if it does.
A Superior Racer
The O'Day 12 is a boat a beginner can learn to sail. But it's also one he or she won't outgrow.
Because it's responsive enough to challenge an expert in a race. It was used, in fact, with the Laser and the Hobie Cat, for this year's North American Interclass Solo Championship.
The O'Day 12 is strictly one-design. A tough class association will enforce the rules.
It has 75 sq. ft. of sail that will move the boat in a zephyr, but won't overwhelm it in a blow.
The ingeniously tapered unstayed mast helps flatten the sail when the wind is strong, while leaving it full for light air.
And the fuller hull works with you to keep the boat on its feet. Which means you can win with an O'Day 12 even if you're no longer an agile teenager.
The O'Day Name
The boat is an O'Day. Backed up by the experience of building more than 25,000 one-design day sailers and dinghies. It's in the tradition of our Day Sailer and Rhodes 19: spirited boats the whole family can sail.
The beamy hull has enough room for two adults and a child. And a cooler or picnic basket, too.
But it's light enough for two to handle. The mast comes apart for easy storage—no section longer than the boat itself.
The price is sensible, as well. $1,100 suggested retail, complete with sails, spars, fittings and rigging.

Full bow section keeps cockpit dry, add buoyancy to to keep boat stable flat run aft - so O'Day 12 should plane in 12 knot wind or less
-- Yes, I'm interested in the O'Day 12 Please send me complete information.
-- I enclose $1.00 for the booklet, "Have Fun Learning to Sail."
O'day 12
O'Day Information Center
Elmsford, N.Y. 10523
© 1976 Bangor Punta Corporation
A Bangor Punta Company
GG Archives REF: BPODY-024-1976-C-AD-2