Introducing The O'Day 32 Aft-Cabin Sailboat (1975)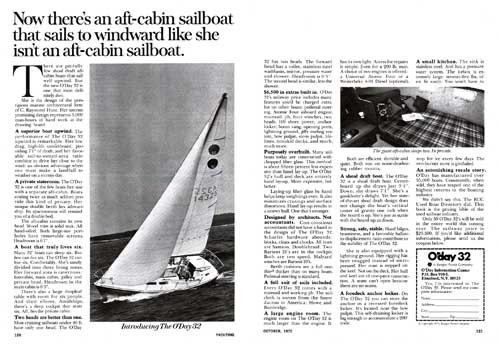 Now there's an aft-cabin sailboat that sails to windward like she isn't an aft-cabin sailboat.
There are pitifully few shoal draft aft-cabin boats that sail well upwind. But the new O'Day 32 is one that most definitely does. She is the design of the prestigious marine architectural firm of C. Raymond Hunt. Her uncompromising design represents 3,000 man-hours of hard work at the drawing board.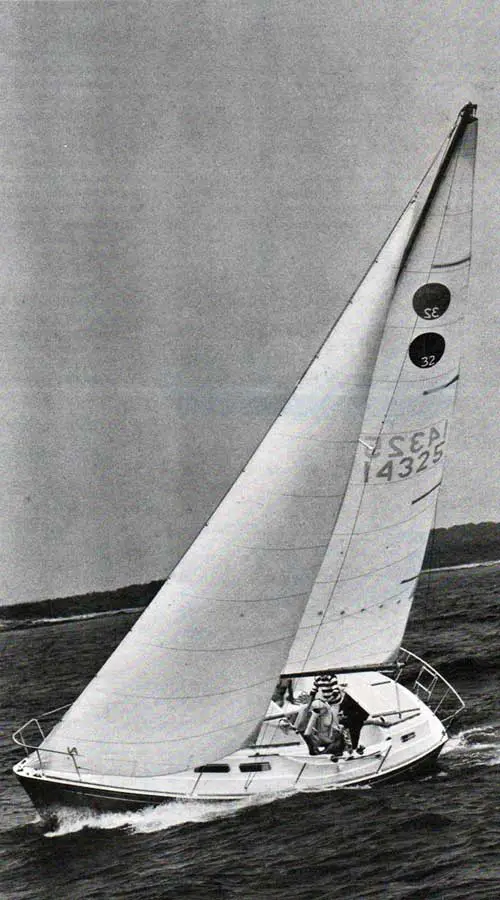 A Superior Boat Upwind
The performance of The O'Day 32 upwind is remarkable.
Her low drag, high-lift centerboard, providing 7'1" of draft, and her favorable sail-to-wetted-area ratio combine to drive her close to the wind: an obvious advantage when one must make a landfall to weather on a stormy day.
A Private Stateroom
The O'Day 32 is one of the few boats her size with a separate aft-cabin.
Boats costing twice as much seldom provide this kind of privacy. Her unique double berth lies athwart-ship. Its spaciousness will remind you of a double bed.
The aft-cabin contains its own head. Wood trim is solid teak. All hand-oiled. Both large-size portholes have removable screens. Headroom is 6'1".
A Boat That Truly Lives Six
Many 32' boats can sleep six. But few can live six. The O'Day 32 can live six.
Comfortably. She's sanely divided into three living zones. Her forward area is cavernous: fore cabin, main cabin, galley and private head. Headroom in the main cabin is 6'5".
There's also a large drop leaf table with room for six people. And their elbows. Amidships, there's a deep cockpit that seats six. Aft, lies the private cabin.
Two Heads Are Better Than One
Most cruising sailboats under 40 ft. have only one head.
The 'O'Day 32 has two heads. The forward head has a toilet, stainless steel washbasin, mirror, pressure water and shower. Headroom is 6'3". The second head is similar, less the shower.
$6,500 in Extras Built In
O'Day 32's sailaway price includes many features you'd be charged extra for on other boats: pedestal steering, Atomic Four inboard engine, mainsail, jib, four winches, two heads, 110 shore power, anchor locker, boom yang, opening ports, lightning ground, jiffy reefing system, bow pulpit, stern pulpit, lifelines, nonskid decks, and much, much more.
Purposely Overbuilt
Many sailboats today are constructed with chopped fiber glass. This method is about fifteen percent less expensive than hand lay-up. The O'Day 32's hull and deck are entirely hand lay-up. More expensive, but better.
Laying-up fiber glass by hand helps keep weightings even. It also minimizes crazings and surface distortions. Hand lay-up results in a sinewy hull. One that's stronger.
Designed by Architects - Not Accountants
Cost-conscious accountants did not have a hand in the design of The O'Day 32. Schaefer hardware abounds: blocks, cleats and chocks.
All lines are Samson. Doublebraid. Two Barient 21's are in the cockpit. Both are two speed. Halyard winches are Barient 10's.
Berth cushions are a full one-third thicker than on many boats. Pedestal steering is standard.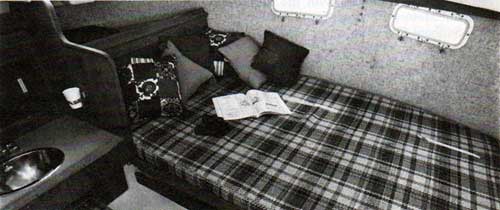 The giant aft-cabin sleeps two. In private.
A Full Suit of Sails Included
Every O'Day 32 comes with a mainsail and working jib. The sailcloth is woven from the finest dacron in America: Howe and Bainbridge.
A Large Engine Room
The engine room on The O'Day 32 is much larger than the engine. It has its own light. Access for repairs is simple. Even for a 200 lb. man.
A choice of two engines is offered: a Universal Atomic Four or a Westerbeke 4-91 Diesel (optional). Both are efficient, durable and quiet. Both rest on noise-deadening rubber mounts.
A Shoal Draft Boat
The O'Day 32 is a shoal draft boat. Centerboard up she draws just 3'4". Down, she draws 7'1". She's a gunkholer's delight.
Yet her state-of-the-art shoal draft design does not change the boat's vertical center of gravity one inch when the board is up. She's just as stable with the board up as down.
Strong, Safe, Stable.
Hard bilges, beaminess, and a favorable ballast to-displacement ratio contribute to the stability of The O'Day 32.
She is also equipped with a lightning ground. Her rigging has been swagged instead of nicropressed. Her mast is stepped on the keel. Not on the deck. Her hull and keel are of one-piece construction. A seam can't open because there are no seams.
A Foredeck Anchor Locker
On The O'Day 32 you can store the anchor in a recessed foredeck locker. It's located near the bow pulpit. This self-draining locker is big enough to accommodate a 200' rode.
A Small Kitchen
The sink is stainless steel. And has a pressure water system. The icebox is extremely large: seventy-five lbs. of ice fit easily. You won't have to stop for ice every few days. The two-burner stove is gimbaled.
An Astonishing Resale Story
O'Day has manufactured over 35,000 boats. Consistently, when sold, they have reaped one of the highest returns in the boating industry.
We didn't say this. The BUC Used Boat Directory did. This book is the pricing bible of the used sailboat industry.
Only 50 O'Day 32's will be sold in the entire world this coming year. The sailaway price is $29,500. If you'd like additional information, please send us the coupon below.
O'Day 32: A Bangor Punta Company
O'Day Information Center
Elmsford, N.Y. 10523
Yes, I'm interested in The O'Day 32. Please send me complete information.
© Copyright 1975, Bangor Punta Company.
Ad Run Date: OCTOBER, 1975
GGA REF: BPODY-018-1975-BW-AD-2