O'Day International Tempest: We've Just Taken Over (1969)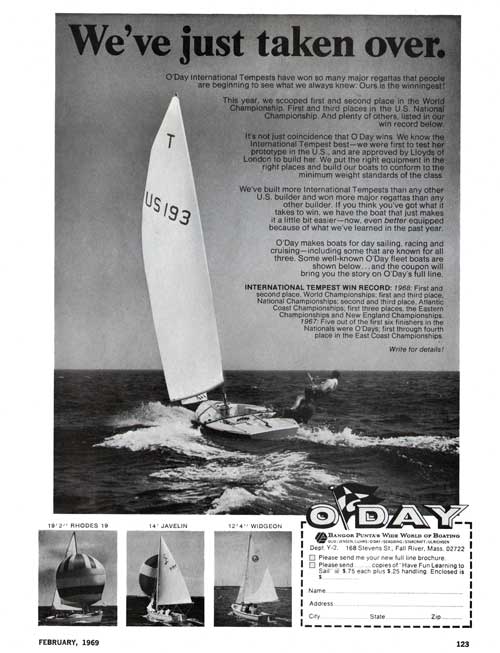 O'Day international Tempests have won so many major regattas that people are beginning to see what we always knew: Ours is the winningest!
This year, we scooped first and second place in the World Championship. First and third places in the U.S. National Championship. And plenty of others, listed in our win record below.
Its not just coincidence that O'Day wins. We know the International Tempest best—we were first to test her prototype in the U.S., and are approved by Lloyds of London to build her.
We put the right equipment in the right places and build our boats to conform to the minimum weight standards of the class.
We've built more International Tempests than any other U.S. builder and won more major regattas than any other builder. If you think you've got what it takes to win, we have the boat that just makes it a little bit easier—now, even better equipped because of what we've learned in the past year.
O'Day makes boats for day sailing, racing and cruising—including some that are known for all three. Some well-known O'Day fleet boats are shown below... and the coupon will bring you the story on O'Day's full line.
INTERNATIONAL TEMPEST WIN RECORD: 1968: First and second place,
World Championships; first and third place
National Championships: second and third place
Atlantic Coast Championships; first three places
Eastern Championships and New England Championships. 1967: Five out of the first six finishers in the Nationals were O'Days; first through fourth place in the East Coast Championships.
Write for details!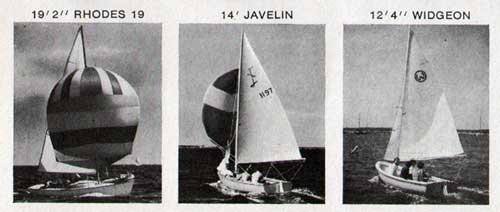 19,2" RHODES 19 | 14' JAVELIN | 12'4" WIDGEON

O'DAY
BANGOR PUNTA'S WIDE WORLD OF BOATING
DUO/JENSEN /LUHRS / O'DAY /SEAGOING /STARCRAFT/ULRICHSEN
Fall River, Mass. 02722
A Bangor Punta Company
GG Archives REF: BPODY-003-1969-BW-AD