The Family that Races Together Deserves an O'Day 27 (1973)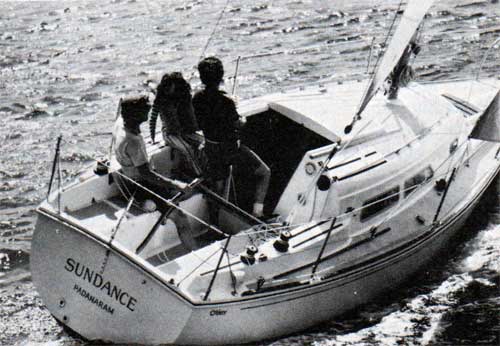 You want to race. She wants to cruise. How do you navigate from there? Straight to O'Day 27 … a racing sloop that quells the battle of the sexes.
Designed for competition by Alan Gurney, creator of the spectacular ocean-racing winner "Windward Passage".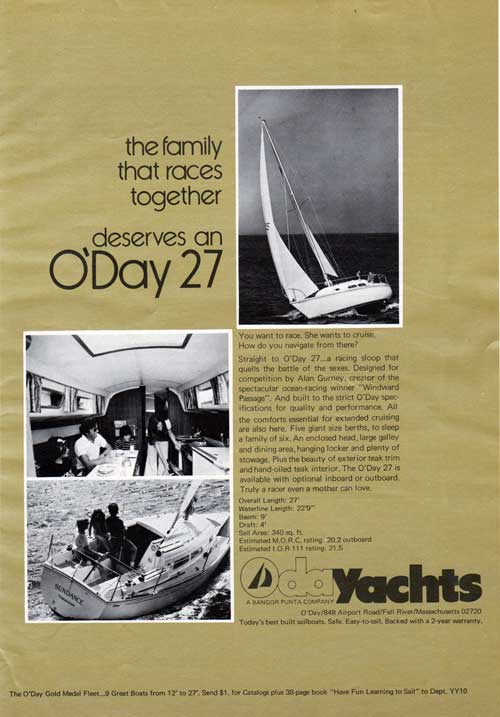 And built to the strict O'Day specifications for quality and performance. All the comforts essential for extended cruising are also here.
Five giant size berths, to sleep a family of six. An enclosed head, large galley and dining area, hanging locker and plenty of stowage.
Plus the beauty of exterior teak trim and hand-oiled teak interior. The O'Day 27 is available with optional inboard or outboard. Truly a racer even a mother can love.
The O'Day 27 Advantages
The O'Day 27 has unusual breathing room below: A cruiser's cabin with 6' headroom. Bunks for five, loads of storage space. A galley for cruising sailors who are serious about cooking.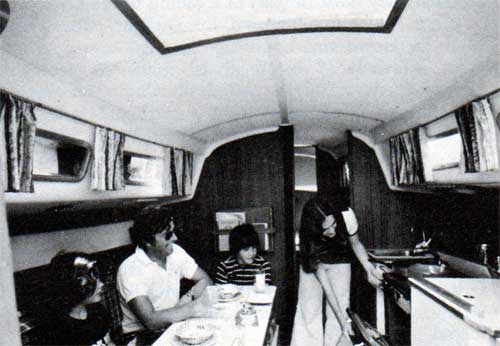 Design breakthroughs in the cabin
A beamy but fine ended hull allows for breathing room below without sacrificing sailing speed. This gives the O'Day 27 room for the table that seats six. Room for the "L"-shaped galley. Room for settee berths you can lean back on without hitting the overhead.
Storage space is more than ample—and ingeniously designed. Seven fiberglass bins provide for bone-dry storage beneath the bunks. They're easy to pack because each one lifts out. Which then gives you access to additional room for stowing gear in the bilges.
You can store cutlery and tools in drawers under the galley counter. Mugs and plates fit safely into racks above.
O'Day pays special attention to your privacy. The head compartment closes off from both the cabin and the forward V-berths. That's rare in boats this size. There's standing headroom in the head and in the forward cabin.
Design breakthroughs in hull and rig
Alan Gurney does not design slow boats. The famed designer of Windward Passage and a score of other custom ocean racers drew up the 27's plans. He gave her over 21' of waterline for speed and a deep fin keel that cuts resistance without sacrificing stiffness.
A beamy boat with a high-aspect rig, the O'Day 27 stands up to powerful spinnakers and genoas. The chain plates are set inboard so that headsails can be sheeted close to the wind. The result: a handsome sloop that often out-sails larger yachts.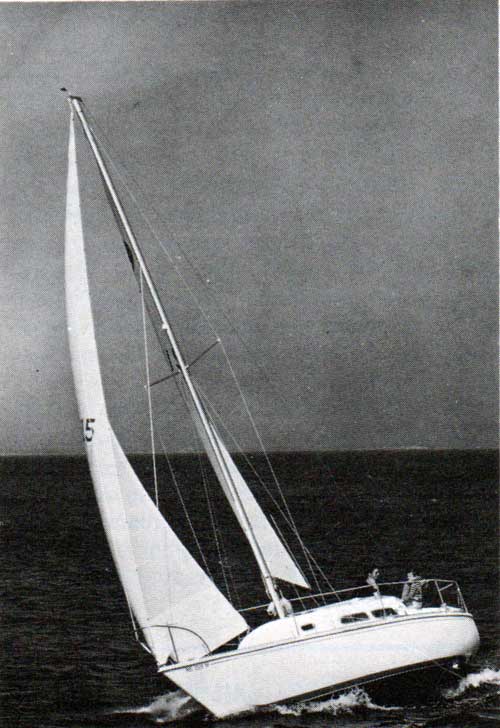 Solid construction, honest value
The O'Day 27's fiberglass hull is layed up by hand. It's more expensive that way, but stronger. Fittings are bolted through the deck, and into backing pieces. They shouldn't let go when you're counting on them.
O'Day is one of the largest sailboat builders in the world—one reason why the O'Day 27's resale value is among the highest in the industry.
The suggested retail price includes a lot of gear that other builders charge you extra for. We give a bow pulpit, lifelines, berth cushions and a fully equipped galley including a stove. Two-tone nonskid decks are also standard, as are sheet and halyard winches. And unlike most other sailboats in her class, the O'Day 27's sailaway price includes a set of working sails.
If you believe a practical cruiser ought to show a touch of competitive speed, write for our informative brochure. Or take a look at the boat at your O'Day dealer. The O'Day 27: a cruiser racer that honestly does both.
The Specifications
Overall Length: 27'
Waterline Length: 22'9"
Beam: 9'
Draft: 4'
Sail Area: 340 sq. ft.
Estimated M.O.R.C. rating: 20.2 outboard
Estimated 1.0.R 111 rating: 21.5
O'Day Yachts
A BANGOR PUNTA COMPANY
O'Day/848 Airport Road/Fall River/Massachusetts 02720
Today's best built sailboats. Safe. Easy-to-sail. Backed with a 2-year warranty.
The O'Day Gold Medal Fleet...9 Great Boats from 12' to 27'. Send $1. for Catalogs plus 38-page book "Have Fun Learning to Sail" to Dept. YY10
GGA REF: BPODY-012-1973-C-AD