The New O'Day 34 Family Cruiser: All The Ingredients For Greatness (1981)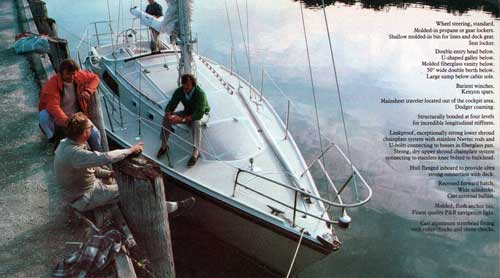 There has been a rapid acceleration in standards for 34' family cruisers.
We know. The new O'Day 34 just altered those standards forever.
John Deknatel and C. Raymond Hunt Associates have created the new O'Day 34 for sailors who yearn for the style and detailing of a Cal or C&C, but not that level of financial commitment.
And for boat owners who appreciate how quality translates into security, lower maintenance costs, higher resale values, and vastly increased pleasure of ownership.
And for all families in love with the experiences of cruising under sail.
The O'Day 34 is the finest value we have ever offerd Amercan, and that says a lot. Write for our new color brochures on the O'Day 34, or the O'Day 37, 30 and the O'Day 28.
Because O'Day has been building yachts, trailerables and daysailers for 23 years, and we know what you want.
The O'Day 34 Equiped for Greatness: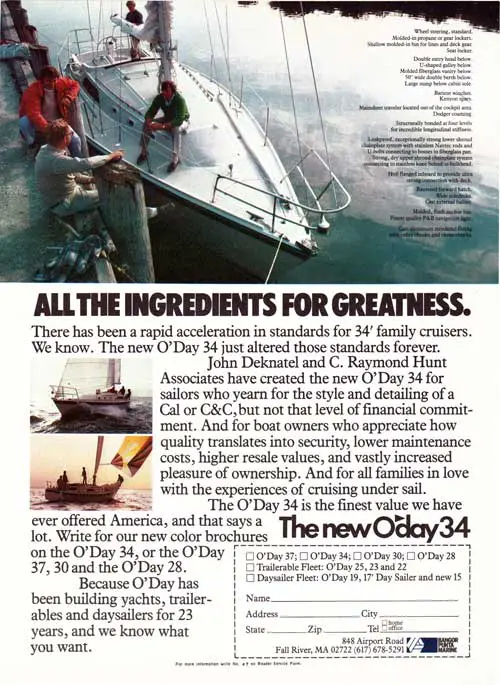 Wheel steering, standard.
Molded-in propane or gear lockers.
Shallow molded-in bin for lines and deck gear.
Seat locker.
Double entry head below.
U-shaped galley below.
Molded fiberglass vanity below.
50" wide double berth below.
Large sump below cabin sole.
Barient winches. Kenyon spars.
Mainsheet traveler located out of the cockpit area.
Dodger coaming.
Structurally bonded at four levels for incredible longitudinal stiffness.
Leakproof, exceptionally strong lower shroud chainplate system with stainless Navtec rods and U-bolts connecting to bosses in fiberglass pan.
Strong, dry upper shroud chainplate system connecting to stainless knee bolted to bulkhead.
Hull flanged inboard to provide ultra strong connection with deck.
Recessed forward hatch.
Wide sidedecks.
Cast external ballast.
Molded, flush anchor bin.
Finest quality P&B navigation light.
Cast aluminum stemhead fitting with roller chocks and skene chocks.
The new O'Day 34
[] O'Day 37; [] O'Day 34; [] O'Day 30; [] O'Day 28
[] Trailerable Fleet: O'Day 25, 23 and 22
[] Daysailer Fleet: O'Day 19, 17' Day Sailer and new 15
BANGOR PUNTA MARINE
Fall River, MA 02722
GGA REF: BPODY-039-1981-C-AD