O'Day Fleet Building Tricks: Free Spinnakers. (1970)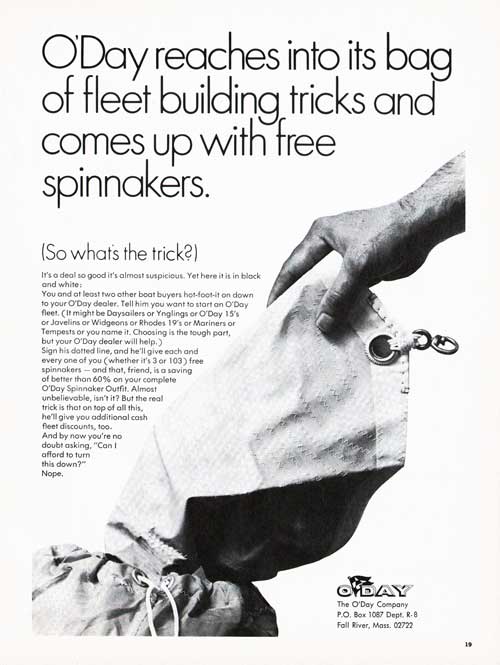 O'Day reaches into its bag of fleet budding tricks and comes up with free spinnakers.
(So what's the trick?)
It's a deal so good it's almost suspicious. Yet here it is in black and white: You and at least two other boat buyers hot-foot-it on down to your O'Day dealer. Tell him you want to start an O'Day fleet. (It might be Daysailers or Ynglings or O'Day 15's or Javelins or Widgeons or Rhodes 1 9's or Mariners or Tempests or you name it. Choosing is the tough part, but your O'Day dealer will help.)
Sign his dotted line, and he'll give each and every one of you (whether it's 3 or 1 0 3) free spinnakers — and that, friend, is a saving of better than 60% on your complete O'Day Spinnaker Outfit. Almost unbelievable, isn't it? But the real trick is that on top of all this, he'll give you additional cash fleet discounts, too.
And by now you're no doubt asking, "Can I afford to turn this down?"
Nope.
The O'Day Company Dept. R-8 Fall River, Mass. 02722
A Bangor Punta Company
GG Archives REF: BPODY-006-1970-BW-AD