The New Tri-Cabin O'Day 37. A Maximum Offshore Family Cruiser. (1978)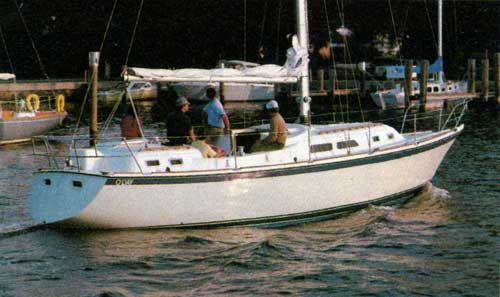 Tranquility. Scouring the beach for perfect shells. Spreading out in the cockpit under an old rose sky.
Music and fragrant aromas uncurling from the galley. A firm hold on life's values, and dreams.
By definition, an offshore family cruiser is a luxury boat. But luxury doesn't have to be unconscionably expensive.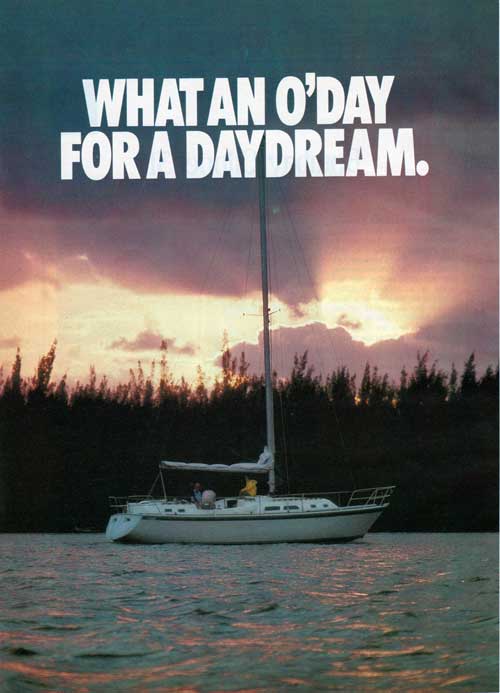 The O'Day 37, for instance, is a pleasing sailing, tri-cabin, center cockpit yacht.
It's organized for six who occasionally require privacy to the point of isolation, yet mostly enjoy gathering for good times in the cockpit, or settling expansively into the huge main salon. Yet, the O'Day 37 carries a suggested sailaway list price of about $40,000.
John Deknatel and the Hunt Associates' designers selected an easily driven hull with a big boat feeling underway.
The 6,000 pound modified traditional keel with a swept leading edge is designed for solid tracking, while the large spade rudder and skeg provide absolute helm control. The 37 is readily sailed by one couple.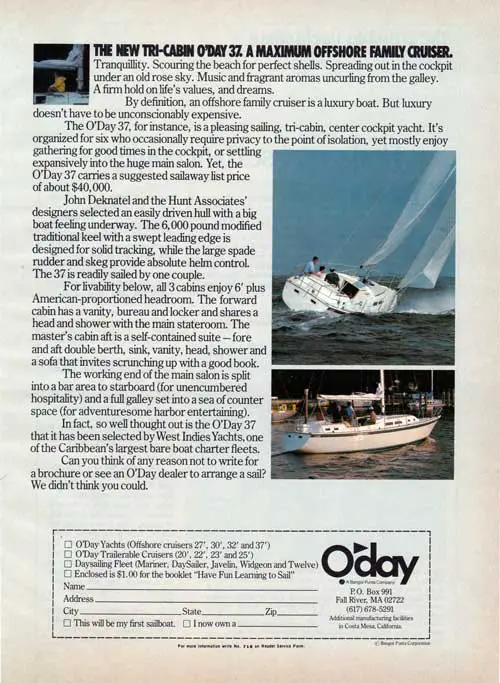 For livability below, all 3 cabins enjoy 6' plus American-proportioned headroom.
The forward cabin has a vanity, bureau and locker and shares a head and shower with the main stateroom.
The master's cabin aft is a self-contained suite — fore and aft double berth, sink, vanity, head, shower and a sofa that invites scrunching up with a good book.
The working end of the main salon is split into a bar area to starboard (for unencumbered hospitality) and a full galley set into a sea of counter space (for adventuresome harbor entertaining).
In fact, so well thought out is the O'Day 37 that it has been selected by West Indies Yachts, one of the Caribbean's largest bare boat charter fleets.
Can you think of any reason not to write for a brochure or see an O'Day dealer to arrange a sail? We didn't think you could.
[] O'Day Yachts (Offshore cruisers 27', 30', 32' and 37')
[] O'Day Trailerable Cruisers (20', 22', 23' and 25')
[] Daysailing Fleet (Mariner, DaySailer, Javelin, Widgeon and Twelve)
[] Enclosed is $1.00 for the booklet "Have Fun Learning to Sail"
[] This will be my first sailboat. [] I now own a ____________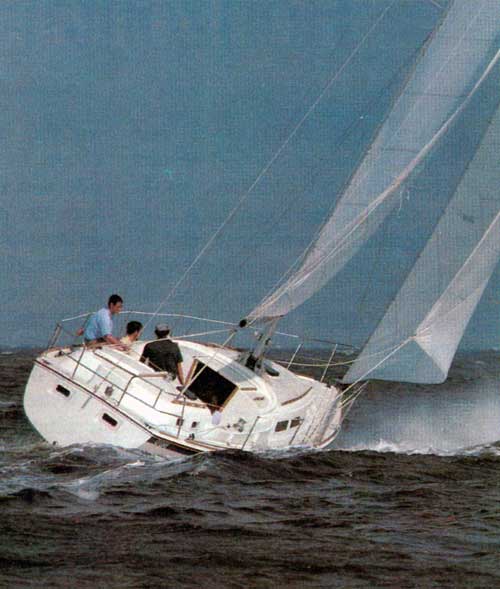 O'Day
Bangor Punta Company
Fall River, MA 02722
Additional manufacturing facilities
in Costa Mesa, California.
© Bangor Punta Corporation
GGA REF: BPODY-032-1978-C-AD-2