The O'Day 32: How It Gives You Aft-Cabin Privacy In A Boat That Really Drives To Windward (1977)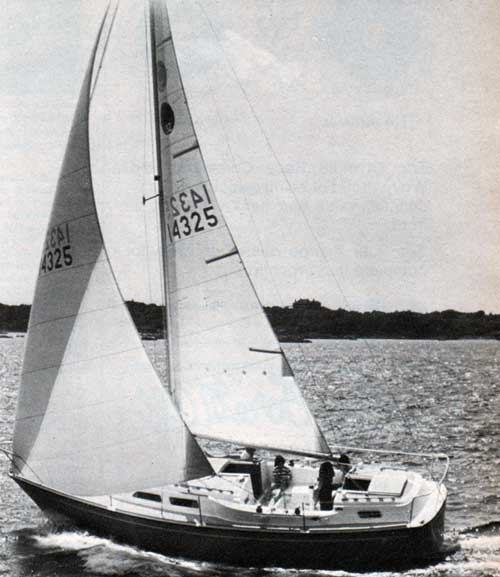 Time was when you had to give up pointing ability and speed to get the privacy and breathing room of an aft-cabin design.
But now there's an aft-cabin boat that sails to windward without compromise: The O'Day 32 Yacht.
A Superior Boat Upwind
A high sail-to-wetted-area ratio gives the O'Day 32 surprising boat speed. While a low-drag, high-lift centerboard (draft with the board down is 7 feet) makes her remarkably closewinded.
Living Space for Six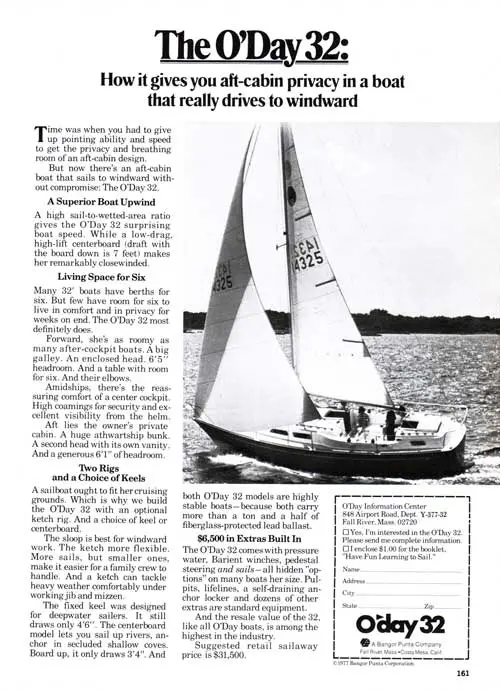 Many 32' boats have berths for six. But few have room for six to live in comfort and in privacy for weeks on end. The O'Day 32 most definitely does.
Forward, she's as roomy as many after-cockpit boats. A big galley. An enclosed head. 6'5" headroom. And a table with room for six. And their elbows.
Amidships, there's the reassuring comfort of a center cockpit. High coamings for security and excellent visibility from the helm.
Aft lies the owner's private cabin. A huge athwartship bunk. A second head with its own vanity. And a generous 6'1" of headroom.
Two Rigs and a Choice of Keels
A sailboat ought to fit her cruising grounds. Which is why we build the O'Day 32 yacht with an optional ketch rig. And a choice of keel or centerboard.
The sloop is best for windward work. The ketch more flexible. More sails, but smaller ones, make it easier for a family crew to handle. And a ketch can tackle heavy weather comfortably under working jib and mizzen.
The fixed keel was designed for deepwater sailers. It still draws only 4'6". The centerboard model lets you sail up rivers, anchor in secluded shallow coves.
Board up, it only draws 3'4". And both O'Day 32 models are highly stable boats -- because both carry more than a ton and a half of fiberglass-protected lead ballast.
$6,500 in Extras Built In
The O'Day 32 comes with pressure water, Barient winches, pedestal steering and sails -- all hidden "options" on many boats her size.
Pulpits, lifelines, a self-draining anchor locker and dozens of other extras are standard equipment.
And the resale value of the 32, like all O'Day boats, is among the highest in the industry.
The O'Day 32 Advantage
Aft-cabin privacy in a boat that really drives to windward. The O'Day 32 is a solid, offshore cruiser with the space, convenience and privacy of a center cockpit and a roomy after cabin. But unlike many aft-cabin boats, she's also a powerful sailing boat, with sharp closewinded performance on a boat.
She has bunks for eight, three separate cabins and two private heads. And the O'Day 32 is available in a sloop or an easy-handling ketch rig.
Suggested retail sailaway price is $31,500.
O'Day Information Center
Fall River, Mass. 02720
[] Yes, I'm interested in the O'Day 32. Please send me complete information.
[] I enclose $1.00 for the booklet, "Have Fun Learning to Sail."
O'Day
A Bangor Punta Company
Fall River, Massachusetts • Costa Mesa, California
© 1977 Bangor Punta Corporation
GGA REF: BPODY-028-1977-BW-AD