O'Day Explains What To Look For In A Family Day Sailer (1976)
THERE ARE ABOUT 150 different open sailboats on the market. It's not easy to choose among them. We'd like to show you what's important in a family boat—and why we think you should consider one of ours.
Look for an easy boat to sail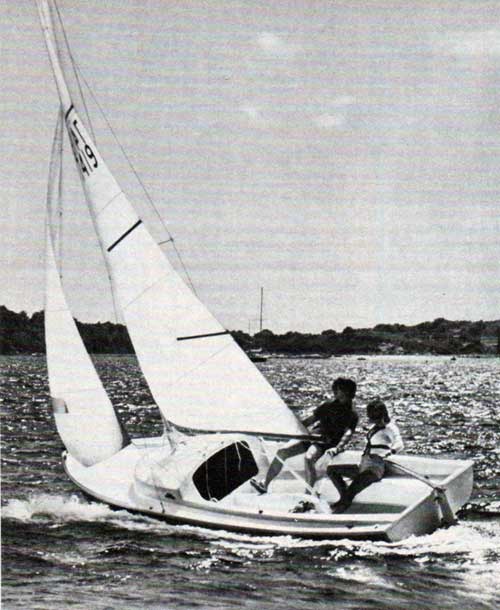 A lot of modern sailing dinghies are really racing machines at heart. Difficult boats to handle. And not always very pleasant when the wind blows up.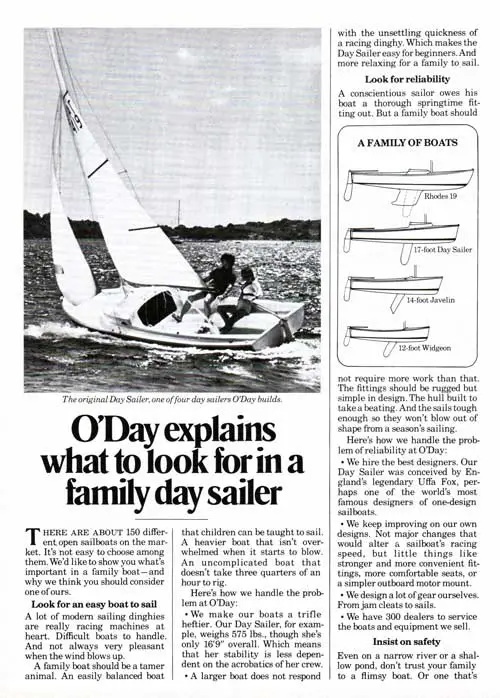 A family boat should be a tamer animal. An easily balanced boat that children can be taught to sail. A heavier boat that isn't overwhelmed when it starts to blow. An uncomplicated boat that doesn't take three quarters of an hour to rig.
Here's how we handle the problem at O'Day:
We make our boats a trifle heftier. Our Day Sailer, for example, weighs 575 lbs., though she's only 16'9" overall. Which means that her stability is less dependent on the acrobatics of her crew.
A larger boat does not respond with the unsettling quickness of a racing dinghy. Which makes the Day Sailer easy for beginners. And more relaxing for a family to sail.
Look for reliability
A conscientious sailor owes his boat a thorough springtime fitting out. But a family boat should not require more work than that. The fittings should be rugged but simple in design. The hull built to take a beating. And the sails tough enough so they won't blow out of shape from a season's sailing.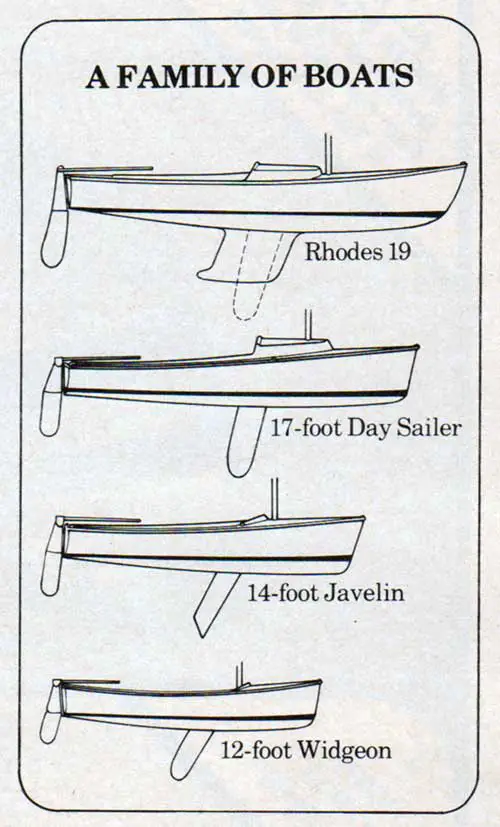 Here's how we handle the problem of reliability at O'Day:
We hire the best designers. Our Day Sailer was conceived by England's legendary Uffa Fox, perhaps one of the world's most famous designers of one-design sailboats.
We keep improving on our own designs. Not major changes that would alter a sailboat's racing speed, but little things like stronger and more convenient fittings, more comfortable seats, or a simpler outboard motor mount.
We design a lot of gear ourselves. From jam cleats to sails.
We have 300 dealers to service the boats and equipment we sell.
Insist on safety
Even on a narrow river or a shallow pond, don't trust your family to a flimsy boat. Or one that's easy to swamp. Or any boat that's not specifically designed to cope with trouble.
Here's how we handle the problem at O'Day:
Our Day Sailer, like every open boat we build, is filled with positive foam flotation. So she shouldn't sink even if the hull is punctured or is filled with water.
She's also what we call "self-rescuing." Which means that even after capsizing, the Day Sailer rides high— so high, that the weight of her crew is usually enough to right her without outside help.
A safe design may still be undermined by manufacturing errors. But O'Day's building standards are among the toughest in the business. They are backed up by the experience of building more than 25,000 sailboats.
Demand performance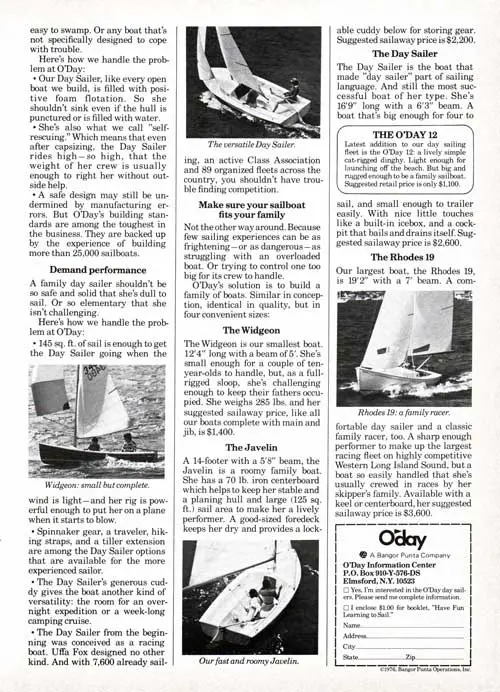 A family day sailer shouldn't be so safe and solid that she's dull to sail. Or so elementary that she isn't challenging.
Here's how we handle the problem at O'Day:
145 sq. ft. of sail is enough to get the Day Sailer going when the wind is light—and her rig is powerful enough to put her on a plane when it starts to blow.
Spinnaker gear, a traveler, hiking straps, and a tiller extension are among the Day Sailer options that are available for the more experienced sailor.
The Day Sailer's generous cuddy gives the boat another kind of versatility: the room for an overnight expedition or a week-long camping cruise.
The Day Sailer from the beginning was conceived as a racing boat. Uffa Fox designed no other kind. And with 7,600 already sailing, an active Class Association and 89 organized fleets across the country, you shouldn't have trouble finding competition.
Make sure your sailboat fits your family
Not the other way around. Because few sailing experiences can be as frightening—or as dangerous—as struggling with an overloaded boat. Or trying to control one too big for its crew to handle.
O'Day's solution is to build a family of boats. Similar in conception, identical in quality, but in four convenient sizes: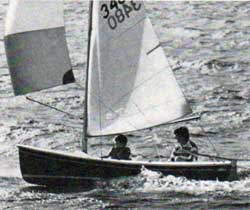 The Widgeon
The Widgeon is our smallest boat. 12'4" long with a beam of 5'. She's small enough for a couple of tenyear-olds to handle, but, as a full-rigged sloop, she's challenging enough to keep their fathers occupied. She weighs 285 lbs. and her suggested sailaway price, like all our boats complete with main and jib, is $1,400.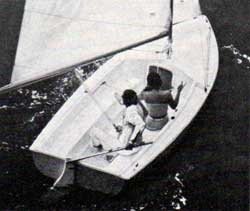 The Javelin
A 14-footer with a 5'8" beam, the Javelin is a roomy family boat. She has a 70 lb. iron centerboard which helps to keep her stable and a planing hull and large (125 sq. ft.) sail area to make her a lively performer. A good-sized foredeck keeps her dry and provides a lockable cuddy below for storing gear. Suggested sailaway price is $2,200.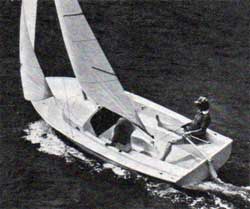 The Day Sailer
The Day Sailer is the boat that made "day sailer" part of sailing language. And still the most successful boat of her type. She's 16'9" long with a 6'3" beam. A boat that's big enough for four to sail, and small enough to trailer easily. With nice little touches like a built-in icebox, and a cockpit that bails and drains itself. Suggested sailaway price is $2,600.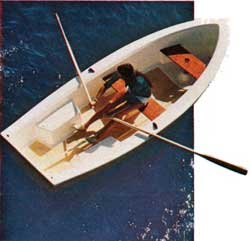 THE O'DAY 12
Latest addition to our day sailing fleet is the O'Day 12: a lively simple cat-rigged dinghy. Light enough for launching off the beach. But big and rugged enough to be a family sailboat. Suggested retail price is only $1,100.
Photo Ref: BPODY-029-1977-C-AD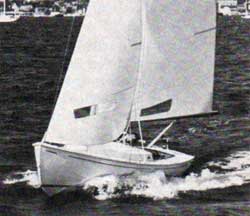 The Rhodes 19
Our largest boat, the Rhodes 19, is 19'2" with a 7' beam. A comfortable day sailer and a classic family racer, too. A sharp enough performer to make up the largest racing fleet on highly competitive Western Long Island Sound, but a boat so easily handled that she's usually crewed in races by her skipper's family. Available with a keel or centerboard, her suggested sailaway price is $3,600.
O'Day Information Center Elmsford, N.Y. 10523
Yes, I'm interested in the O'Day day sailers. Please send me complete information.
I enclose $1.00 for booklet, "Have Fun Learning to Sail."
©1976, Bangor Punta Operations, Inc.
O'Day
A Bangor Punta Company
GG Archives REF: BPODY-022-1976-BW-AD-2