O'Day Day Sailer II - The O'Day Gold Medal Fleet (1972)
It started in 1959 and now, 4,937 Day Sailers and 79 fleets later … this trim little sailboat craft has achieved undeniable, record-breaking popularity. New safety features were added in 1971, yet identical in hull and rig, the Day Sailer II is a worthy Day Sailer mate with complete class acceptance.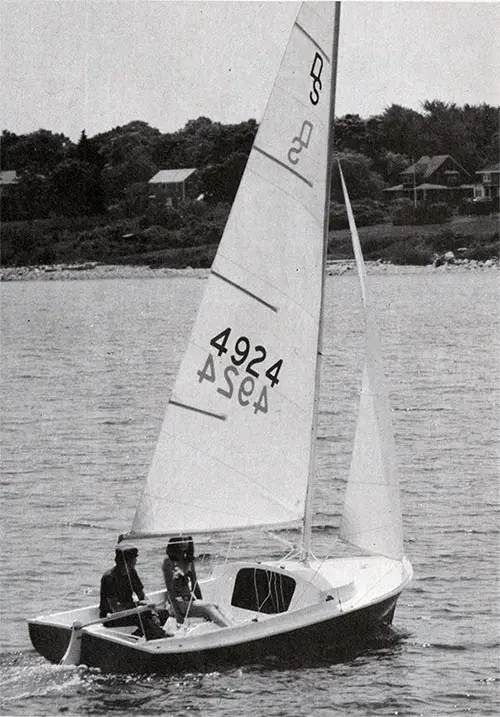 The new Day Sailer II sailboat features positive foam flotation … the addition of two cockpit inspection/bailing ports and a self-bailing cockpit. She can be righted if capsized, just by the weight of the crew. A great boat for family fun and racing.
Take the tiller of the Day Sailer II sailboat and head her up into your most memorable sailing experience.
$1895. Suggested Retail Less Sails F.O.B. Fall River
O'Day has two Day Sailer models available to you … the original Day Sailer and the Day Sailer II introduced in 1971 … both accepted by the Day Sailer Class Association.
DAY SAILERS
5 Day Sailers. Rhodes 19/ Day Sailer/Day Sailer Il/ Javelin/Widgeon, Plus 3 high performance models Yngling/O'Day 15/Tempest
CRUISING
4 safe easy to sail cruising models to fit your family fun plan: O'Day 23 Pop Top/O'Day 23 Fixed Top/ O'Day 22/Mariner 2+2.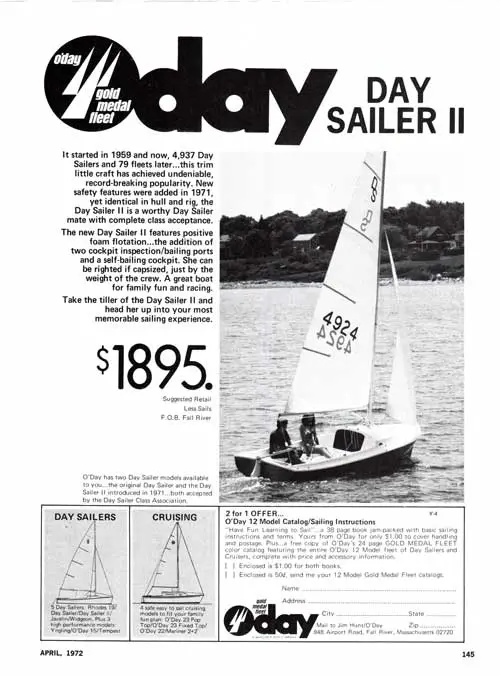 2 for 1 OFFER … O'Day 12 Model Catalog/Sailing Instructions
"Have Fun Learning to Sail" … a 38 page book jam-packed with basic sailing instructions and terms. Yours from O'Day for only $1.00 to cover handling and postage. Plus … a free copy of O'Day's 24 page GOLD MEDAL FLEET color catalog featuring the entire O'Day 12 Model fleet of Day Sailers and Cruisers, complete with price and accessory information.
[] Enclosed is $1.00 for both books.
[] Enclosed is 50¢, send me your 12 Model Gold Medal Fleet catalogs.
Mail to Jim Hunt/O'Day Fall River, Massachusetts 02720
A Bangor Punta Company
GG Archives REF: BPODY-008-1972-BW-AD