The O'Day 37: 3 Bedrooms, 2 Baths at 8 Knots (1982)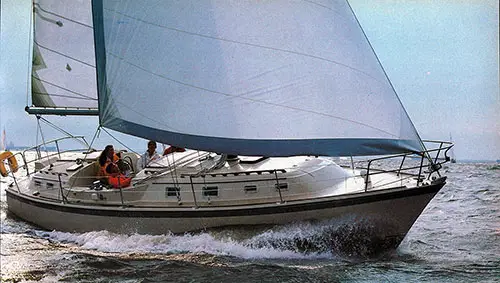 It's the O'Day 37 Yacht. A luxurious tri-cabin cruiser with big boat amenities and comfort. An exhilarating performer with racer/cruiser responsiveness and sailability.
The double stateroom aft with separate head area offers total privacy. The forward cabin with another head accommodates two more and all their gear.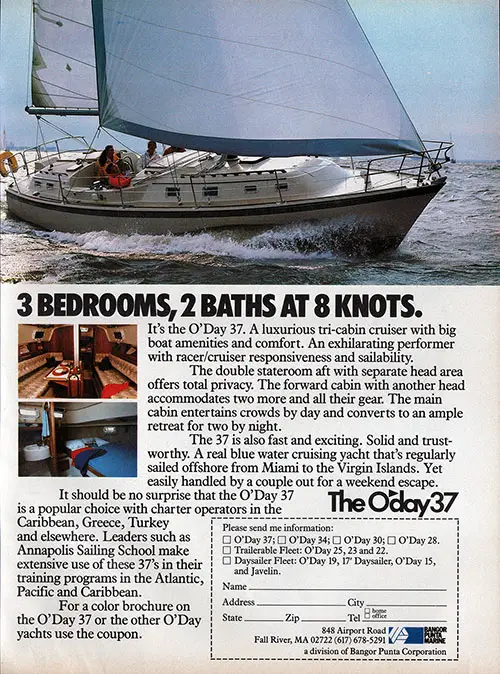 The main cabin entertains crowds by day and converts to an ample retreat for two by night.
The O'Day 37 Sailboat is also fast and exciting. Solid and trustworthy. A real blue water cruising yacht that's regularly sailed offshore from Miami to the Virgin Islands. Yet easily handled by a couple out for a weekend escape.
It should be no surprise that the O'Day 37 Yacht is a popular choice with charter operators in the Caribbean, Greece, Turkey and elsewhere.
Leaders such as Annapolis Sailing School make extensive use of these 37's in their training programs in the Atlantic, Pacific and Caribbean.
For a color brochure on the O'Day 37 or the other O'Day yachts use the coupon.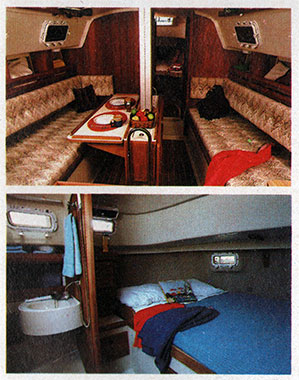 The O'Day 37 Yacht
Please send me information:
O'Day 37
O'Day 34
O'Day 30
O'Day 28
Trailerable Fleet:
O'Day 25
O'Day 23
O'Day 22
Daysailer Fleet:
O'Day 19
17' Daysailer
O'Day 15
Javelin
BANGOR PUNTA MARINE
Fall River, MA 02722
a division of Bangor Punta Corporation
GGA REF: BPODY-044-1982-C-AD