O'Day 28 Yacht: The World's Shortest 30 Footer (1980)
O'Day knows that families with 30 footer appetites often come equipped with much shorter budgets. So we've built a 28 footer that respects the classic large boat traditions in every way, except in price.
For about $30,000, you and your family can own a cruising yacht that can do a horizon job on more than a few race boats, give up nothing in room and comfort to the laziest overstuffed lump, and still have the decency to make you proud of her at the dock.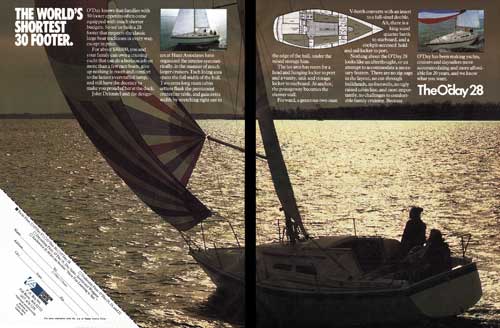 John Deknatel and tie designers at Hunt Associates have organized the interior symmetrically, in the manner of much larger cruisers. Each living area spans the full width of the hull.
Two extra long main cabin settees flank the permanent centerline table, and gain extra width by stretching right out to the edge of the hull, under the raised storage bins.
The lav area has room for a head and hanging locker to port and a vanity, sink and storage locker to starboard. At anchor, the passageway becomes the shower stall.
Forward, a generous two-man V-berth converts with an insert to a full-sized double.
Aft, there is a king-sized quarter berth starboard, and a cockpit-accessed hold and sail locker to port.
Nothing about the O'Day 28 yacht looks like an afterthought, or an attempt to accommodate a necessary feature.
There are no zig-zags in the layout, no cut-through bulkheads, no footwells, no ugly raised cabin line, and most importantly, no challenges to comfortable family cruising.
Because O'Day has been making yachts, cruisers and daysailers more accommodating and more affordable for 20 years, and we know what you want.
The O'Day 28 Yacht
Bangor Punta Marine
Yacht Fleet:
O'Day 37
O'Day 30
O'Day 28
Trailerable Fleet:
O'Day 25
O'Day 23
O'Day 22
Daysailing Fleet:
O'Day 19
O'Day Day Sailer
O'Day Javelin
O'Day Widgeon
Bangor Punta Marine
Fall River, Massachusetts
Additional Manufactureing facilities in Cosa Mesa, California
GGA REF: BPODY-038-1980-C-AD-2