The O'Day 12 Sailboat: Sophisticated Racing Boat (1977)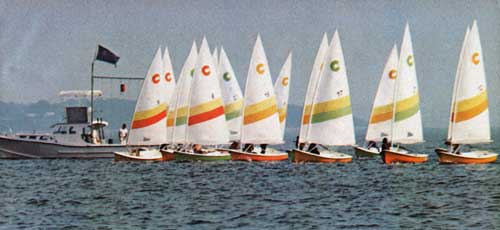 A fleet of O'Day 12's crosses the starting line at the prestigious U.S. Singlehanded Sailing Championship.
The O'Day 12 Sailboat: A sophisticated racing boat that a twelve-year-old can learn to sail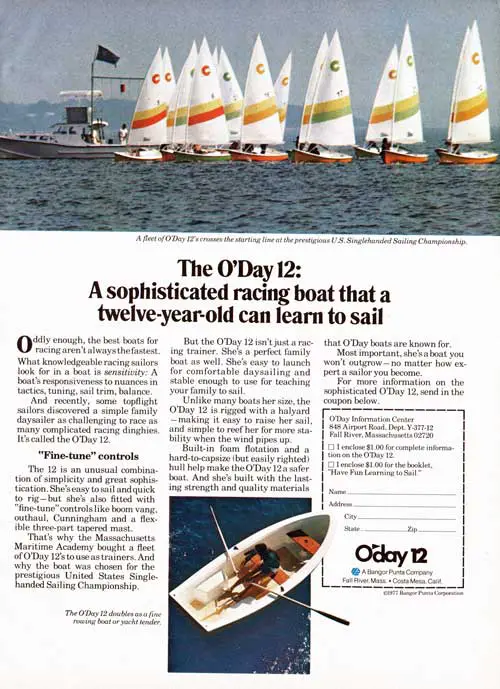 Oddly enough, the best boats for racing aren't always the fastest. What knowledgeable racing sailors look for in a boat is sensitivity:
A boat's responsiveness to nuances in tactics, tuning, sail trim, balance.
And recently, some topflight sailors discovered a simple family daysailer as challenging to race as many complicated racing dinghies. It's called the O'Day 12.
"Fine-tune" controls
The O'Day 12 Sailboat is an unusual combination of simplicity and great sophistication. She's easy to sail and quick to rig—but she's also fitted with "fine-tune" controls like boom yang, outhaul, Cunningham and a flexible three-part tapered mast.
That's why the Massachusetts Maritime Academy bought a fleet of O'Day 12's to use as trainers. And why the boat was chosen for the prestigious United States Single-handed Sailing Championship.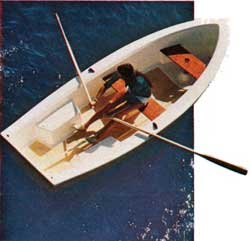 The O'Day 12 doubles as a fine rowing boat or yacht tender.
But the O'Day 12 isn't just a racing trainer. She's a perfect family boat as well.
She's easy to launch for comfortable daysailing and stable enough to use for teaching your family to sail.
Unlike many boats her size, the O'Day 12 Sailboat is rigged with a halyard — making it easy to raise her sail, and simple to reef her for more stability when the wind pipes up.
Built-in foam flotation and a hard-to-capsize (but easily righted) hull help make the O'Day 12 a safer boat. And she's built with the lasting strength and quality materials that O'Day boats are known for.
Most important, she's a boat you won't outgrow—no matter how expert a sailor you become.
For more information on the sophisticated O'Day 12 Sailboat, send in the coupon below.
O'Day Information Center
Fall River, Massachusetts 02720
[] I encloSe $1.00 for complete information on the O'Day 12.
[] I enclose $1.00 for the booklet, "Have Fun Learning to Sail."
O'Day
Fall River, Massachusetts | Costa Mesa, California 01977
© 1977 Bangor Punta Corporation
A Bangor Punta Company
GG Archives REF: BPODY-029-1977-C-AD