O'DAY 25 - O'Day's newest Sailboat - Sleek and Stylish (1974)
A week aboard still won't convince you it's only 25'.
The new O'Day 25 … sleek and stylish.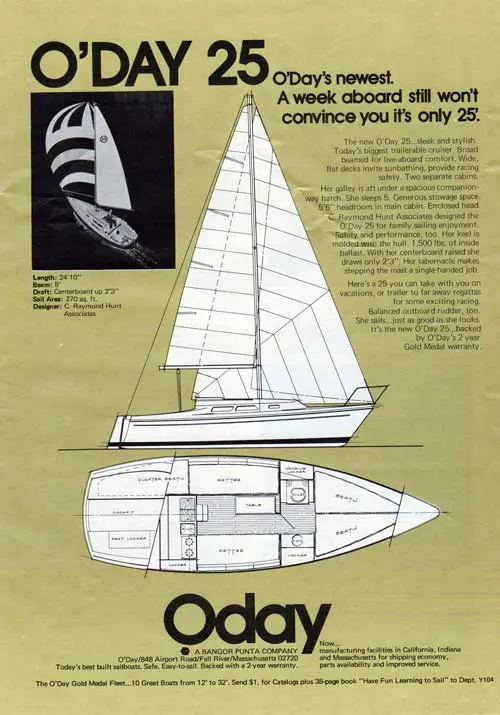 Today's biggest trailerable cruiser. Broad beamed for live-aboard comfort. Wide, flat decks invite sunbathing, provide racing safety. Two separate cabins.
Her galley is aft under a spacious companion-way hatch. She sleeps 5. Generous stowage space. 5'6" headroom in main cabin. Enclosed head.
C. Raymond Hunt Associates designed the O'Day 25 sailboat for family sailing enjoyment. Safety and performance, too.
Her keel is molded with the hull. 1,500 lbs. of inside ballast. With her centerboard raised she draws only 2'3". Her tabernacle makes stepping the mast a single-handed job.
The O'Day 25 is an extender of horizons — on the water or trailered behind your car. It is also America's most successful 25-footer ever.
Hunt Associates conceived of the 25 as a maxi-trailerable that had big boat performance and feel, and 100% usable interior space. They moved the settees right out to the point of maximum beam, raising the deck for plenty of sitting room.
Then they narrowed the trunk cabin, keeping maximum headroom above
the walking areas, and leaving nice wide side decks for sunbathing.
The keel and centerboard versions are identical. With a 7' cockpit, both handle well and are very fast. The centerboarder is easily trailed.
With the tabernacle, a small crew can raise or lower the mast in no time. The keel version is solid as a church bashing to weather in a breeze.
The 25's interior is spacious and open. The galley is situated aft, adjacent to the companionway, Two adults can share the V-berth forward; two more can sleep on the spacious settees, and a fifth on the quarter berth. The fully enclosed head has vanity, sink and water pump.
If the O'Day 25 wasn't the most satisfactory trailerable boat on today's market, 1,000 happy owners wouldn't have chosen it.
Here's a 25 you can take with you on vacations, or trailer to far away regattas for some exciting racing. Balanced outboard rudder, too. She sails … just as good as she looks.
It's the new O'Day 25 … backed by O'Day's 2 year Gold Medal warranty.
Length: 24'10"
Beam: 8'
Draft: Centerboard up 2'3"
Sail Area: 270 sq. ft.
Designer: C. Raymond Hunt Associates
O'Day
A BANGOR PUNTA COMPANY
O'Day Fall River Massachusetts 02720
Today's best built sailboats. Safe. Easy-to-sail. Backed with a 2-year warranty.
Now … manufacturing facilities in California, Indiana and Massachusetts for shipping economy, parts availability and improved service.
The O'Day Gold Medal Fleet … 10 Great Boats from 12' to 32'. Send $1. for Catalogs plus 38-page book "Have Fun Learning to Sail" to Dept. Y104
GGA REF: BPODY-017-1974-C-AD